Our priority is to make sure that schools and early years settings are open in a way that protects the health and wellbeing of both children and staff.
We know children's wellbeing is made better from the social interaction and structure that school provides. We believe that it's important for children to be in their school or early years setting to avoid lost learning and the significant impact that this may have on their future outcomes. 
Find out more about supporting your child to return to school.
Making schools safe
All schools have undertaken a comprehensive risk assessment covering staffing levels, building layouts and other issues that have an impact on safety.
Schools will be working in line with the government guidance for schools. Essential measures include:
a requirement that people who are ill stay at home
robust hand and respiratory hygiene
increased ventilation
enhanced cleaning arrangements
engagement with NHS Test and Trace when required
For more information please contact your child's school. View a full list of our schools in Barnsley. 
Guidance for the return to school from September 2021
What's changed
Mixing and 'bubbles' - pupils will no longer need to be in year group or classroom bubbles to reduce mixing.
Tracing close contacts - close contacts will now be identified by NHS Test and Trace. Education settings are no longer expected to undertake contact tracing.
Face coverings - pupils, staff and visitors won't need to wear face coverings in classrooms or communal areas.
What's stayed the same
COVID-19 hasn't gone away, so there will still be things schools and students need to do to avoid the spread of the virus:
Testing remains important in reducing the risk of transmission of infection within schools.
Keeping up good hygiene; this includes frequent and thorough hand cleaning and the 'catch it, bin it, kill it' approach.
Maintaining appropriate cleaning regimes.
Keeping occupied spaces well ventilated.
Following public health advice on testing, self-isolation and managing confirmed cases of COVID-19.
Cases of coronavirus in schools
Do not send your child to school if:
If your child is unwell you should book a coronavirus PCR test and self-isolate in line with NHS guidance. The same applies to school staff.
If your child becomes unwell or shows symptoms of coronavirus at school or in childcare, you'll be asked to collect them immediately.
Children who are close contacts of someone who's tested positive
From Monday 16 August 2021 the guidance for close contacts of a positive case changed. This also applies to schools.
If your child has been in close contact with a positive case and the NHS Test and Trace scheme have told you about this, your child is no longer required to isolate if they don't have symptoms. Instead, you're advised to book a coronavirus PCR test for your child (they can go to school while waiting for their result).
If their PCR test result is positive your child must stay at home to self-isolate. They should not leave home to go to school, after school clubs, or meet with friends and family.


If their PCR test result is negative your child doesn't need to self-isolate.

If they develop symptoms after getting their result you should isolate your child at home and get them tested again. Your child will need to isolate this time as they have symptoms of COVID-19. 
You can also take a look at our flow chart below to explain this.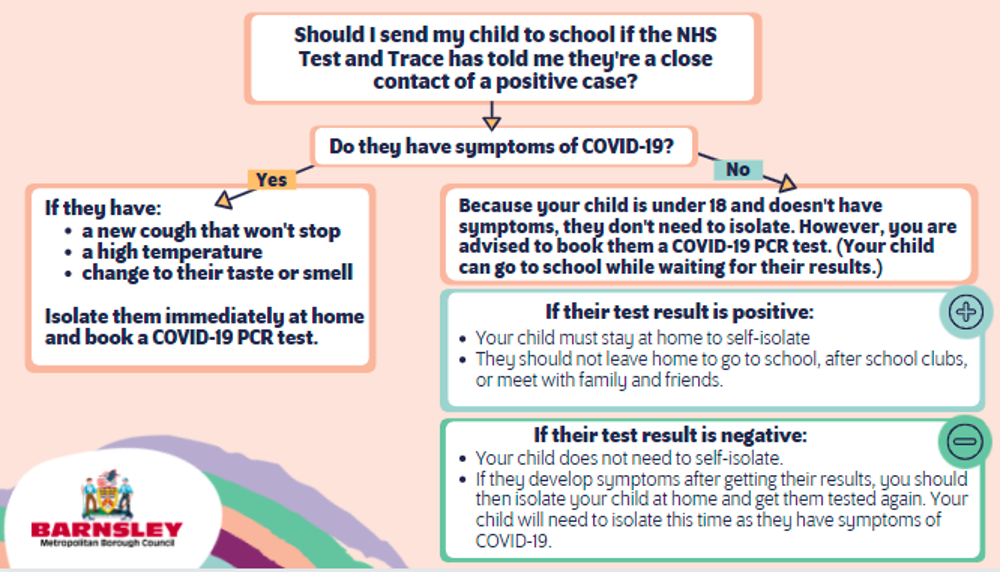 Why is it important that I get my child a PCR test if I've been told they're a close contact?
COVID-19 PCR tests will help us find people who have the virus early and isolate them, which will help stop the spread. Around one in three people with the virus don't show symptoms but can still pass the virus on to others.
With your children mixing with their friends and teachers in school, the virus can be passed on quickly and easily to a lot of people. By getting a COVID-19 PCR test when advised you'll be helping to reduce the spread in school and protect others if your child has got COVID-19.
You can book a coronavirus PCR test online or by calling 119.
Twice-weekly lateral flow testing
Everyone in our communities can now take up regular lateral flow testing. These tests are to be taken at home twice a week and are designed to find cases of COVID-19 in people that aren't showing symptoms.
Secondary school children and families are encouraged to take up this testing, as it will help to find cases of COVID-19 as early as possible, helping to stop the spread in school and into the community.
Find out more about accessing lateral flow tests.
Pupil hygiene and hand washing
Your child will be asked their hands frequently and thoroughly throughout the day. This can be done with soap and water or hand sanitiser.
Please talk to your child about the importance of handwashing and sanitising, social distancing and the 'catch it, bin it, kill it' approach when blowing noses.
Read the NHS guidance on how to wash your hands.
School attendance
It is vital for all children to return to school to minimise the longer-term impact of the pandemic on children's education, wellbeing and wider development. The usual rules on attendance apply; all children are expected to attend school full-time.
Schools will continue to provide home learning support for children who won't be in school, for example, children who are self-isolating.
If you have particular concerns about your child or another member of the family, please speak to your school. View a full list of our schools in Barnsley. 
School applications and admissions
You can find details of how to apply for a school place below:
View a full list of our schools in Barnsley including contact details for all schools and academies.
School meals
Your child could be entitled to free school meals if they're in full-time education, and you receive a qualifying benefit. Children who receive a qualifying benefit in their own right are also entitled to receive free school meals.