Mayor's Barnsley spirit award
The Barnsley Spirit Awards have now closed for nominations. 
We've had an amazing response and we're proud to celebrate and recognise all the great work that people have done across the borough supporting our communities during the Coronavirus (COVID-19) pandemic. 
These awards have been given to recognise people who have shown:
commitment and achievement related to the response to Coronavirus (COVID-19) in Barnsley.
commitment and achievement which has resulted in a benefit to Barnsley.
They have been awarded to people who've been nominated by someone in the borough.  Here are some examples:
frontline workers who have supported people who needed help the most and those with COVID-19 in Barnsley.
providing critical care to COVID-19 patients in Barnsley.
people who have developed innovative solutions to support others who needed help the most / those with COVID-19 in Barnsley.
those who have gone to extraordinary lengths to keep critical services going in Barnsley.
those who have volunteered in the community or for services or organisations that have supported the response to COVID-19 in Barnsley.
Thank you for your nominations
We would like to thank everyone who has taken the time to nominate a team or individual to receive a Barnsley Spirit Mayor's Award.  The response has been amazing with over 4,000 nominations submitted over the six-week period.  
Take a look at some of those nominated, and read their stories:
Michelle Wilkinson
Michelle went door to door to ensure every family at All Saints Academy had a food parcel.
Barnsley Hospital chemotherapy unit team
The team provided care to the people of Barnsley, and a safe and happy environment for patients. The staff are dedicated to ensuring that patients are looked after on the unit and receive the care they require, whilst making sure that government guidance is maintained.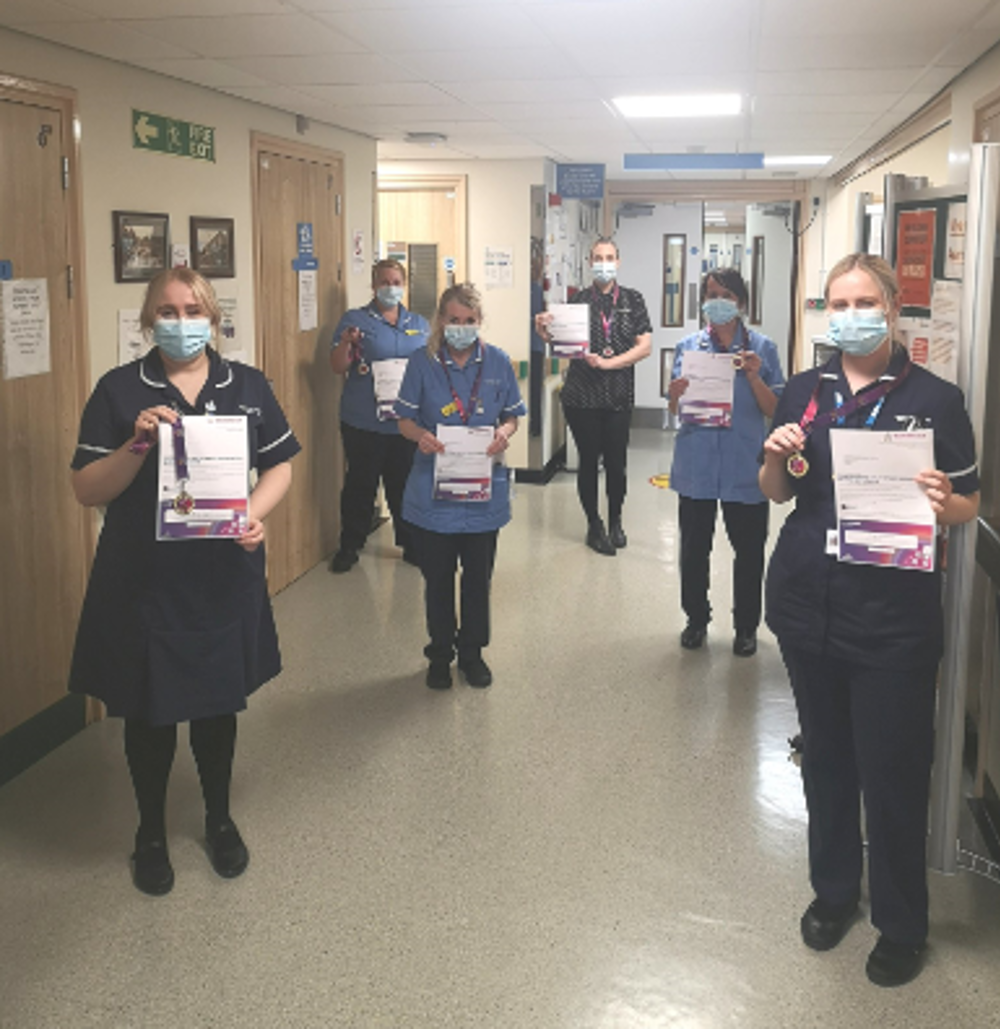 The team at Totally Runable
The team ran online sessions and helped to keep young people active during the pandemic. They ran various online start to run courses with online mindset sessions, to create a virtual community as people couldn't meet as a group in real life.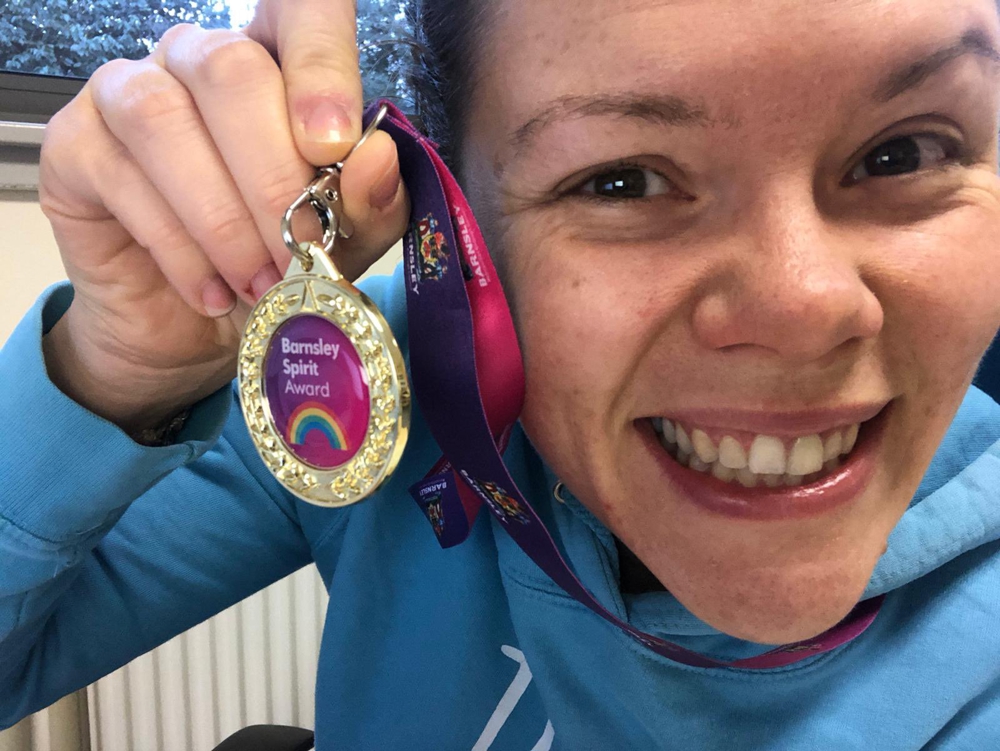 Nominated teams
Over 300 fantastic individuals were nominated for the awards. Due to GDPR we are not permitted to identify all of these, but we are able to publish a list of the amazing teams that were also nominated:
Age UK, Barnsley - North east area team
All Scrubbed Up - All Scrubbed Up team
Apollo Court Medical Centre - the practice team
Ashville Medical Practice - the practice team   
Autumn House Nursing Home, Worsbrough Dale - Autumn House care team   
B:Friend - B:Friend team members        
Barnsley College - service industries team
Barnsley Community Build - North east environment team
Barnsley CVS - Organisational support and volunteering team
Barnsley District General Hospital - 

Acute stroke unit and ward 20 team
Anticoagulant clinic team
Barnsley Hospital charity team
Barnsley maternity service team
Chemotherapy unit team
Communications team
Community paediatric team
Contact centre team
Critical care team
Emergency department
For the Love of Scrubs team
Hospital play team
Hospital volunteering team
Intensive care unit team
Linen room team
Maternity ultrasound team
Medical imaging care assistants (MICA) team
Medical outpatients
Medway team
Mental health liaison team
Procurement team
Referral management team
Respiratory high dependency unit
Surgical outpatients
Theatres, day surgery and recovery ream
Ward 18 respiratory team
Ward 23, ward 30 frailty team
Ward 33 trauma orthopaedic team

Barnsley Healthcare Federation - the practice team
Barnsley Council

0-19s Public Health Nursing Service
Adult Social Care
Business Intelligence and Digital Team
Business Rates Support Team
Central 0-19 Public Health Nursing Team
Communications and Marketing Team
Customer Services Contact Centre Team
Digital Team
Disabled Facilities Grants Team
DoLS BIA Team
Early Intervention, Prevention and Support Staff Team
ILAH Team (Telecare Responders)
Leadership Team
Mental Health Team
QA and Safeguarding Children's Team
Registration Services Team
SENDIASS Team
Specialist Team North
Specialist Team South
Web and Mediated Team
Youth Prevention Worker Team
Youth Voice and Participation Team

Barnsley partners - Barnsley Communications SITREP group
Barnsley Premier Leisure - Telecommunications team,  Metrodome      
Barnsley Primary Care Trust - Medicines Management Team
Barnsley Rough Sleeper Project, Pitt Street - Barnsley Rough Sleepers Project Team      
Barugh Green Primary School - Barugh Green Primary staff
Belle Green Court care home - Belle Green Court staff 
Berneslai Homes - Tenant First Service  
Berneslai Homes Construction Services Team - Service Control Unit, electricians and gas engineers
BHF Brierley Medical Centre - the practice team
BHF Goldthorpe Medical Centre - the practice team
BHF Highgate Surgery - the practice team
BHF Lundwood Practice - the practice team
Britto Healthcare, Ward Green - Ward Green Lodge team
Burleigh Medical Centre - the practice team
Cannon Hall - Cannon Hall Farm staff
Carlton Radio - volunteer presenters
Cawthorne Cottage Stores - Hilliary staff
Cawthorne Post Office - Cawthorne Post office team
Cawthorne Road Day Nursery - Cawthorne Road Day Nursery team
Central Garage, Darton - Central Garage and Bargain Booze and Convenience Store
Chapelfield Medical Centre - the practice team           
Cherry Trees Nursing Home - Cherry Trees carers team
Childminder, Bolton on Dearne - Keddy Kiddy Kingdom team
Clarks Chemist, Penistone - Clarks Chemist team
Community Health Partnerships, (SWYNT) - Continence and Urology Team
Crossroads Care (Barnsley) Ltd - Crossroads Caring for Carers team
Darton Health Centre - the practice team
Dearne Community Children's Centre - Dearne Community Children's Centre team
Dearne Family Centre – Dearne Family Centre team
Dearne Valley Group Practice - the practice team
Dearnlea Park Residential Care Home, Thurnscoe - Dearnlea Park Care Home staff
Desi Foods - Desi Foods team
Dignity Homecare (Yorkshire) Ltd - Dignity Care Home team     
Dignity Residential (Yorkshire) - Dignity Care team
Dodworth help a neighbour scheme - DHANS team
Dove Valley Practice - the practice team
Dr Mellor and Partners - the practice team
DV Helpers - Royston Residents DV Helpers
FareShare, Wombwell - Team members at FareShare
Fosters Bakery, Mapplewell - Fosters Bakery
Go Local, Ballfield Lane - Post office team
Great Houghton Welfare Hall - Great Houghton Youth Work team
Grimethorpe Family Centre - nursery team
Grimethorpe Surgery - the practice team
HE Payne's shoe shop - HE Payne's team            
High Grove Care Home, Stairfoot - middle floor care team        
High Street Practice - the practice team
Highstone Mews care home - night patrol          
Highstone Mews care home - night warriors     
Hill Brow Surgery - the practice team
Hollygreen Practice - the practice team
Hope House Church - Hope Connects (Cheeky Monkeys and Little Chimps)
Hoyland Medical Practice - the practice team
Hoylandswaine Help for Coronavirus - Hoylandswaine COVID Co-ordinators
Huddersfield Road Surgery - the practice team
IDAS - Independent Domestic Abuse Service - Barnsley Community and Refuge Team (domestic abuse)
Katie's Baps, Greenfoot Lane - Katie's Baps
Kendray and Worsbrough Sure Start - Central Family Centre Nursery Team
Kendray Hospital (SWYFT) -

Antibody Testing Team
Barnsley Children's Speech and language therapy
Barnsley Integrated Community Equipment Service
Care Homes Support Team
General Adult/OPS Team
In-Patient Management Team - Infection Control Team
NDN Team
Neighbourhood Rehabilitation Team
Neuro Rehabilitation Unit Team
Neuro Rehabilitation Unit Therapy Team
Neuro Services - Medical Team
Neuro Services Domestic / Housekeeping Team
Oakwell Inpatient Mental Health Unit Team
Physical Health Medics Team
SRU/NRU Doctors
Stroke Rehabilitation Unit Team
Stroke Services - Early Supported Discharge Team
Stroke Unit - Therapy Team
Sue Wing Team
Swabbing Team for Care Homes
Undergraduate Medical Education (Dr Kiran's team)

Kids World Childcare Ltd, Goldthorpe - Kids World Goldthorpe
Kingswell Surgery - the practice team
Lakeside Surgery - the practice team
Les Cadeaux - Les Cadeaux Team
Lloyds Pharmacy, Cemetery Road, Barnsley - Lloyds Pharmacy team
Lundwood Medical Centre -

Lundwood Medical Team
Single Point of Access Team       

Meadstead Primary School - Meadstead Primary School staff
Mini Mes Nursery, Eldon Street - Mini Mes Nursery team
Monk Bretton Health Centre - the practice team
Morris Fruit and Veg Store, Mapplewell - Morris Fruit and Veg team
My Dentist, Peel Street - My Dentist team
Nationwide Building Society, Barnsley - Nationwide Barnsley branch team
New Street Clinic (SWYT) - Barnsley CAMHS team
Oakhill Primary Academy - Oakhill staff  
Old George Market Hill, Barnsley - Old George team    
Pearson and Sons - Santa Claus is coming to town team             
Penistone Country Market – Penistone Country Market team  
Penistone Fruit and Veg Store - Penistone Fruit and Veg Store team members
Penistone Group Practice - the practice team
Rainbow Studios Dance School - Rainbow Studios team
Royston Group Practice - the practice team
Sainsbury's Redbrook Road - Sainsbury's Local team     
Salvation Army - Royston Citadel Salvation Army team
Sandpit Nursery, Pitt Street - Sandpit Nursery team     
Sandwich Box Cafe, Athersley - Sandwich Box Cafe staff
Single Parents Support and Advice Services - SPSAS Barnsley Hub team
Smiths Fruit Store, Wombwell - Smiths Fruit Store team
Snap Tin Cafe, Goldthorpe - Snap Tin Cafe staff
South Yorkshire Police - SYP Barnsley Domestic Abuse team
Spar Kexborough - Members of the team at Spar Kexborough
St George's Medical Centre - The Practice Team              
Star Movers Dance Academy - Star Movers Dance Academy team
Summer Lane Primary School - Summer Lane Primary School staff
Tesco Express, Huddersfield Road - Tesco Express team              
The Dearne Valley Group Practice - Goldthorpe District nursing team
The Forest Academy - The Pastoral Support / Safeguarding team
The Forge Community Partnership - Forge Community Partnership team
The Grove Medical Practice - the practice team
The Kakoty Practice - the practice team           
Thornhill House Care Home - Thornhill House staff team
Thorpes village store, Thurlstone - Thorpes Village Store team
Totally Runable Ltd, BBIC - Totally Runable team
Twiggs ground maintenance - Twiggs team      
Victoria Medical Centre - the practice team   
Voice for Darton and Kexborough - Voice for Darton and Kexborough team
Walderslade Surgery - the practice team
Wath, West Melton and Brampton Litter Pickers - Litter picking volunteers
Weldricks Pharmacy, Bolton upon Dearne - Weldricks Chemist team member
Wellspring Academy Trust - Oakwell Rise Primary Academy
Wendy Charles School of Dance staff - Wendy Charles School of Dance
White Rose Medical Centre –

North East 0-19 public health nurse service
The practice team

Wilthorpe Park Dental surgery - Wilthorpe Park Dental Surgery team
Wilthorpe Primary School - Wilthorpe Primary School staff
Wombwell Medical Centre - the practice team
Woodcare Group - Riverside Care Home
Worsbrough Community Church - Worsbrough Community Church
Other -

Caring for Kendray
Carlton Radio staff team
Cawthorne Village Community Volunteers
Dearne and District Football Club
English Rose tearoom
Gems Beauty Studios
Harrington's Butchers, Penistone
House of Grace team
Mother Runners
Penistone Knitting Group
Project 14 Team
Royston Canal Club
Royston Watch Official Crime and Safety Group
The Exodus Project
Thurnscoe Reservoir Pond team
Tinkers Cafe team