Along with 17 other local authorities in Yorkshire and the Mayor of the Sheffield City Region, we're pursuing a devolution agreement with the Government, known as 'One Yorkshire'. #OneYorks
One Yorkshire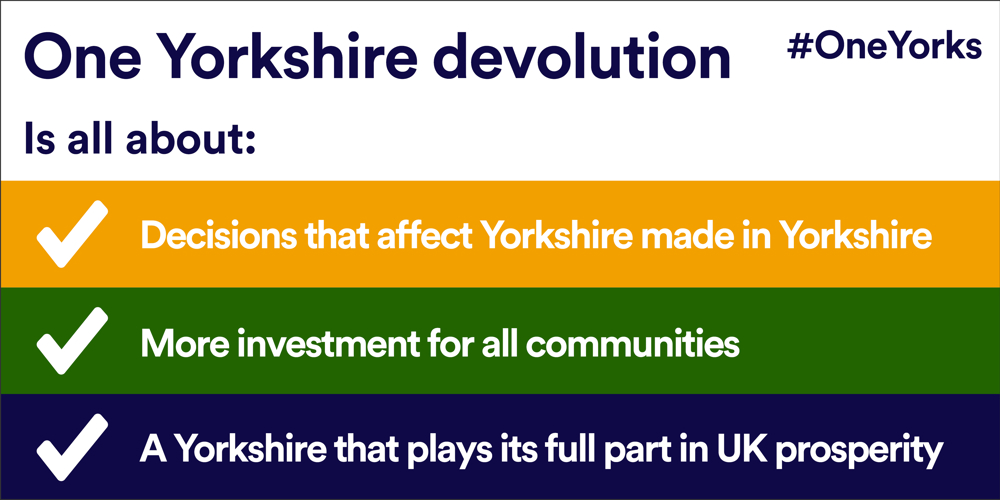 One Yorkshire is about transferring more powers from Whitehall to Yorkshire, giving local people much greater say over the issues that affect them, providing more investment in those areas that will make the biggest difference to the region's economy, businesses and people, and enabling Yorkshire to play its full part in driving growth and productivity after Brexit.
The benefits of One Yorkshire devolution for the region and for the UK could be huge. According to an independent economic study, the proposals could add up to £30billion to the region's economy, which equates to £5,400 per person per year over 20 years. It could also significantly increase exports from the region and see more investment from skills, innovation, research and development and inward investment.
A One Yorkshire devolution deal would see the creation of a directly elected Mayor, who would oversee the historic transfer of powers and funding to the region. This is one of Government's key requirements for devolution proposals, along with ensuring proposals refer to a coherent economic geography and have local support – both of which One Yorkshire has.

Devolution updates
Community Poll
We asked local people for their views on the right devolution deal for Barnsley. 
We held a community poll in December, asking every registered voter in Barnsley to say which devolution proposal they would prefer Barnsley to pursue. The poll closed on 20 December.
Results of community poll
| | | |
| --- | --- | --- |
| Result | Number of votes | Percentage of valid votes |
| Wider Yorkshire | 34,015 | 84.9% |
| Sheffield City Region | 6,064 | 15.1% |
| | |
| --- | --- |
| Number of eligible voters | 179,618 |
| Turnout: | 22.4% |
| | |
| --- | --- |
| Total number of votes cast | 40,280 |
| Total number of valid votes to be counted | 40,079 |
| Votes cast by post: | 32,968 |
| Votes cast online: | 7,312 |
| Number of votes found to be invalid | 201 |
| Blank | 185 |
| Spoilt (uncertain or voting for more than one option) | 16 |
What is devolution?
Government is offering places in England the chance to have more responsibility and control over decisions that affect their areas. It's not about taking away powers from councils. This would mean that more decisions about spending on public services would be made here, rather than by the Government in London. It could also help to strengthen our economy and increase the number of jobs.
What are the benefits of devolution for Barnsley?
Devolution will bring benefits to Barnsley in a number of key areas:
More money invested in our area
Better places to live, learn, work and do business
Better roads and public transport
More help for businesses to start and to grow
Better education and skills
More and better jobs.
Devolution will bring new powers and funding to Barnsley to improve infrastructure, transport, skills, housing and business growth. Working together with other local towns and cities, we can speak with one voice nationally and make better decisions about important economic growth.
Wider Yorkshire devolution
This is a partnership with the backing of at least 15 local authority areas. It's a much larger model that places it alongside the likes of Greater Manchester City Region and the West Midlands. The region has 5.3 million residents living and working in a geographical area seven times larger than Greater London, with an economy worth £110 billion per year.
This option hopes to extend the benefits of devolution by pursuing a wider model with Yorkshire. It intends to give Yorkshire a louder and more powerful voice to lobby Government on behalf of our economy and people.
This proposal would be much larger than the Sheffield City Region proposal. It would mean greater powers transferred from Government, although the precise scope of these powers has yet to be determined.
The Elected Mayor would be on a par with the recently Elected Mayors of Greater Manchester or the West Midlands. The mayor would be able to delegate some decision making powers to a more local level.
Although the precise amount has to be confirmed, this proposal is looking to unlock £3 billion over the next 30 years to spend in the region for:
Transport
Infrastructure
Training
Skills
Housing
Regeneration
This deal could be in place by 2020.
Sheffield City Region devolution
This is a partnership of nine local authority areas of which four – Sheffield, Rotherham, Barnsley and Doncaster – are full members.
This option will offer us £1.3 billion to spend over the next 30 years on jobs and businesses, as well as new powers and funding to improve infrastructure, transport, skills, housing and other drivers of business growth.
This proposal would involve giving certain powers over the following areas to an Elected Mayor:
19+ adult skills
Employment support
Housing and planning
Transport
Business growth and investment
Infrastructure
The Government is looking to progress Sheffield City Region devolution, with an election for a city region mayor set for May 2018, although giving specific powers to the Mayor will require the further consent of Sheffield, Rotherham, Barnsley and Doncaster Councils.
Find out more
You'll find more information about devolution in the following:
Watch a devolution video
Questions and answers
1. What's a community poll?
It's a public consultation when people are asked to give their opinion about an important question relating to the council and its services. In this case, the question will be on which devolution deal Barnsley should actively support.
2. Why will there be a community poll?
Your views on which devolution path you want to see delivered are important to us – a wider Yorkshire devolution deal or to continue with the devolution plan for the Sheffield City Region.
3. Why ask now?
Devolution is a pressing issue and one that has been in the news over the last few months. Barnsley Council wants to support the best deal for Barnsley people, its communities and business. To do this, a community poll would be a single way to gauge opinion. Everyone who is registered to vote in the borough will have the opportunity to indicate which option they would prefer the council to pursue.
4. How would the community poll be held?
Postal voting papers will be sent to the household of each registered voter. Votes can be completed securely online or returned via Freepost. There will be no polling stations.
The question the poll will ask is:
I would prefer Barnsley Council to pursue a Devolution proposal with:
(a) wider Yorkshire
(b) Sheffield City Region
4. When will the community poll be held?
Ballot packs will be posted on 1 December. Voting closes on 20 December. The results will be announced on 21 December 2017
5. How much will this cost?
Barnsley Council wants to keep the costs as low as possible which is why the vote is postal and online only. The Freepost return option is where the majority of the cost would come from as the council pays for postage. If everyone votes by Freepost, the poll will cost approximately £120,000. If more people vote online the cost will be significantly less.
Whilst this is a notable one-off cost, it represents a small proportion of Barnsley's annual gross budget of more than £590m, and is considered to be proportionate expenditure in order to gauge the views of local residents on this important issue.
6. Why is devolution so important?
Getting the right devolution deal is a priority for Barnsley. There's an opportunity to consider if the Sheffield City Region deal is the best devolution arrangement to serve Barnsley, its people and businesses and its ambition well.
Since bringing forward proposals for devolution in the Sheffield City Region in 2015, a new proposal for wider Yorkshire devolution has emerged. This is being actively considered in the county and the council wants to explore if local people want Barnsley to be part of that or not. Now is the time to gather essential feedback and to identify a preference for one deal or another. The community poll will give the council the express wish of Barnsley people to support one deal.
7. Hasn't Barnsley already backed wider Yorkshire devolution?
Elected councillors in Barnsley believe that a wider Yorkshire deal would be better for Barnsley and have expressed that view along with the mayor and councillors in Doncaster. This has also been supported by members of the Barnsley Economic Partnership, MPs and Trade Unions.
Barnsley Council, as the organisation delivering the poll, is impartial. Its job is to encourage people to vote. The community poll outcome will give absolute certainty and direction.
8. Will the council act on the proposed community poll result?
A community poll is not the same as an election and it is not legally binding. However the outcome would be fully considered by the council in determining next steps on devolution.