Introduction

As children grow, they invariably become involved in social networks, relationships and environments outside of their family network. The majority of children do this in a safe and fulfilling way. However, all children can encounter individuals who seek to exploit their vulnerability or environments that expose them to risk of harm.
Abusers often use alcohol, drugs, actual or threatened violence, kindness and affection to develop a connection with a child they intend to exploit. The manipulation at the core of exploitation is often a result of an imbalance of power.
Involvement in exploitative relationships is characterised by the child or young person's limited availability of choice (as a result of social/economic/emotional vulnerability).
These environments and relationships can often serve to undermine and disempower parents and carers in the lives of children. The child or young person does not recognise the coercive nature of the relationship – they do not see themselves as a victim of exploitation and this contributes to making such harm hidden from parents, carers and services.
What we do
Barnsley Safeguarding Children Partnership (BSCP) recognises that child exploitation in all it's forms, is child abuse. This form of abuse also has a long term and detrimental impact on the victims, but also the families and communities it affects.
BSCP recognise that vulnerability does not disappear when children reach the legal age of adulthood. As they transition through childhood, adolescence and into adulthood many children still have a need for support. We recognise that an effective strategy must take into account the need for transitional safeguarding arrangements and ensure that there is an effective network with other partners to provide that.
We also recognise that child exploitation is part of a wider contextual safeguarding picture and children vulnerable to exploitation may also have other extra-familial vulnerabilities. These include vulnerability to radicalisation and sexually harmful behaviour.
We need to work jointly to challenge each other, hold each other to account and strive to be cognisant of and influential in, national evidenced based good practice.
The aim of this strategy is to provide an ambition and framework for the delivery of an effective community and partnership response to child exploitation. In delivering that response, we must take a child-centred approach. This must mean that the partnership continues to strengthen work across the whole partnership, reinforcing the role of prevention and early help to prevent children finding themselves in need of statutory services.
Our vision
All children in Barnsley who are vulnerable to exploitation and abuse are effectively identified and protected by their family, school, community and services. That an effective response is delivered in a co-ordinated, informed and timely way that consistently responds to risk and improves outcomes for children, families and the community.
Child centred
The way we interact with children and young people, whether as victims or offenders, can and will have a significant impact on their futures. We need to recognise that children are children, not mini-adults, no matter how they look or behave. We should take every opportunity to see their world through their eyes. Every interaction is a chance to make them feel safe and become a consistent trusted adult in a child's life.
This kind of harm does not discriminate and impacts across age, gender, nationality and communities, both literal and online. We must understand and acknowledge their differences, actively seek out and listen to their individual voices and recognise their needs and strengths. In doing so, we must identify where there are barriers to help and support.
Consistent and trusting relationships with children will improve our responsiveness to them, increase their feeling or autonomy and reduce their powerlessness in the face of authority.
We will:
Treat children as children, recognising their individual needs and circumstances that make them vulnerable
Criminalise children only where appropriate
Ensure we have regard to the lived experience of child victims and offenders
Ensure children benefit from support at all levels of intervention, including and beyond the criminal justice system
Recognise that children are still vulnerable beyond the age of 18
Build stronger relationships with children, people and families to give them opportunity to shape services and influence priorities
As a result:
We can intervene with and protect children who are vulnerable, even when they don't recognise it for themselves
Interventions will address the underlying causes for their vulnerability as well as those posing the risk
Children who commit crime due to exploitation will not be unnecessarily criminalised
Children will be supported at all levels of need
Children remain supported even when transitioning into adult services
We will tailor priorities and services to what children, families and communities tell us they need
Leadership
All agencies and partners should reflect a commitment to tackling exploitation in their leadership, culture, strategy and practice. These should reflect clear aims and objectives for our children and communities.
Leadership development should empower and enable partners and staff by equipping them with the expertise to challenge practice and drive continuous improvements, promoting a culture of learning and development.
Agencies should make sure that governance is in place at all levels to manage exploitation related risk effectively and ensure appropriate scrutiny and accountability is in place to ensure effective outcomes for children.
We will:
Demonstrate culture and leadership at a strategic level that reflects a child-centred approach
Agree a partnership child exploitation strategy which explains our strategic aims and objectives to staff and the wider community
Develop the skills of leaders from statutory and non-statutory partners so that they can challenge constructively their organisation's way of doing things and make vulnerable people safer
Develop robust audit, peer review and independent scrutiny at internal single agency and multi-agency level
As a result:
Leaders from all agencies will be able to demonstrate that children are at the centre of decision making
We will demonstrate clear objectives and evidence how meeting them makes children safer
All will be able to play their part in recognising and mitigating the risk to children
We evidence robust governance that demonstrates that we understand how well we are delivering good practice and where we need to show improvements in services
Learning and development
Effective protection of children can only be delivered by motivated, well-trained staff. Staff recruited into this area should have a professional curiosity and understanding of vulnerability, embedded from the point of recruitment and through training and continuous professional development.
We will track learning from national and local reviews and ensure that learning is embedded into our practice. As a partnership, we will seek to understand the evidence base for what is good and effective practice, so we can utilise those interventions that work to keep children safe.
Part of learning is ensuring that children and their families are able to hold us to account, shape services and influence our priorities, using new and existing technology.
Child protection is a challenging environment in which to work and can lead to wellbeing issues. Staff development should include strategies to improve their resilience and support their well-being at work. It should also be recognised that ongoing exposure to this work can mean a tolerance for risk is developed and norms change, something that should be mitigated through training.
We will:
Instil a supportive learning culture with a mindset of 'what did we do well?' and appropriate professional challenge
Enable our staff and officers to provide the best possible service to those at risk by equipping them with the knowledge, skills and tools required
Consider national and local reviews and embed any recommendations that would improve practice in our partnership
Find ways to engage with children and families to inform development of services and obtain feedback
Ensure the wellbeing and resilience of staff is supported, to enable them to deliver excellent service
As a result:
We will have sufficient staff with the professional skills, qualifications and capability,
We will evidence how learning from national and local reviews and audits is used to inform service and practice improvements
We can show how we have listened to children and families in developing our response and services
Staff will stay well, in work and be resilient to the pressures of work
Information, intelligence and analysis
In order to properly identify vulnerable children, understand what kind of danger they face and from where, and understand what interventions keep them safe, we must fully understand and use our partnership data.
The partnership should share data and have sufficient analytical capacity and capability to understand the scale and prevalence of exploitation within Barnsley. At a strategic level, key threats should be identified and activity planned and delivered to reduce the threat.
We will use local data to fully understand themes, emerging trends and current threats facing the community and our children. This should include an understanding of particularly vulnerable communities, cohorts of children or prevalent risk factors within our locality.
We should ensure our analysis means we understand what works to keep children safe.
We will:
Use national and regional data to understand emerging threats and themes
Use partnership data to understand what, where and who poses a risk to communities and children at both a strategic and operational level
Ensure we understand where communities of children are especially vulnerable and target interventions at an early stage
As a result:
We will have specific plans to address emerging concerns at a local and national level
We will promptly identify who is vulnerable to exploitation as a victim or an offender
We will understand who offenders and networks are.
We will identify and disrupt locations that pose risk of harm to children
Early intervention, support and safeguarding
Partners, communities and individuals have an important part to play in protecting children. To do that effectively, all must have access to resources for guidance on the recognising the signs of exploitation, what support services they can access and when they need to seek help in preventing harm.
We must adopt professional curiosity and understand the factors in a child's life that means they are vulnerable. We must ensure that local data capture from the partnership and community supports the identification of those that are vulnerable to victimisation or becoming an offender, and leads to timely sharing and assessment of need and risk.
This must also include collating and sharing information that supports intervention with identified offenders and high harm locations so that action can be jointly taken to pursue, disrupt and reduce the risk and harm.
We will:
Provide an accessible library of resources that gives information and tools to those supporting children and families
Ensure we are able to recognise vulnerability early and intervene
Ensure timely information from all agencies is shared about contextual risk, protective factors and strengths to enable dynamic and effective risk assessment
Jointly use tactics that work to protect, disrupt and prosecute
As a result:
Individuals, communities and staff will know how to access resources so they can play their part in keeping children safe
Will enable early identification of those potentially at risk or posing a risk
We will show effective and timely information sharing to support robust risk assessment and planning
We will be able to show methods used are effective in keeping children safe
Effective investigation and outcomes
All partners have a part to play in supporting victims and the prosecution of offenders. Front line staff should have the skills to conduct early effective evidence gathering, with regard to an evidence led prosecution if appropriate.
This includes ensuring staff are familiar with the rights and entitlements of victims and make best use of measures that support vulnerable people to give evidence. This also includes ensuring victims have access to appropriate support services, including therapy.
As a partnership, we will ensure the right resources are assigned to investigation of exploitation related crime and those staff are supported by effective supervision of cases.
We will:
Ensure victims are supported to give their best evidence and when they cannot, seek evidence led prosecutions
Effectively use support services both inside and outside the criminal justice system, including therapeutic services
Ensure victims receive their rights and entitlements under the victim's code
Ensure that we have the capacity and capability to investigate effectively
As a result:
Victims have a voice in an investigation, they are supported through the criminal justice process, whether they are able to engage or not
Victim's needs and rights are at the centre
We will have sufficient staff with the appropriate training and experience to conduct good quality investigations
Investigations will be dealt with expeditiously and be conducted with the best outcome for the child in mind
Communication
The partnership will design a communication strategy that ensures that children, families, communities and staff have access to information that enables them to protect children. It will offer accessible information and appropriate toolkits to identify and manage risk for themselves or identify when they need support to do so.
That strategy should also demonstrate to the community that we listen to their needs and concerns and are addressing them. This will foster confidence in accessing support and using services.
We will:
Identify and promote number of communication channels for people and communities to raise concerns or share information
Develop a suite of resources for the community, partners and staff to identify, tackle and manage the risk associated with vulnerability to exploitation
Find ways to highlight case studies where intervention has led to improved outcomes for children
As a result:
Early identification of vulnerability to exploitation will increase
There will be a reduction in the number of children becoming known to services where the risk is already high
More children will be supported by early intervention services
Public confidence in the partnership will increase
Governance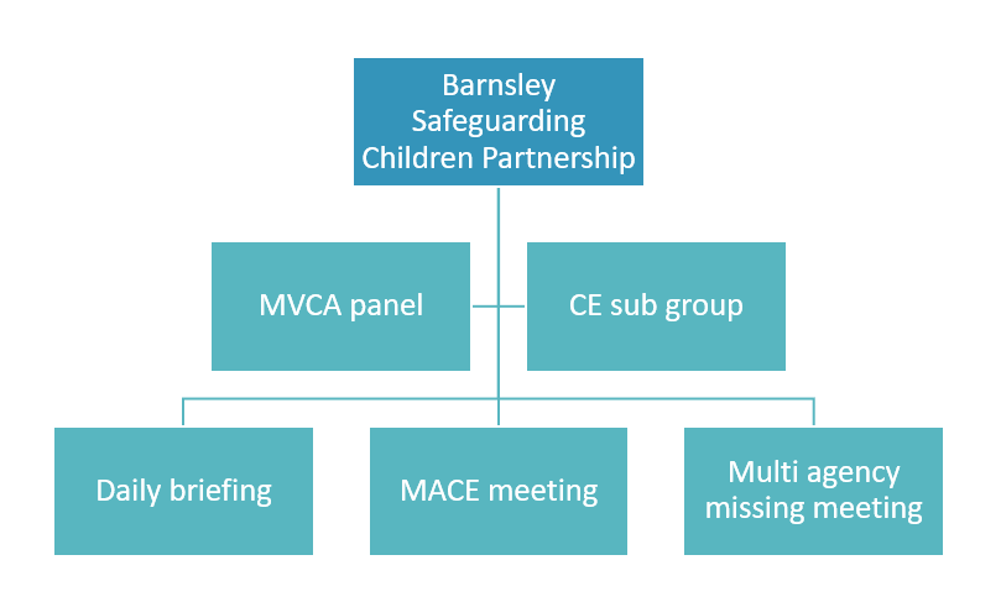 Barnsley Safeguarding Children Partnership
Barnsley Safeguarding Children Partnership is responsible for monitoring and challenging agencies to ensure that they meet the objectives within the strategy. They will hold the Child Exploitation(CE) strategic group and it's members to account for delivery of this strategy through the work plan and will require updates on progress every partnership meeting.
Barnsley Child Exploitation Strategic Group
The Child Exploitation Strategic Group is responsible for:
Maintaining an overview of interagency working in the area of child exploitation through a multi-agency group
Implementation of this child exploitation strategy
Management of the child exploitation work plan
Multiple Vulnerabilities and Complex Abuse (MVCA) panel
The MVCA panel brings together managers from different agencies to ensure that those children with the most complex safeguarding needs are considered. The panel also considers what action is being taken in respect of offenders, organised exploitation, and community areas/locations of concern.
The panel meets on a monthly basis and consists of:
Chair: HOS/Service manager Safeguarding and Quality Assurance
HOS Children's Social Care/Service Manager Safeguarding Unit
HOS Children Social Care/Service Manager Looked after Children
Social Care CE Team Manager
Service Manager Social Care
South Yorkshire Police: PVP/ CE Team
South Yorkshire Police: PVP Missing from Home Officer
BHNFT: Named Nurse and GU Medicine
SWYPFT: Safeguarding Nurse
Named Nurse for Looked After Children
Education Welfare Service: Children Missing Education Lead
YOT
Early Help services
BSARCS
Spectrum CIC
Barnardo's
Berneslai Homes
CAMHS
Multi-Agency Missing Panel
The panel meets weekly to consider all children reported to the Police as missing the previous week.
The panel consists of:
Service Manager Safeguarding (chair)
Missing Officer (Police)
CE Team Manager
YOT
Education Welfare Service
Return Home Interviewers (Targeted Youth Support)
Early Help Team Managers
All notifications are sent by South Yorkshire Police to the social care assessment team.
The Missing Panel ensures good communication and information sharing with other processes for safeguarding children including the CE MASH arrangements and the MVCA. The panel will ensure there is consideration of any missing episodes regarding looked after children placed in Barnsley by other LA's.
MACE meeting
The key purpose of this weekly meeting is to consider individual children at risk of child exploitation. Information shared is across agencies and the vulnerability assessment tool is completed within the meeting to aid assessment of risk and strengths and consider the level of intervention required. Intervention and actions are determined in line with the multi-agency work plan aimed at reducing risk and providing targeted intervention where needed.
There is a monthly MACE meeting to consider ward areas/specific locations of concern that is a multi-agency meeting to share information and develop actions and intervention to reduce risks, identify offenders, and provide targeted intervention where needed. This is also in line with the work plan.
Daily briefing
Daily briefing is a multi-agency meeting held every working day at 9.30am to share information to promote prevention, early identification, and a co-ordinated response to emerging concerns/threats.
Representatives
DCI, South Yorkshire Police (Chair)
Contextual Safeguarding Trainer
Horizon Community College
Strategic Safeguarding Partnership Manager
Youth Justice Service Manager
Head of Early Start, Prevention and Sufficiency, BMBC
Service Manager, EIP Targeted Youth Support, BMBC
Named Nurse Safeguarding Children, BHNFT
Barnsley College
Named Nurse for Safeguarding, Spectrum
Contextual Safeguarding Team Manager, BMBC
Cohesion and Prevent Officer
Integrated Safeguarding Nurse Specialist, 0-19 Service
Compass representative
Head of Service, Children and Family, BMBC
Safeguarding Advisor, SWYPFT
Secondary School Head Teacher Representative (Horizon CC)
Service Manager, Education Services, BMBC
Head of Service, Children in Care, BMBC
Licensing Officer, BMBC
Head of Safeguarding and Quality Assurance, BMBC
Designated Nurse, Safeguarding Children/LAC, BCCG
Regional Manager, IDAS
Service Manager, Independent Review and Safeguarding, BMBC
The Hill Primary Academy
DI, South Yorkshire Police
Service Manager, Assessment and Stronger Families, BMBC
Serious Organised Crime Co-ordinator
Acting Manager, Tenants First Service