If you have a job and live or work in Barnsley, Advancing Digital provides training so you can develop your digital skills. This can open new opportunities to progress in your career, into other roles or industries, and improve your performance at work.
Get in touch to take our free skills analysis to understand what your current skills are and how you can improve. Our team can provide advice on the best development options to meet your career goals.
To find out more, email employmentsupport@barnsley.gov.uk or call 01226 775100 (phone lines are open Monday to Friday from 9am to 5pm).
Is there a cost for the training?
All of the training is free for individuals as it is funded through the European Social Fund.
What kind of training do you have on offer?
We have a range of training options to suit you. These include short courses, awards and accredited units and qualifications. These are all focused on improving digital skills. If you get in touch, you can complete a free skills analysis. Our team will then offer training to help you to develop your skills.
Will this lead to a qualification?
Not all of our training options will lead to a qualification. They will help to develop your skills, knowledge and training in the areas where your digital skills could be improved. This will allow you to perform better at work, or progress in your career.
What is the time commitment?
Our training options vary in length and time it takes to complete. Our teams will work to provide training that suits you.
Do I need to take time off work?
No. If your employer gives permission for you to take these as part of your working day, we can make arrangements for this.  If you'd rather not include your employer, the training can be delivered to fit around your work.
I have a zero hour contract, can I apply for the scheme?
Yes! As long as you have a job and live in South Yorkshire, you can take part in the scheme.
I'm self-employed, can I apply for the scheme?
Yes, if you live in South Yorkshire, you can still take part if you're self-employed.
Martin's Story
Having worked as a photographer before his current job as a clinical officer in a hospital setting, Martin found that the landscape had changed. He had the knowledge and experience working with traditional film, but he lacked the digital skills required to make a career in the modern world of photography.
As part of our advancing digital programme, Martin enrolled on a ten-week evening media and photography course at Barnsley College.
Throughout the course, he began learning ways to scan, augment, and edit his work digitally. This allowed him to take his photography skills to the next level. The photo editing techniques he learned on his course have allowed him to do more of the finishing process himself. This reduced the need to work with external designers to clean and edit his photos if needed.
With his newfound confidence in using Photoshop and other editing software, Martin is looking to return to photography full time as a career, not just his hobby.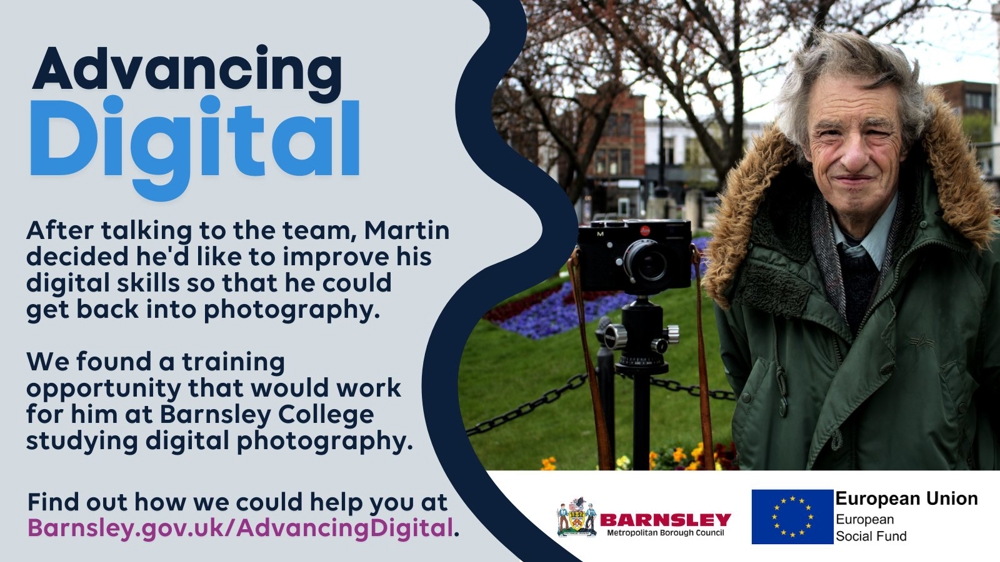 Advancing Digital is funded by the European Social Fund and is delivered across South Yorkshire. It operates in partnership with Barnsley Council, Barnsley College, RNN Group, Sheffield City Council, ITS (Independent Training Services) and Sheffield Hallam University.