Barnsley Education Inclusion Services
Portage service
Educational, child and community psychology
Hearing support
Hearing resources for children, young people, families and settings
Glue ear
What is glue ear?
Glue ear occurs when the middle ear (the space behind the eardrum) fills with sticky fluid. Usually the middle ear is full of air which enters it from the back of the throat via a tube called the eustachian tube. If this tube becomes blocked (for instance when a child develops a cold), the cells lining the middle ear produce a glue like substance. This prevents sound travelling so easily through to the inner ear. In the inner ear sound is changed into an electrical signal. This leads to a conductive hearing loss, where there is a problem with the conduction of sound.
The NHS website has a short video about glue ear.
Glue ear occurs frequently in young children:
8 out of 10 will experience glue ear before the age of 10;
1 in 5 children under 5 will have glue ear at any one time (source NDCS).
What causes glue ear?
Colds, flu, allergies and passive smoking can all cause glue ear.
Children with Downs Syndrome or a cleft palate are more prone to glue ear.
Common signs of glue ear
Changes in mood, for instance becoming tired, frustrated or less biddable.
Speaking more loudly or quietly than normal.
Asking for repeats.
Asking for the TV or music to be turned up.
Struggling to hear people at a distance.
Becoming more withdrawn with a preference for playing alone.
Becoming easily distracted, when other people are talking.
Unclear speech – this usually develops, if a child has glue ear for a long period.
A language delay.
Not appearing to hear or respond when called.
Treatment
Treatment may not always be necessary – usually glue ear clears up within 3 months.
During the initial 3 month monitoring period the ENT surgeon may also recommend a hearing aid to allow the child to hear all speech sounds.
However, if the glue ear has not resolved by this time, the ENT surgeon might recommend an operation to insert a grommet (a tiny tube) into the middle ear. The grommet helps to keep air circulating in the middle ear and helps prevent any further build-up of fluid.
Usually the grommet will fall out naturally within 6 to 12 months.
Some parents may choose for their child to use a hearing aid, because they would prefer for their child not to have surgery.
See below for an image of a grommet in the ear drum.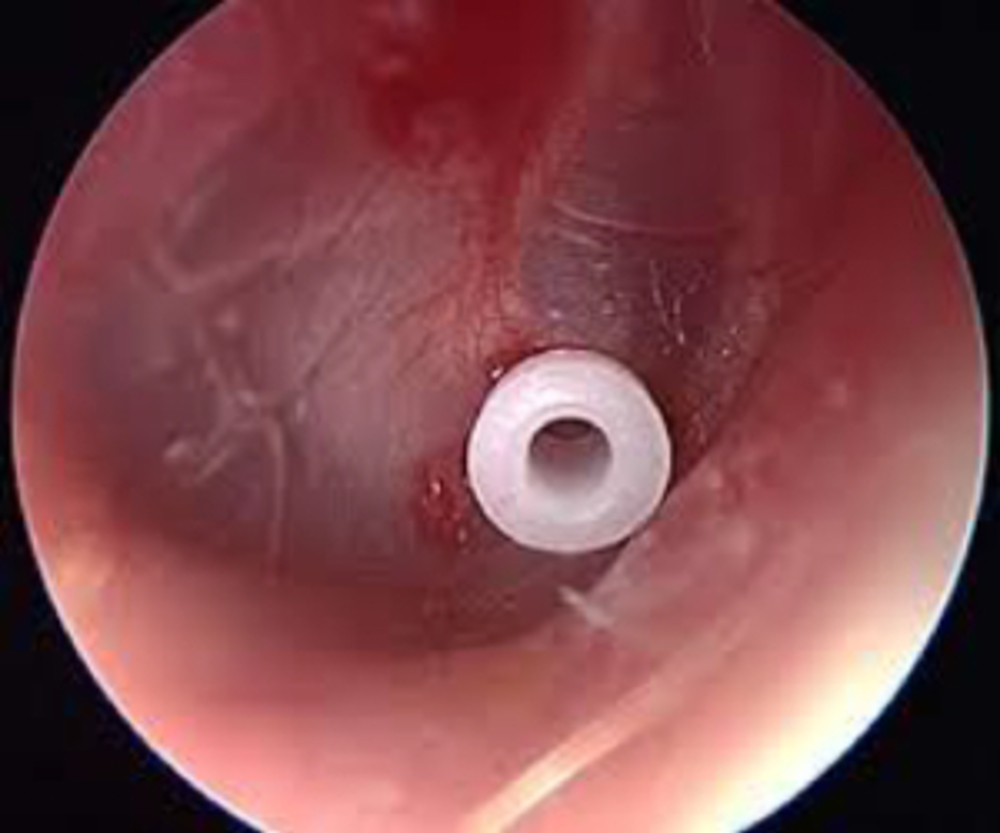 How can we help a child with glue ear?
Communication:
Make sure to get the child's attention before speaking.
Give a clear view of your face at all times.
Speak clearly at your normal volume and speed.
Keep close for optimal communication. If the child is wearing hearing aids, you should communicate with them from within 2 metres, as hearing aids work best within this distance.
Check understanding. Repeat or rephrase your instructions as needed.
Repeat back the contributions of others to any class or group discussion.
Noise:
Reduce background noise as much as possible. For instance, make sure that music is accessed through headphones. Turn off computers when not in use. Close any doors that you can.
Try defining acceptable limits for noise in each activity: eg mute, whisper, partner, group voices, depending on the activity.
If you are in an open plan setting in the Foundation Stage, then talk to your teacher of the deaf about how you can make your setting more deaf-friendly.
Post 16 support
Independent living
The paediatric audiologists at New Street Health Centre will support you to transition to adult audiology services.
In the meantime, you can contact them on 01226 644803 for appointments and on 01226 644804 for batteries and repairs.
You might want to consider some adaptations in the home to allow you to live independently too. The Equipment, Adaptation and Sensory Impairment Service can help you with this. You can contact them in the following ways:
Telephone: 01226 775800
Text: 07825 454888
You might also feel that this is the time, when you want to take responsibility for a range of other things, like making your own doctor's appointments. The National Deaf Children's Society (NDCS) website for young people, The Buzz, has a lot more information on how you do this.
Personal Independence Payments (PIP)
This is money that the government gives to people aged 16-64 whose disability means they have difficulty with daily living or getting around. If you think that you might like to claim this, it would be better at this stage to get the support of your family.
There is lots of useful information about how to claim at GOV.UK Personal Independence Payments (PIP).
Social Care Assessments
Once you reach the age of 18, under The Care Act 2014 you may be entitled to a social care assessment, if you feel that you need help with the activities of daily living, personal independence or keeping in touch with friends and family. Speak to your teacher of the deaf, if you would like to know more.
Support in college
What support do you feel you need to enable you to access lessons at college? This might include ongoing support from a teacher of the deaf, a radio aid to help you to hear at a distance and in noise, a communication support worker, (electronic) note taker or speech to text reporter, a BSL interpreter or lip speaker. Please speak to your teacher of the deaf about this, so that they can make your receiving college aware of your needs.
Your mental health
Most people will, at some point in their life, experience periods of feeling sad, anxious, or low. However, if this problem lasts for weeks or months it could be a sign of depression, anxiety or another mental health condition.
In the first instance it would be good to talk to a member of your family, a teacher or friend. You could also get in contact with Mindspace on (01226) 720742. They have information on a range of mental health difficulties and on where to look for further support.
Again, the NDCS The Buzz website includes some useful information on this including links to organisations which might be able to offer support. Please also see the information on going to the doctor.
Role models
Would you like to keep in touch or meet deaf role models, after you have left school? These could be people who are attending college, university or who are already in work. Please contact your local teacher of the deaf for more details.
Your rights under the Equality Act
If you have hearing loss and are planning to start an apprenticeship, traineeship, supported internship or employment alongside part-time study, you are protected under the Equality Act 2010.
It is important that you tell your employer about your hearing loss, so that they can make the necessary adaptations. Employers must remove any barriers that stop you from doing your job effectively in the workplace. A variety of technologies can be used to support you, for instance text and email, BSL interpreters if needed, Bluetooth pairing to your hearing aids (if they have this option), subtitles and captioners for video calls.
The Access To Work scheme
Some deaf people rely on communication support or assistive technology in order to be able to do their jobs.
Funding is available to help you, if you feel you need it. This might be to help you hear better in certain situations at work, for instance meetings.
Find out more about how to get support in work if you have a disability or health condition (Access to Work).
Basic trouble shooting of hearing aids
If a child has a problem with their hearing aid, there are a number of things you can check, before contacting your local audiology department.
Is the hearing aid switched on?
Check if the battery drawer is open, or if there a fault with the hinge of the battery drawer. Problems with battery drawers can be fixed by your local audiology department or possibly your teacher of the deaf.
Try switching the aid off then on again by opening and then closing the battery drawer. This will automatically switch the aid back on and a whistling should be heard.
If the battery has expired, no sound will be amplified, and the battery must be replaced. To replace it ensure that the + symbol on the battery faces you, as you close the drawer. The battery will not work, if it is in the battery drawer the wrong way round.
Some hearing aid battery drawers will be locked, for instance if your child is under five or is likely to need close supervision around small objects.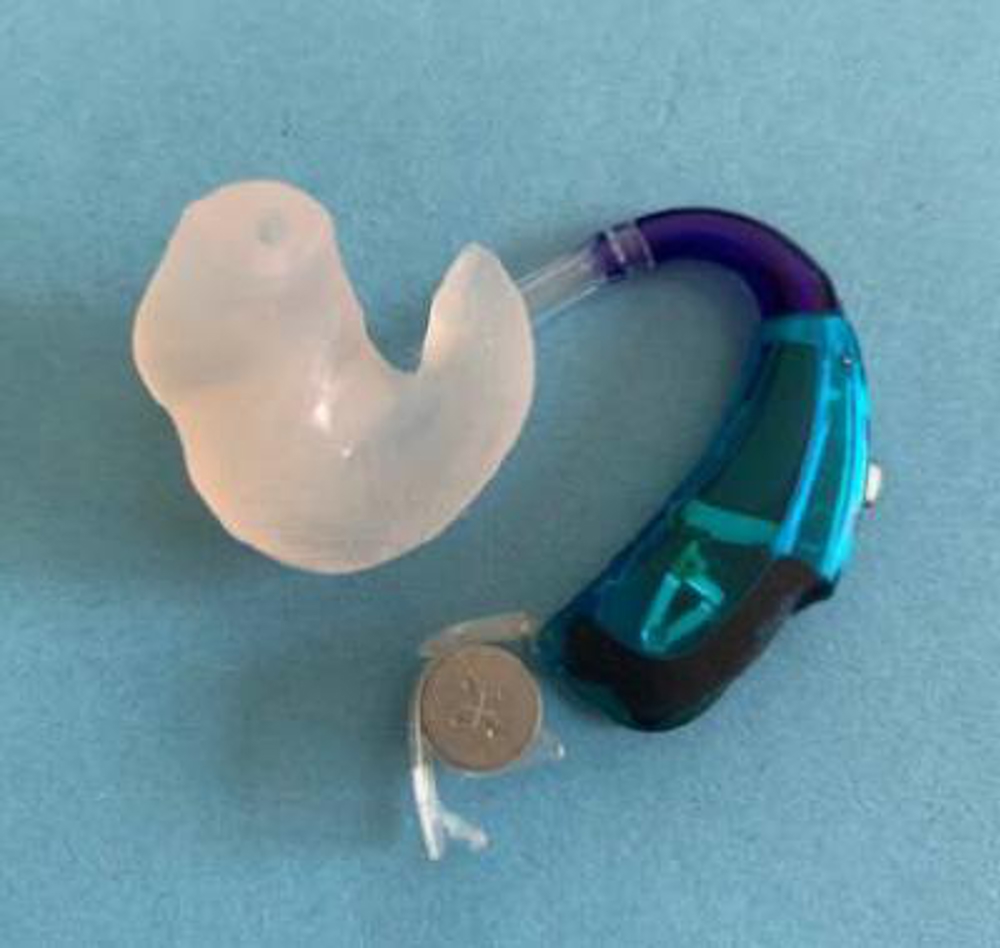 Is the tubing blocked or damaged?
Wax can build up in the tubing and prevent the aid from working properly.
Remove the mould from the hearing aid and clean with warm soapy water. You might need to soak the mould a while to allow all the wax to come out.
If this does not remove the wax, you will need to retube the mould. Please see our separate leaflet for guidance on how to do this.
The tubing may have condensation which needs to be removed using a puffer. Please contact your audiology department, if you need one of these.
If you hear whistling (feedback) coming from the hearing aid, carry out a visual check that the tubing is not split.
If tubing has gone hard and is not fitting in the mould correctly, it will need to be replaced.
Is the ear mould a good fit?
There will be noticeable whistling (feedback), if the ear mould is too small. Check first that you have inserted the ear mould correctly.
Sometimes the top part of the ear mould is not pushed in correctly.
A new ear mould is needed.
Contact your audiology department to arrange to have an impression to be made for a new mould.
Is one of the microphones faulty?
Sound may not be amplified correctly. Sometimes damage or dirt may be visible on the hearing aid. This is located towards the top of the hearing aid. Or the microphones can become blocked by the use of hair styling products.
Dirt blocking this area can cause sounds to become muffled or distorted, or it may lead to a drop in volume.
If the dirt cannot be removed with a dry brush, then contact your audiology department.
Is the hearing aid ear hook damaged?
This is the part at the top of the hearing aid connecting the hearing aid to the tubing.
If this is damaged or broken, the aid will not be able to amplify sounds correctly.
You can order new ear hooks through your audiology department.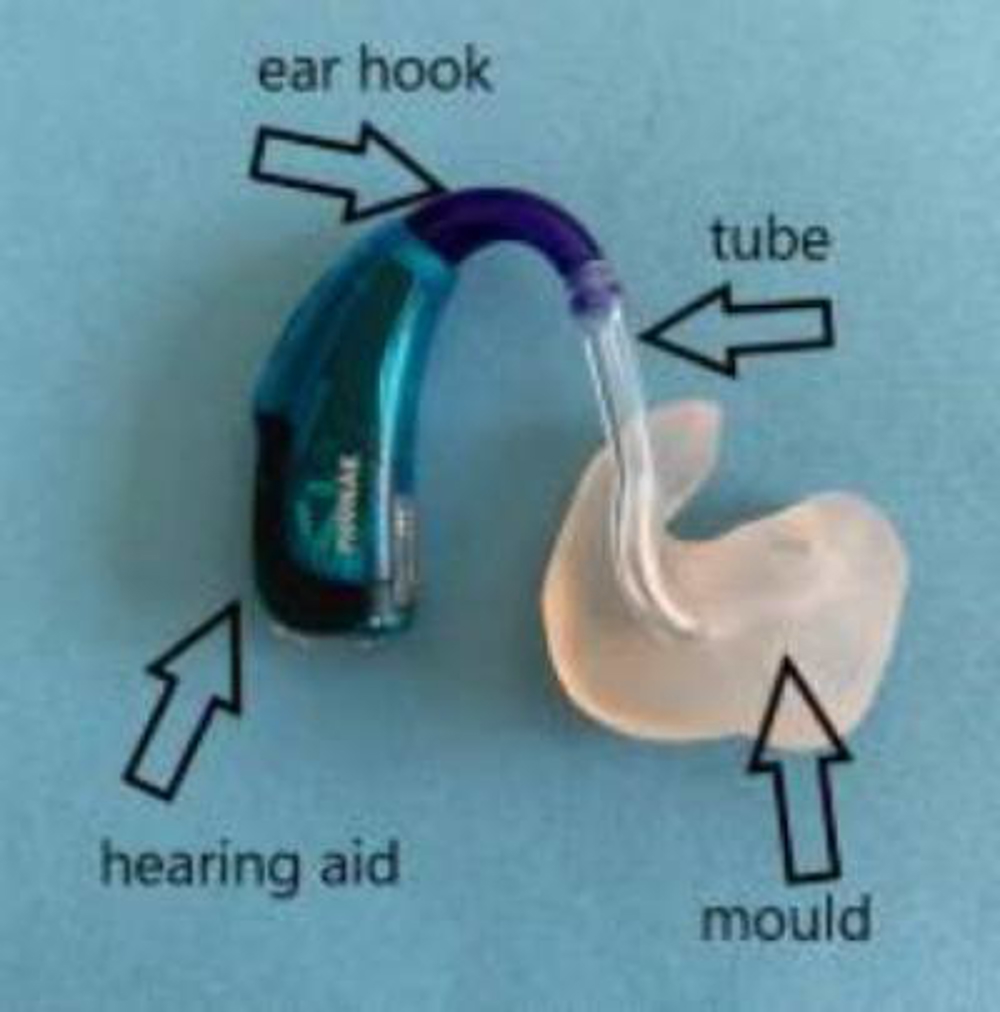 Listening to the hearing aid
If your child cannot report reliably on the quality of sound in their hearing aid, then you will need to check to make sure the hearing aid is working properly every day.
You can do this by carrying out a Ling sounds check with your child. Your teacher of the deaf will be able to advise you further on this.
You can also listen to the sound quality yourself using a listening device called a stetoclip. Ask your local audiology department if it will provide you with one of these.
Useful contacts
Barnsley Paediatric Audiology
(01226) 644804


Doncaster Children's Audiology
(01302) 642759


Rotherham Children's Audiology
(01709) 423145


Sheffield Children's Hospital Audiology
0114 271 7450
How to re-tube a hearing mould
After a period of time the tubing in an ear mould may become discoloured and/or hard. This may affect the sound quality of the hearing aid. To prevent this, tubing should be replaced every 3-6 months or as and when required.
Step 1
Carefully pull the tubing and ear hook apart.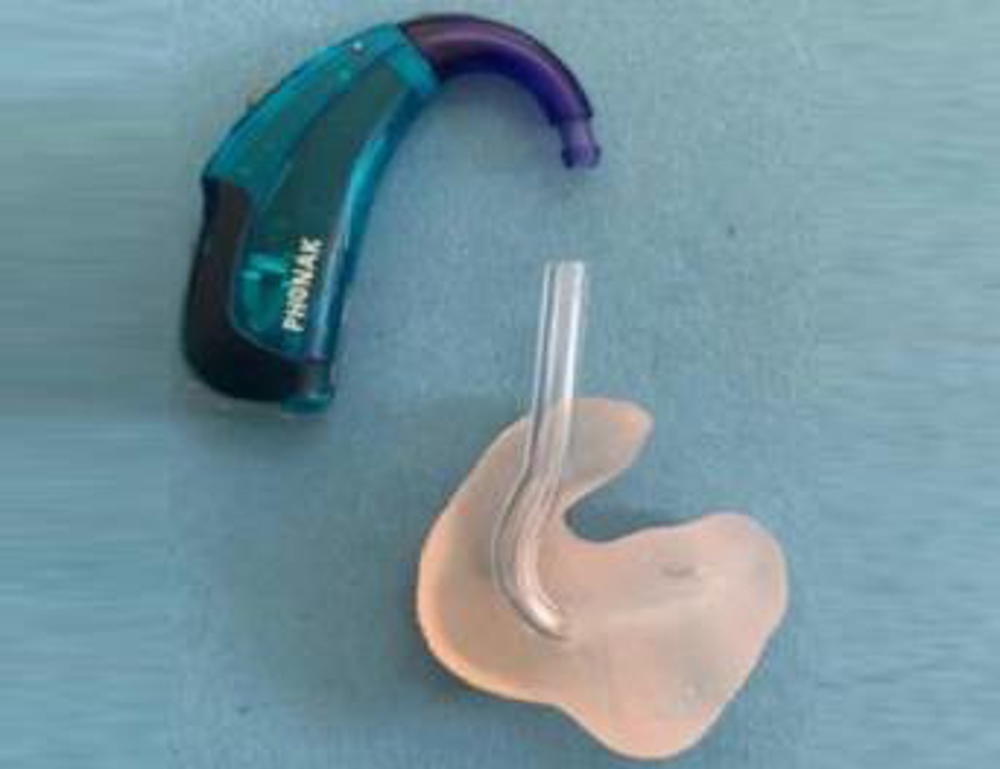 Step 2
Pull the tube out of the ear mould. Do not throw this away as you will need it later.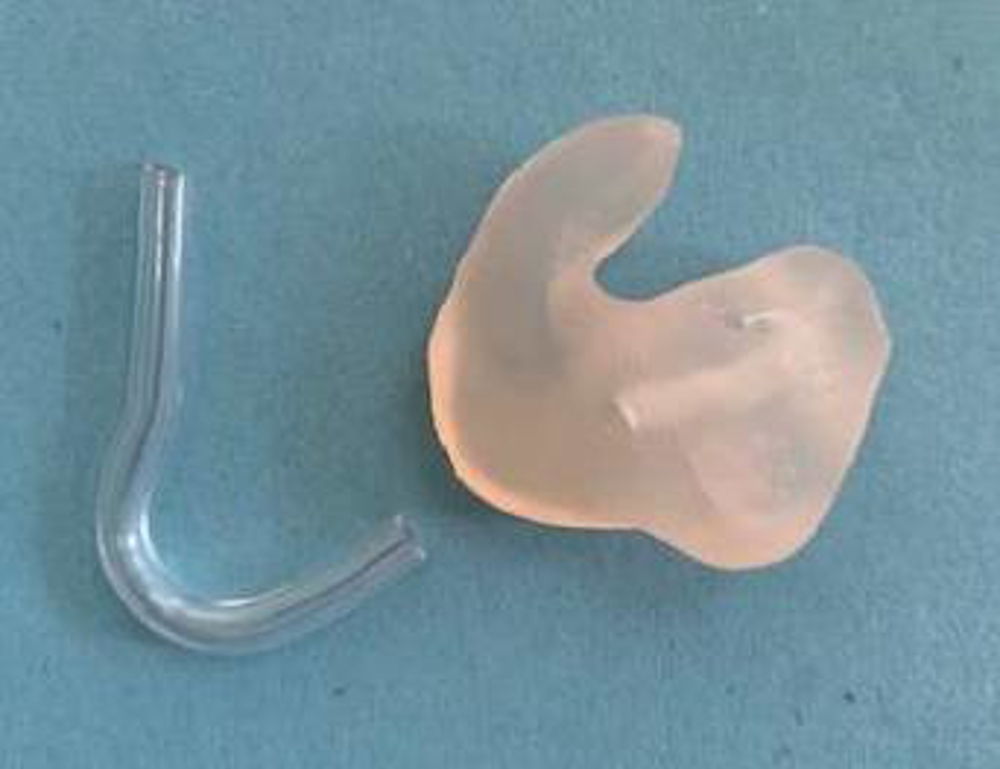 Step 3
Thread the tapered end of the tube through the hole in the ear mould.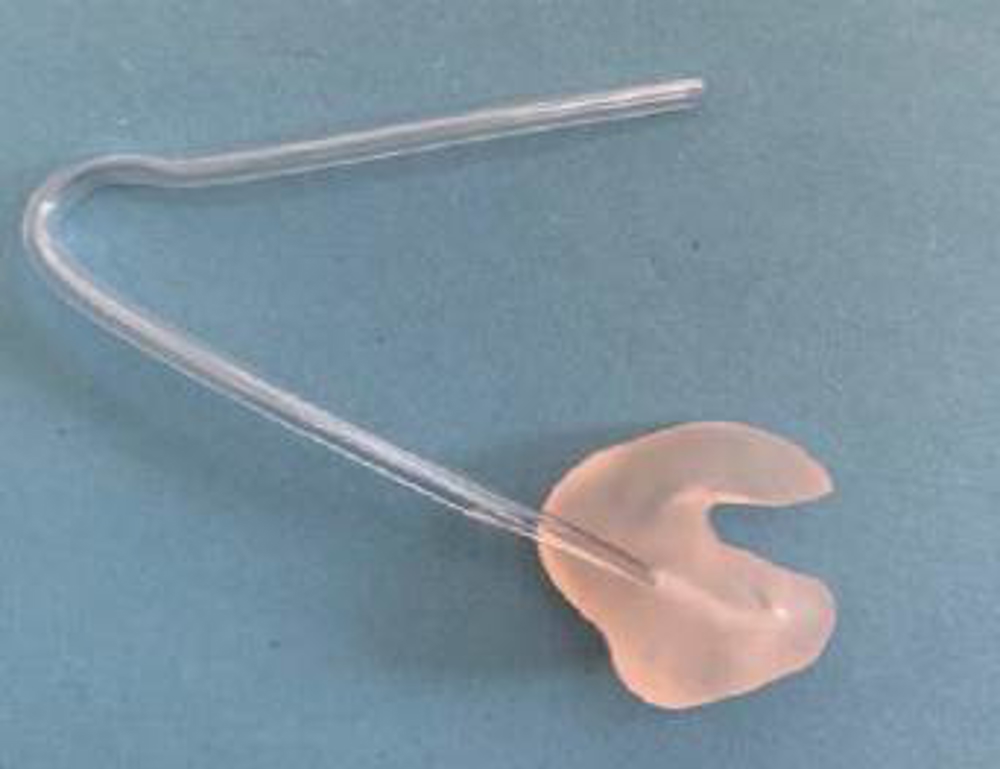 Step 4
Pull the tube until the bend reaches the mould and the tube is stood straight up (like an L shape/backwards L).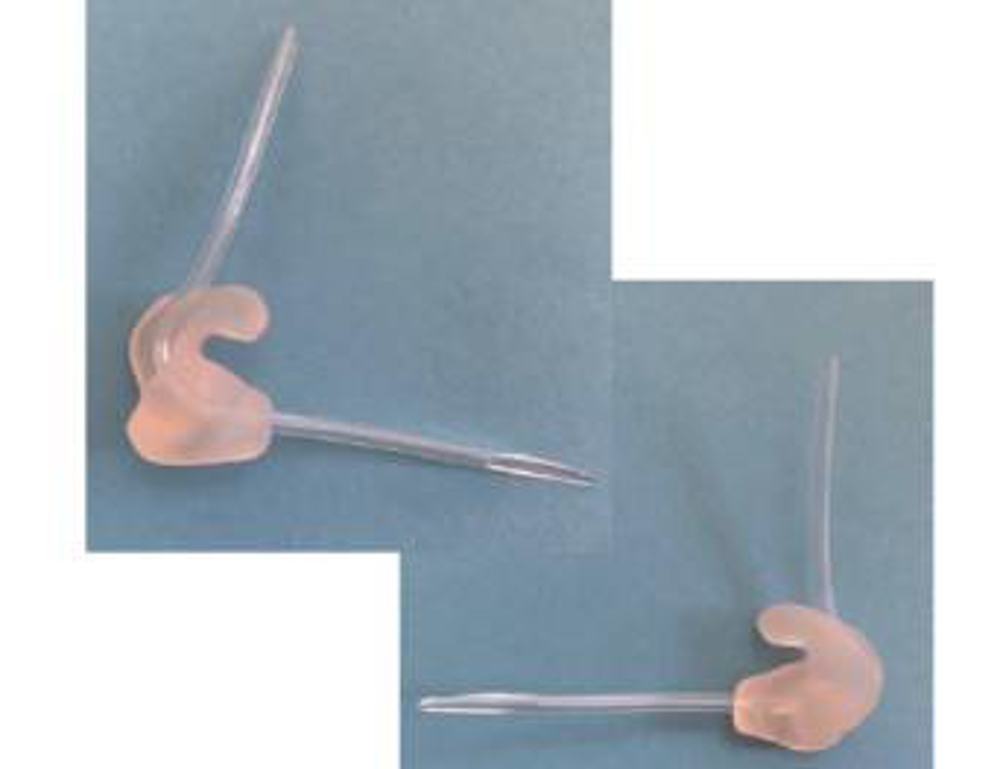 Step 5
Cut the tapered end of the tubing as close as possible to the ear mould.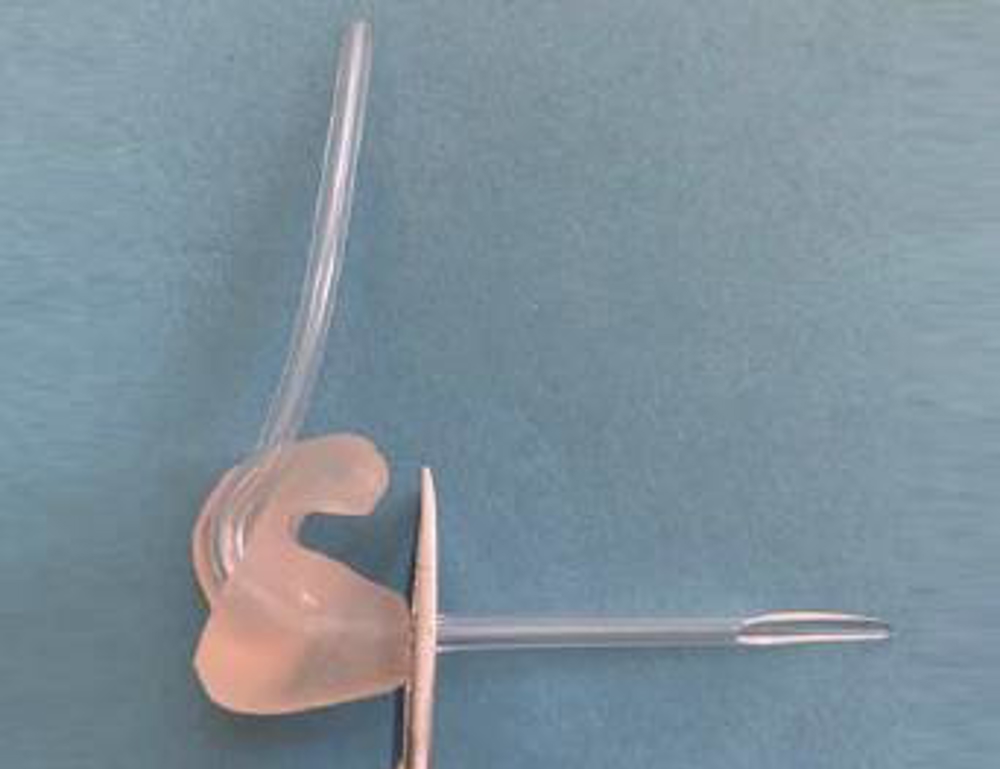 Step 6
Use the old tube as a guide to cut the new tubing.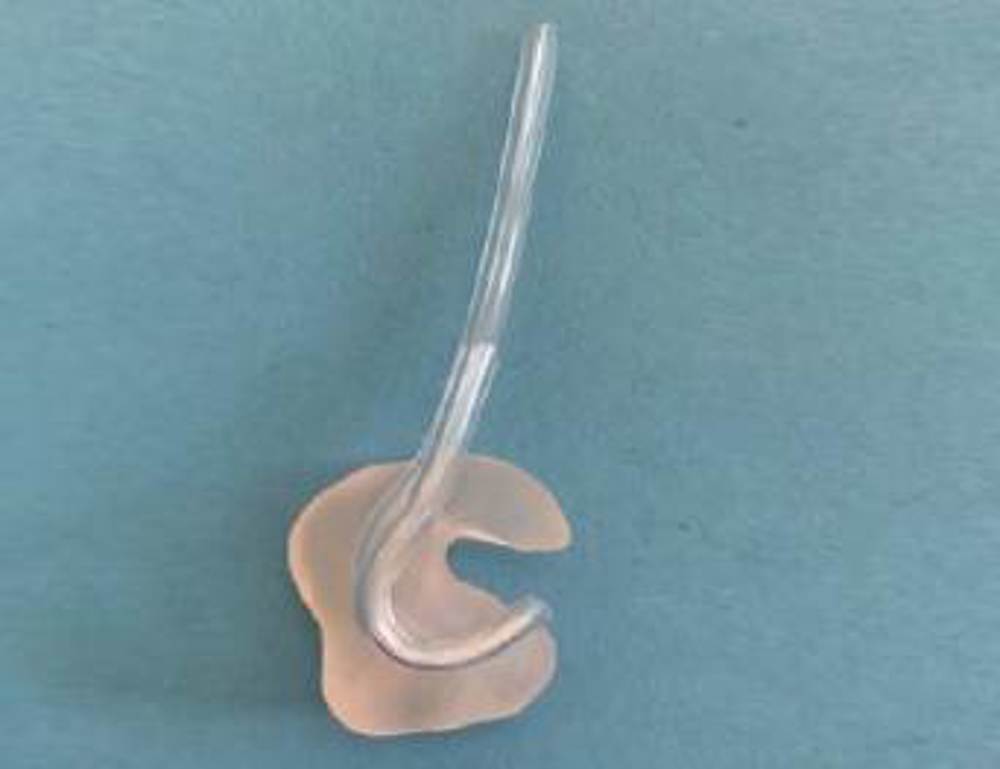 Step 7 
Attach the new tubing to the hearing aid.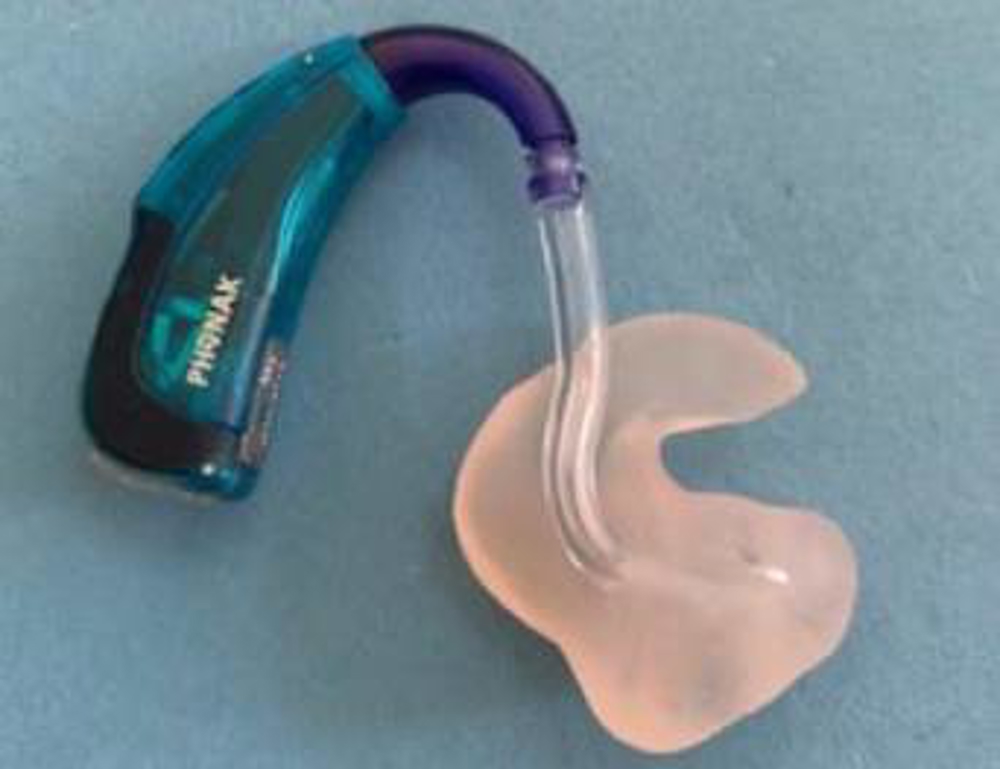 Social communication and interaction
Autism Alliance

 - a network of 18 autism charities supporting many thousands of

adults and children with autism across the UK.

Autism Education Trust - supporting effective education practice.
Autism Independent UK - help to raise the awareness of autism, and provide well-established and newly developed approaches in the diagnosis, assessment, education and treatment of autism.
I CAN - children's communication charity. Experts in helping children develop the speech, language and communication skills they need to thrive in a 21st century world.
The National Autistic Society - the leading UK charity for people on the autism spectrum (including Asperger syndrome) and their families. They provide information, support, pioneering services, and campaigns for a better world for people with autism.
Vision support
Parent support
Supporting charities
Eye conditions
The following websites have useful information about a wide range of eye conditions:
Equipment and resources for settings
Reading, writing and computing aids
Tactile books
Non-slip matting
Prescription eyewear
Activities
Other useful vision support links