Inspire the future workforce through the Business Education Alliance
Give back to Barnsley with opportunities for your SME to work with young people to prepare them for the world of work.
The Business Education Alliance supports collaboration between schools and employers to raise the aspirations and ambitions of Barnsley's young people. For businesses, it is a chance to grow deeper connections in the community, increase awareness of your business and help reduce skill shortages across Barnsley.
How to get involved
You can help to provide young people with meaningful encounters with businesses, employers and employees so that they can benefit from experiences of workplaces. We have lots of opportunities for you to get involved, with various options to suit you. You could help by:
signing up to our programme and join our network of employers in Barnsley by emailing sandrapower@barnsley.gov.uk
providing a video of your career profile
hosting a virtual talk offering advice on general employability skills and the sort of qualities employers like you value
giving a talk to students and answering career questions
joining in with other employers in a school speed career session
setting a short task for young people to work on to gain some experience
joining one of our popular mock interview sessions
taking part in mentoring sessions with students
getting involved in CV workshops
offering workplace visits, placements and shadowing.
When working with schools as an employer, you will be supporting careers education by sharing your insights, knowledge and experience as a positive role model for students. You will not be required to have extended knowledge of careers, and you will not be responsible for student behaviour.
Our past events
Penistone Grammar careers speed networking
Year 10 students at Penistone Grammar School had the opportunity to learn about the range of businesses and jobs available in Barnsley at our careers speed networking event in July.
They had the chance to speak with over 20 different employers, learning about each business and the different careers available to young people.
Deputy Principal Nick Green said, "It has been beneficial for students to be presented with a variety of employers and to go and find out more information and discover things they didn't know. The event has allowed students to engage with employers and develop their employability skills."
We want to thank our volunteers from businesses across Barnsley who attended the careers speed networking event and for contributing to help raise young people's career aspirations and introduce them to the world of work.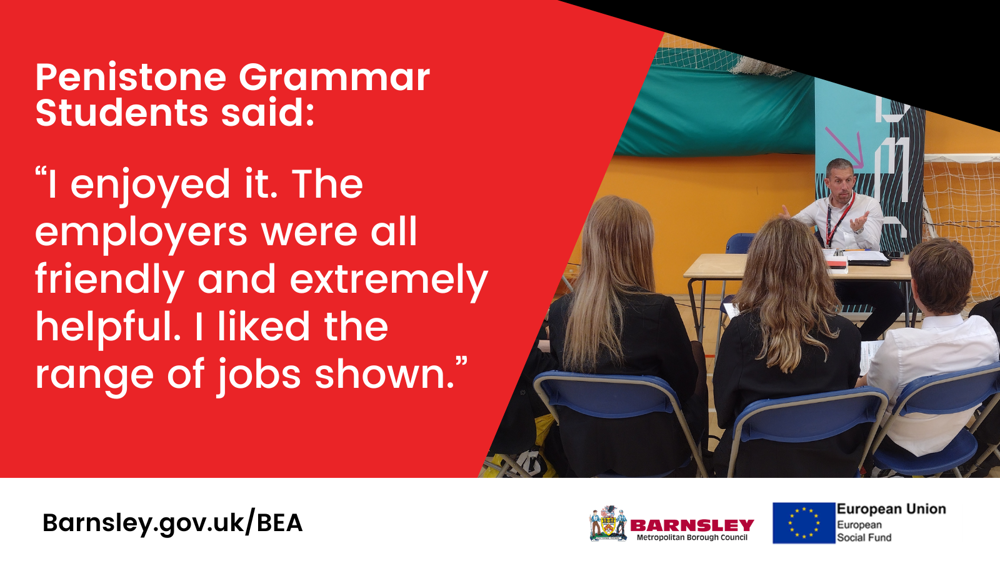 This project is funded by the European Social Fund.