Welcome
Welcome to the annual report of the Barnsley Safeguarding Adults Board. This is your chance to learn more about what we've achieved in the past year to keep our communities safe.
Read the full Annual report 2022/23.
Foreword from Bob Dyson QPM DL, Independent Chair of Barnsley Safeguarding Adults Board
It's vital that the Safeguarding Adults Board reflects upon the last year's work and makes that information available to the public
This annual report provides data showing that the Board has continued to progress in its goal to keep adults safe and free from harm. You can read more about what's happened during the last twelve months to progress the Board's strategic objectives.
Some projects that are worth mentioning are:
the creation of the 'Preparing for Adulthood Team,' which is helping to improve the transition to adulthood for young people who need extra support.
the creation of a customer engagement post, which is actively working with customer groups across Barnsley, increasing knowledge of safeguarding and the work of the Board. The feedback from customers will be used by the Board to inform our plans in 2023/24.
the creation of a part-time training administrator post, freeing up the time of the trainer and the Board manager to concentrate on their core roles.
Those achievements have been made possible by the support and commitment of our safeguarding partners, healthcare services, us and the Police, who provide the funding for the Board and take a lead role in its governance.
In addition to the Board, I've also chaired the Safeguarding Adults Review sub-group, which manages any case reviews that meet the criteria set out in the Care Act. Based on the review findings, the group strongly desires to learn and improve practice.
In the last year, we've introduced a 'was not brought' policy for adults at risk of missing health appointments. We've also looked at quality assurance for annual health checks for adults with learning disabilities. Both have led to improvements in working practice.
After nine years in the role, I stepped down as the Independent Chair at the end of May. I do so confident that the Board has made considerable progress, that there's a strong commitment by all partners to our aims and knowing the board will continue to work hard to protect adults in Barnsley.
I very much appreciate the support that I've received from partner agencies during my time as chair. I particularly want to thank the Board manager, Cath Erine, who has done so much to organise the Board and its sub-groups, to bring new ideas to fruition and to be relentless in promoting safeguarding.
Bob Dyson QPM, DL
The role of Barnsley Safeguarding Adults Board
Barnsley Safeguarding Adults Board (BSAB) brings together organisations working across the borough to promote wellbeing and reduce the risk of harm to local people. This includes ourselves, health, housing, Adult Social Care, education and the Police.
The Board is responsible for creating and encouraging a culture among our members, partners and communities that values and follows the principles of 'Making Safeguarding Personal'.
Together, we have a duty to make sure that procedures are in place to promote the reporting of suspected abuse and take necessary actions to stop it. The Board makes sure that those who work to protect adults follow a coordinated and consistent approach.
Our vision is to make sure that Barnsley is a safe place for all adults. To achieve this, we'll work together to:
prevent abuse and harm by promoting dignity and respect, delivering high-quality services.
empower adults and communities to prevent abuse and be part of the solution if abuse or harm does occur.
protect adults by working with them to reduce the risks they face and establishing a culture that doesn't tolerate abuse.
deliver proportionate responses to abuse and harm, working with people.
deliver high-quality partnership working to prevent and respond to abuse and harm.
hold each other to account for the quality of our safeguarding work and report this to the residents of Barnsley.
Safeguarding boards are required to have an independent chair. Our long-standing Chair, Bob Dyson, stood down earlier this year, and a new chair was appointed to replace him.
We thank Bob for his commitment to keeping adults in Barnsley safe and all he has done to drive the Board's work forward. Marianne Huison started in June. Marianne also chairs a safeguarding board in West Yorkshire, which will support the sharing of best practice.
Safeguarding activity
We received 3,129 safeguarding referrals in 2022/23, which is a 33% increase in the number of concerns we received in 2021/22 (2,231 referrals).
Concerns were identified and shared by the following organisations:
Care homes - 38%
Care agency - 6%
Hospital - 15%
Yorkshire Ambulance Service (YAS) - 10%
Berneslai Homes - 1%
Self-referral - 1%
Relative or friend - 3%
Police - 2%
Primary Care - 2%
South West Yorkshire Partnership NHS Foundation Trust (SWYPFT) - 2%
Adult Social Care Portal - 3%
Other - 16%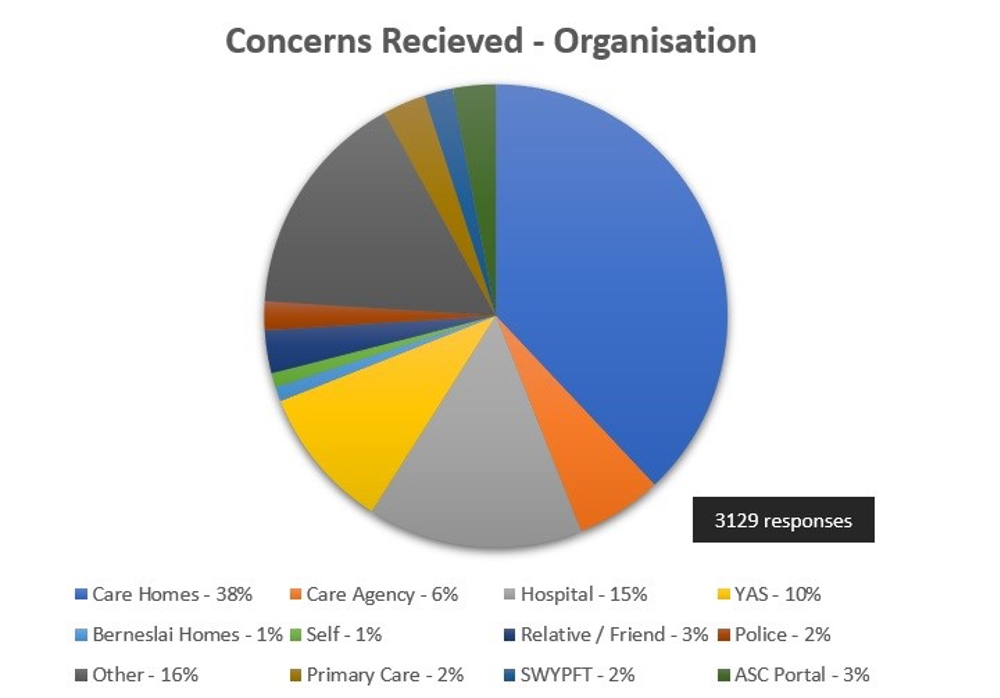 Referrals from care homes are up 6% this year. We're working with care homes to provide an alternative method for them to share quality concerns with us. As these new reporting processes go live in 2023/24, we expect the number of referrals to go down.
The 6% decrease in the number of referrals from the Police is positive. This is the result of new apps helping Police colleagues to provide better quality data and a police officer now working in our Adult Social Care Front Door team.
Barnsley Hospital has an established safeguarding team who actively work across all departments to identify and report concerns. The 4% increase in referrals this year is a testament to this work.
While the 4% increase in referrals from our communities is positive, we need to continue working to empower the public to feel confident in sharing their concerns. We've appointed a Safeguarding Customer Engagement post in Healthwatch which will help to increase referrals.
The lack of referrals from housing associations and private landlords is a concern and will form part of our work in 2023/24.
Where did harm take place?
Locations of alleged abuse in 2022/23:
Care home - 45%
Own home - 41%
Hospital - 5%
Community setting - 5%
Other - 4%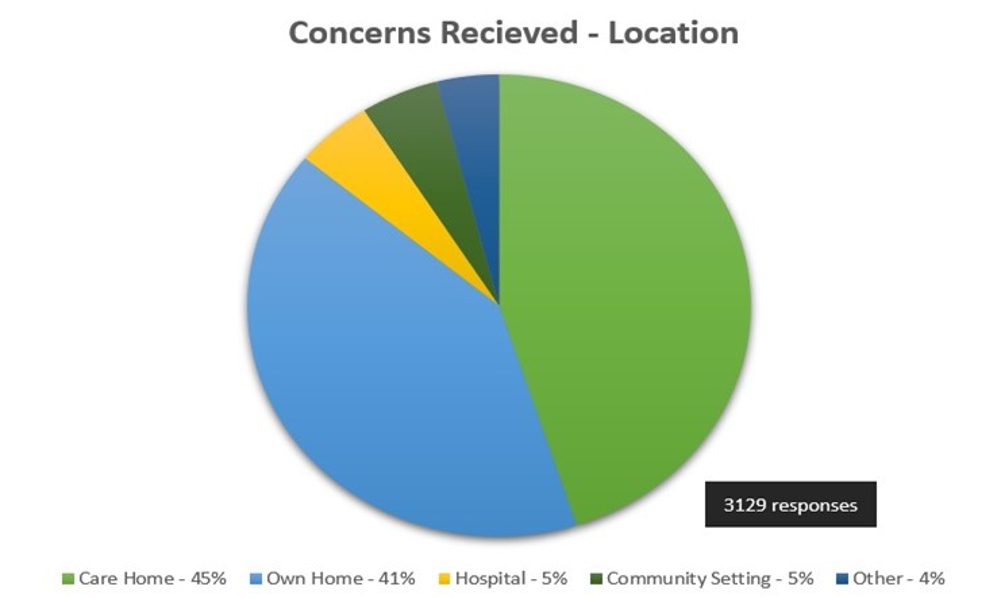 We've seen an increase in reported abuse cases in care homes in line with new advice to report everything. We're committed to supporting all staff and volunteers to raise appropriate, high-quality concerns, as shown by our offer of free training for everyone.
Types of abuse reported
Safeguarding concerns by types of abuse reported in 2022/23:
Neglect - 42%
Physical - 18%
Financial - 12%
Psychological - 10%
Organisational - 4%
Sexual - 3%
Domestic abuse - 2%
Discrimination - 1%
Self-neglect or hoarding - 8%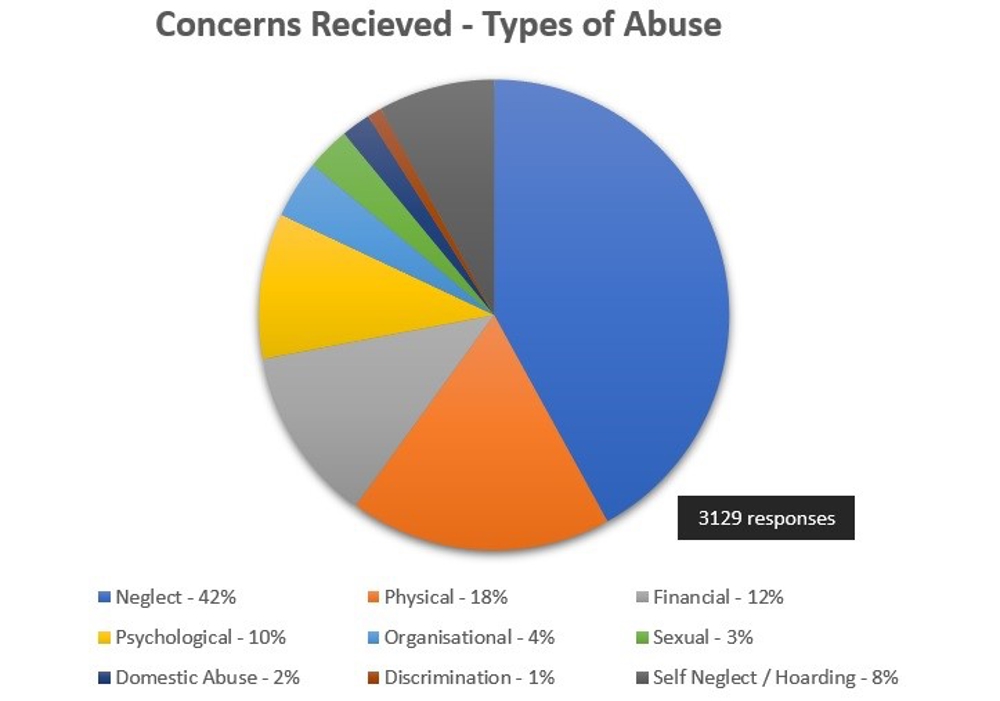 The types of abuse reported in the year are like those reported in the previous year.
Neglect is the most reported type of abuse in both care settings and people's homes. Most financial abuse happens in someone's home, with family and friends being the people most likely to be causing the harm.
The number of self-neglect and hoarding cases has risen slightly, highlighting the work we've done in this area locally. Research suggests between 4% and 6% of people are likely to struggle with these issues, showing we need to continue helping people to identify and report their concerns.
Did we keep people safe?
92% of adults supported through a safeguarding enquiry reported that the support they received helped deliver their outcomes and meet their needs.
Did we help remove the risk of further harm?
37% of adults reported that the support they received removed all the risks of further harm.
56% of adults reported that the support they received reduced the risk of harm.
7% of adults reported that the risks of further harm remained.
Removing all the risks may result in someone not seeing their friends and family members or having to move home. Some adults aren't prepared to make these changes.
It's great to see that Barnsley continues to provide safer services than our regional and national neighbours. No data is available for 2020/21 due to COVID-19.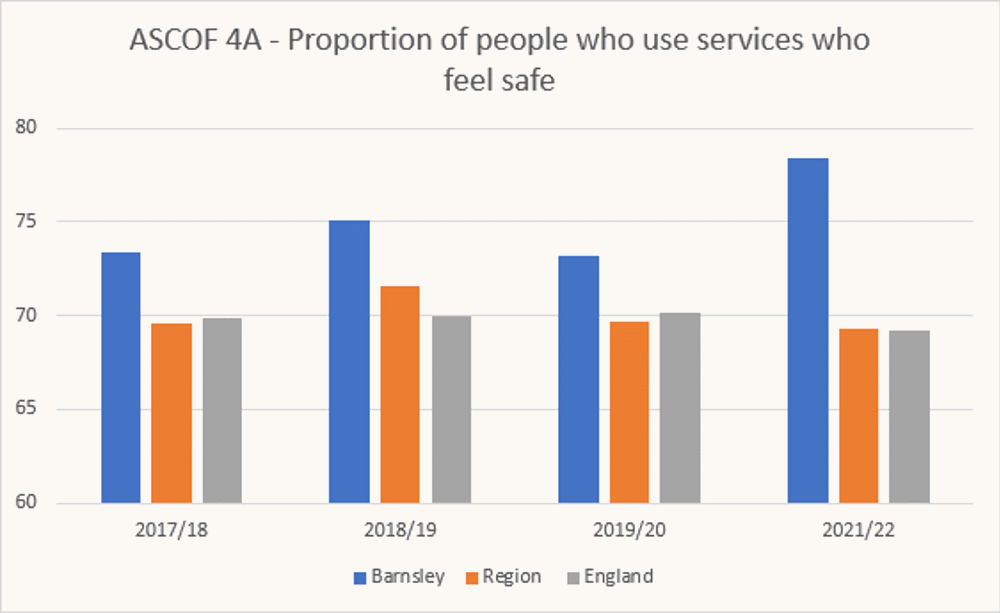 We'll be working with partner organisations, such as Barnsley Hospital and the Police, to capture data which will help us ensure the quality of safeguarding in key partners.
Case studies
Rosie (please note these are not the real names of the people involved)
Rosie, an Armed Forces veteran, needed help with her hoarding, which affected all the rooms in her home. She lives with bipolar disorder and struggles with agoraphobia.
Over the last four years, Rosie has sadly lost her husband, a fellow veteran, and twin brother. Her son lives overseas and is now aware of her struggles.
Adult Social Care and housing officers visited Rosie's home, but they were initially denied access. Rosie eventually allowed them in and agreed to attend a meeting with local organisations that could help her make a plan to reduce the risks linked to her hoarding.
Weekly visits helped to build a strong relationship with her. They helped Rosie in addressing the issues and selling old items to help her buy new ones that had yet to be worn or used.
Rosie has become a regular attendee of our people-led D'Clutter Group, which she enjoys. Rosie told us:
"It's dragged me from a very bad place, and I have had endless support from housing and social care to move on slowly. I have moved on from that place and wouldn't be where I am now without their support. I wasn't aware of the support available from the council – it's changed my life."
Key achievements
| | | |
| --- | --- | --- |
| Achievements | Details | Impact |
| Safeguarding Adults Training programme | From April 2022 to March 2023, 732 people joined workshops and completed e-learning courses. We have a dynamic programme, including special sessions around the cost of living crisis and safer recruitment into the care sector. | Evaluations show that the courses are meeting the needs of colleagues across Barnsley, with them telling us how they supported their practice. |
| Reviewing our Safeguarding Adults Board webpage | We worked with colleagues to review our webpages, helping workers more easily find resources and access learning opportunities. | Early data suggests our new training 'tile' is helping more workers access learning to help them in their roles. |
| Sharing best practice and finding areas to improve | We hold regular reflective sessions at our Pathways and Partnership sub-group meetings to share best practice and identify areas for improvement. | These sessions have led to new or revised guidance tools and policies. It has helped us work better together in Barnsley. |
| Creating a public-facing hoarding postcard | Delivered to homes in Barnsley by Community Safety colleagues, this postcard is helping to increase awareness of hoarding and self-neglect in our communities. | Early evidence suggests the postcard is helping more adults struggling with hoarding and their neighbours to come forward for support. The postcard has been shared as a best practice and adopted by other Safeguarding Boards nationally. |
| Safeguarding Awareness Week | In November, we took over Barnsley Market to share vital safeguarding messages with the public. We also hosted events where colleagues working across Barnsley could learn more about how we can all help keep our communities safe. | Our Market event proved popular, helping people get advice from our partners and get referred into our services. We'll be bringing the event back for this year's Safeguarding Awareness Week. |
| Creating our Safeguarding Customer Engagement post | Building on best practice, we secured funding for this post, based at Healthwatch Barnsley. They're actively working with local groups to help people understand how they help others to stay safe and well. | We've enjoyed some great successes already with this post, helping us work with our communities. We'll look to extend the funding to build on the role's positive impact. |
| Universal Health Passports | We supported the SAFE group in producing a patient-held Universal Health Passport, helping them get the support they need across all health settings. | The pilot showed the passport was popular with adults and accepted by all health workers. We're now looking at rolling this out alongside training. |
| Preparing for Adulthood team | Adult Social Care has created a new Preparing for Adulthood team. The ambition is to expand it to include Children's Social Care, mental health and other colleagues. | The service is still growing and regular updates will be provided to the Safeguarding Adults Board. |
| 'Was not brought' policy | Learning from our safeguarding reviews identified the need for a new policy for adults with learning disabilities. This policy is designed to help make sure they're not missing vital health appointments. | The Safeguarding Adults Board has approved the new policy, with training now underway for health and social care staff. People regularly missing health checks will now automatically generate a safeguarding referral. |
Learning from Safeguarding Adults Reviews (SARs) and lessons learnt
Safeguarding Adults Reviews (SARs) are a chance for us to learn lessons, improve practice and look at how we can work better together in Barnsley.
They're required by the Care Act when abuse or neglect is suspected to be a factor in the death or serious harm of an adult with care and support needs.
In 2022/23, we considered eight cases and signed off two SARs into the deaths of Harry and Ricard, both of which were started in the previous year.
You can find summaries of these reviews in our Annual Report. You can also find full copies of the reports on our Safeguarding Adult Reviews (SARs) and lessons learnt webpage.
We want to thank Harry and Richard's families, whose involvement provided a picture of the person. This information helps us embed learning more effectively.
Action plans are produced for all SARs and lessons learnt reviews. These are monitored monthly by our sub-groups to prove that learning has been used to improve the way we work.
The combined action plan for four adults who died of self-neglect and hoarding was signed off in 2023. We'll hold a challenge event this summer, helping us make sure that the required changes have been made.
Ambitions for 2023/24
Our core ambitions remain the same, with a development event planned for later this year to inform our plans for 2024 to 2027:
Our ambitions:
To make sure that collectively, we all work hard to prevent harm and abuse across Barnsley.
To develop citizen-led approaches to safeguarding.
To continue to develop safe transition experiences for young people.
To learn together and continually improve.
Specifically, We'll work to:
review and update our strategic plan.
improve the quality of data available to the board to help us understand how well we're keeping people safe.
improve our knowledge of the quality of training provided to the care and voluntary sectors.
use the learning and impact of our customer engagement post to help us increase public knowledge and confidence in sharing safeguarding concerns. This could be for themselves, their families, friends or neighbours.
support the new Chair in her role to learn from her experience in West Yorkshire.
complete audits and challenge events to test the impact of our work in practice.
Board's budget
| | |
| --- | --- |
| Budget | Price (£) |
| Employee costs | 142,230 |
| Supplies and services | 21,165 |
| Total expenditure | 163,394 |
| NHS Barnsley CCG (Clinical Commissioning Group) | 26,642 |
| Police and crime commissioner | 20,429 |
| Uncommitted resources from 21/22 | 40,994 |
| Barnsley Council budget contribution | 113,850 |
| Total funding/income | 201,915 |
| Budget underspend 22/23 | -38,521 |
Barnsley Safeguarding Adults Board structure
Independent Chair

Barnsley Safeguarding Adults Board (BSAB)

Performance Management and Quality Assurance sub-group (Chair: Healthwatch)
Learning and Development sub-group (Chair: Barnsley Council)
Safeguarding Adults Forum by Experience (SAFE) (Chair: Member of SAFE)
Safeguarding Adults Review and Domestic Homicide Review sub-committee (Chair: Independent Chair of BSAB)
Pathways and Partnership sub-group (Chair: Adult Social Care)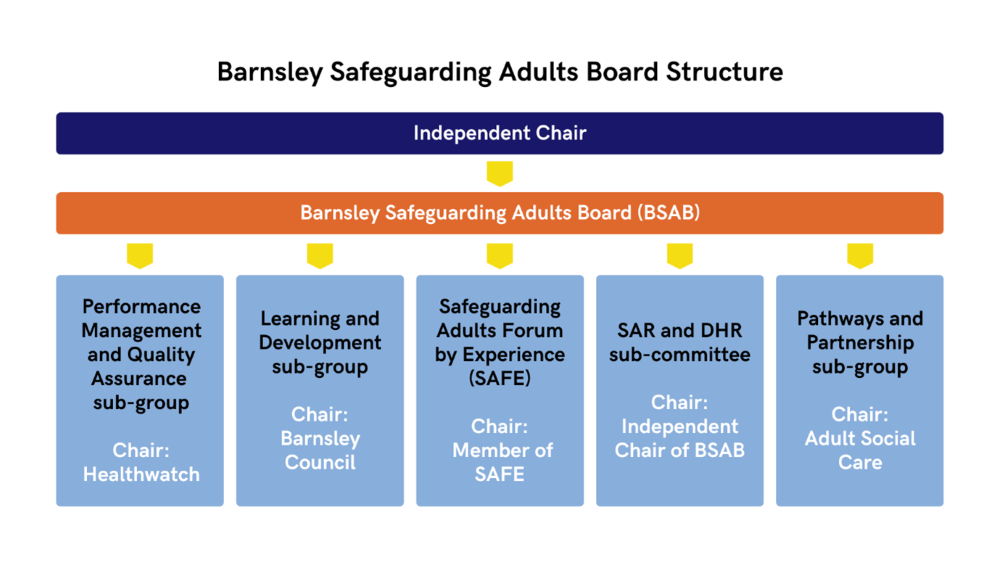 Board partners
Barnsley Council
The South Yorkshire Integrated Care Board
South Yorkshire Police
Barnsley's Safeguarding Children's Partnership
Berneslai Homes
Barnsley Hospital NHS Foundation Trust
The Care Quality Commission
The South West Yorkshire Partnership NHS Foundation Trust
South Yorkshire's Police and Crime Commissioner
South Yorkshire Fire and Rescue
Umbrella
Independent Domestic Abuse Services (IDAS)
Recovery Steps Barnsley
Healthwatch Barnsley
Centre Point
Barnsley College
Northern College
Barnsley Carers Carers
NHS England
Humankind
The National Probation Service
Thanks to all our partners who have worked with us to demonstrate what they're doing to prevent harm and abuse every day.