We deliver high quality music provision for children and young people in Barnsley. We're also proud leaders of Barnsley Music Hub.
Working with the
music hub's partners.
 We offer children and young people from 5 to 18 the option to learn a musical instrument. Make music with others, learn to sing and to progress and enjoy music making. 
The Music Service is based at The Civic, Hanson Street (Off Regent Street), Barnsley S70 2HZ.  It's open Monday to Friday from 8.30am to 5pm. Ensemble and after school events take place every weekday evening from 4pm until late.
What we offer
We offer the following options, both in Barnsley schools and at the music centre.
First access – allows all children to begin learning a musical instrument. This is as part of a whole class in their primary school.
Small group tuition – further develops children's skill to play a musical instrument.
Exams – offer options for pupils to achieve nationally accredited musical exam.
One to one lessons –  a limited number of young people the option to have one to one lessons. Also support higher graded exams.
Ensembles – in partnership with Barnsley Ensembles Hub we offer a range of bands, groups and orchestras for all instrument families.
Instrument loan scheme – for pupils receiving tuition and if they're are any free.
Performance/workshops – regular concerts, master classes and workshops in a range of venues locally and nationally.
Find out more by browsing the sections below.
Instrumental tuition
violin, viola, cello and bass
guitar (acoustic, electric and bass)
flute, clarinet, oboe, saxophone, bassoon, recorder
cornet, trumpet, flugel horn, tenor horn, french horn, baritone, euphonium, trombone and tuba
piano and keyboard
tuned and un-tuned percussion
voice
If your child qualifies for scheme of aid and receives free school meals.  They're also entitled to a group music lesson at a third of the normal price.  They can also hire a instrument for free.
Music exams
When your child reaches the required standard. The music service tutor will give them a letter to bring home.  This will recommend the grade that they should be entered for.
The letter will contain all the details that you need to complete the correct online graded music exam entry form.
The forms will be only be open for you to complete during the booking period on your letter. It does include guidance to help you to complete it, but please call us if you are having any problems.
Orchestras, bands, choirs and ensembles
In partnership with Barnsley Ensembles Hub, the following events are offered:
| | | |
| --- | --- | --- |
| Group | Day | Time |
| Wentworth Strings | Friday | 5.30pm to 6.30pm |
| Stainborough Strings | Friday | 4.20pm to 5.20pm |
| Oakwell Strings | Friday  | 4.45pm to 5.45pm |
| Barnsley Guitar Ensemble | Wednesday | 6.15pm to 7.15pm |
| Barnsley Junior Guitar Ensemble | Thursday | 5.15pm to 6pm |
| Barnsley Metropolitan Band | Wednesday | 6.45pm to 9pm |
| Barnsley Town Concert Band | Monday | 6.15pm to 8.15pm |
| Barnsley Junior Band | Wednesday | 4.45pm to 5.45pm |
| Barnsley Intermediate Band | Tuesday | 4.45pm to 6pm |
| Penistone Junior Band | Tuesday | 3.45pm to 4.45pm |
| Barnsley Percussion Ensemble | Thursday | 4.30pm to 5.45pm |
| Civic Fusion   | Monday | 5pm to 6pm |
All of these take place at Barnsley Music Service, The Civic, Hanson Street, Barnsley, S70 2HZ.  Except Penistone Junior Band which takes place at Penistone St John's Primary School.
What our students say
Skye, a Barnsley Music Education Hub student says: "Playing a musical instrument has given me a huge boost in confidence. Also important skills for learning and studying. It's simply the best fun and so rewarding."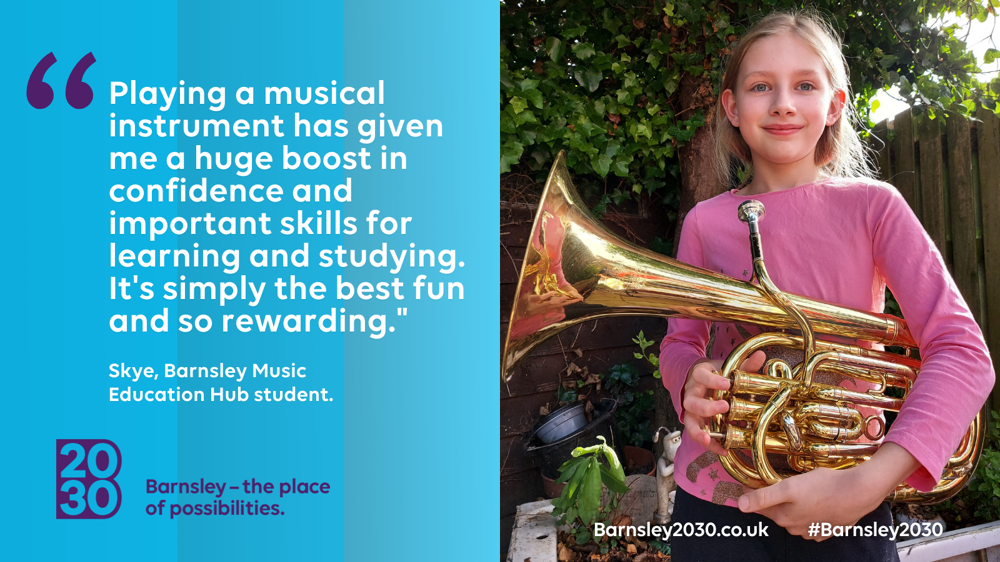 Call us on (01226) 291525 or