Get ready for a twisted June, come along and join in with some of the great activities taking place as part of Barnsley's Festival of Natural Art.  
Find out more about what's coming up by clicking on the headers below.
Twisted Festival – 28 May to 12 June
Twisted: Barnsley Festival of Natural Art is back and there will be lots of activities on Saturday 28 May to celebrate.
Barnsley's Fantastical Beasts trail Part II will launch - featuring six NEW willow sculptures inspired by local legends. Download the trail map. There will also be activities in The Glass Works Square, including performances by Frumptarn Guggenband and Silkstone Morris Dancers.
There will also be activities to mark the Mayor of Schwabish-Gmund's visit to Barnsley for the 50th anniversary of our twin town agreement including Land art academy with Responsible Fishing, Bewonderment Machine cycle carousel, Willow weaving with Maggie Cooper and Yarn bombing with Yarn in Tarn.
Don't forget to take part in the selfie challenge for the chance to win a Barnsley Gift Card. Track down the beasts, complete the challenges and send your photos to the Love Barnsley Town Centre Facebook page for a chance to win!
Find out more about the Twisted Festival
Eldon Street history tours - 28 to 29 May
Hear the wonderful tales of this fascinating area of Barnsley Town Centre with historic characters from Barnsley's past on the Eldon Street Alternative History Tours on Saturday 28 and Sunday 29 May.
There is no need to book, just turn up at The Glass Works square at 12pm or 2:30pm. The tours take around 45 minutes.
Giant Sand Sculpture Build - 30 May to 3 June 
The 5 day 'big build' of the unique, giant sand sculpture by 'Sand in Your Eye' starts in The Glass Works Square for the Queen's Platinum Jubilee.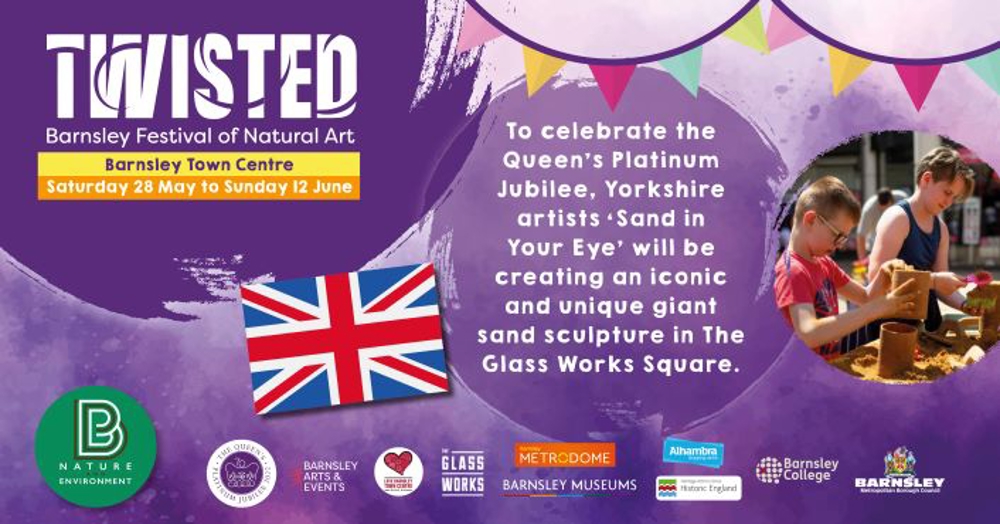 Barnsley in Bloom poster competition
Our annual Barnsley in Bloom poster competition is back and encourages schools to draw their best A4 Barnsley in Bloom picture. This year the focus is on the Queens Platinum Jubilee.
Children up to the age of 11 can submit an application to parksservices@barnsley.gov.uk through their primary school. We want you to be as creative as possible and get inspired by nature and the flowers blooming this spring. Use colours and paints to brighten up your picture.
Judging will commence in June and each winner will receive a certificate presented to them in the Town Hall. Their artwork will be shared across our social media channels and displayed across our town centre buildings including Barnsley Town Hall, the Glassworks and Barnsley Markets.  
Culture and arts
Barnsley Museums will be serving up a treat with a celebration of all things Slazenger. The famous factory made balls for tournaments across the world from its base in Barnsley! Now you can discover stories about the people who worked there and take part in activities for sporting fans of all ages.
Arts and culture trail
Explore unique artwork in Barnsley town centre with this quality, pocket-sized arts and culture trail map! Pick one up for free from customer service points in the Cooper Gallery, Experience Barnsley, and the Barnsley Museums units in the Glass Works.
Bring the trail map into the Cooper Gallery or Barnsley Museum shop at the Town Hall to get a 10% discount on your shop bill!
The map was illustrated by Yorkshire artist, Lisa Maltby. Funded by the Welcome Back Fund, a grant from the England European Regional Development Fund.
Barnsley Markets and Market Kitchen
What better way to celebrate Barnsley's food and drink offer than visiting our incredible local traders and the mouth-watering delights of Market Kitchen?
Our traders will be inspiring visitors to the Flavours Food Festival to release their inner chef with mouth-watering food demonstrations.
You can also pick up a copy of the Barnsley Larder Cook Book which features their recipes and, don't forget, you can get all the ingredients you need from Barnsley Markets.
Library @ the Lightbox
The Library @ the Lightbox has a range of fun activities to keep you entertained during May including a family song-writing session with Ian McMillan and Luke Carver Goss.
Events later in the year...
We've got an exciting range of events coming up throughout the year, including the Barnsley Live music festival, Barnsley's Big Weekend, and Dancing Town. Find out more below.
Events coming up in 2022
June - nature and the environment
Celebrate the natural environment with the Twisted festival and related activities over the Platinum Jubilee weekend. Plus the big annual Barnsley Live music festival!
Thursday 2 to Friday 3 June 
Queen's Platinum Jubilee Bank Holiday
Family sand workshops with Sand In Your Eye
See the amazing giant sand sculpture in The Glass Works Square
Saturday 4 June 
Make a dream-catcher willow or a cardboard crown - works at the Library @ The Lightbox
Saturday 18 June 
Barnsley Live Starting at 12pm - urban music festival featuring 200 acts across multiple venues - genres including rock, pop, punk, folk and blues
Saturday 25 June
Barnsley Armed Forces day - 12pm to 4pm at Penistone showground.  To purchase tickets for the event and to find out more information please visit Veterans Tri Services website.  You can also find out about other armed forces events and activities taking place in the community. 
July – music and sport
July sees Barnsley's Big Weekend featuring the annual Mayor's Day and a new brass band music festival. Plus the town centre cycle races as we gear up for summer.
Friday 15 July
Town centre races - 4pm to 10pm.  Part of the British Cycling's National Men's and Women's Circuit Series.
Saturday 16 July
Mayor's Day 10.30am to 5pm.  A fun packed day of family friendly activities at cultural venues across the town centre.  Brassed On Musical Festival - Pride Barnsley - Big Weekend Music Live 4pm to 9pm. 
Sunday 17 July
The Glass Works Square 11am to 4pm - Big Dino Show - interactive dinosaur show.  What's Your Move - sports and outdoor games.  
August – dance and movement
The summer holidays in August sees the start of Dancing Town activities leading to a big finale the following month.
September – arts and heritage
The annual Civic Garden Party comes together with Dancing Town for a big weekend, plus a big performance weekend to celebrate the history of Heritage Action Zone Eldon Street.
October – children and families
Spooky goings on with an expanded Halloween offer, plus the Festival of Joy children's festival around half-term.
November/December – winter and Christmas
Get into the Christmas spirit with Barnsley Bright Nights winter lights festival, seasonal brass bands, illuminations and more.