Adult Skills and Community Learning
Welcome to your learning induction
This induction includes information about:
how we can support you with your learning
what we expect from you
how to stay safe on your course
resources to support your learning
telling us what you think
To complete your induction you need to either:
watch our induction and code of conduct videos; or
read all of the information in the sections below.
You must then fill in our learner induction survey to confirm you've completed this.
Induction videos
Code of conduct
How we can support you with your learning
It's important that your experience with us is a positive one. We aim to support you throughout your learning journey, from your initial enquiry through to the completion of your course. We'll also support you when deciding your next steps once you've finished your course.
Your initial assessment
Once you've registered for a course we'll ask you to complete an initial assessment.
We do initial assessments to make sure that all our learners are on the right course for them and at the appropriate level. This also helps our tutors plan their sessions so that they meet the needs of our learners. 
Please let us know if you've not completed an initial assessment when you fill in your learner induction survey.
Curriculum information and support officers
Elaine and Sandra, our curriculum information and support officers, are here to help you get on with and stay on your course by:
providing confidential advice and support to help you overcome any personal problems you may come up against;
helping you address anything that might be making it difficult for you to attend an online session or undertake your learning regularly;
supporting you to work on ways to improve and maintain your health and wellbeing.
They can also support you progressing beyond your course by:
offering impartial advice and guidance on your next steps;
helping you to gain work experience by undertaking volunteering;
working with you to develop smarter job search skills, assist with application forms and interview techniques;
providing information about further learning opportunities and helping you apply for them.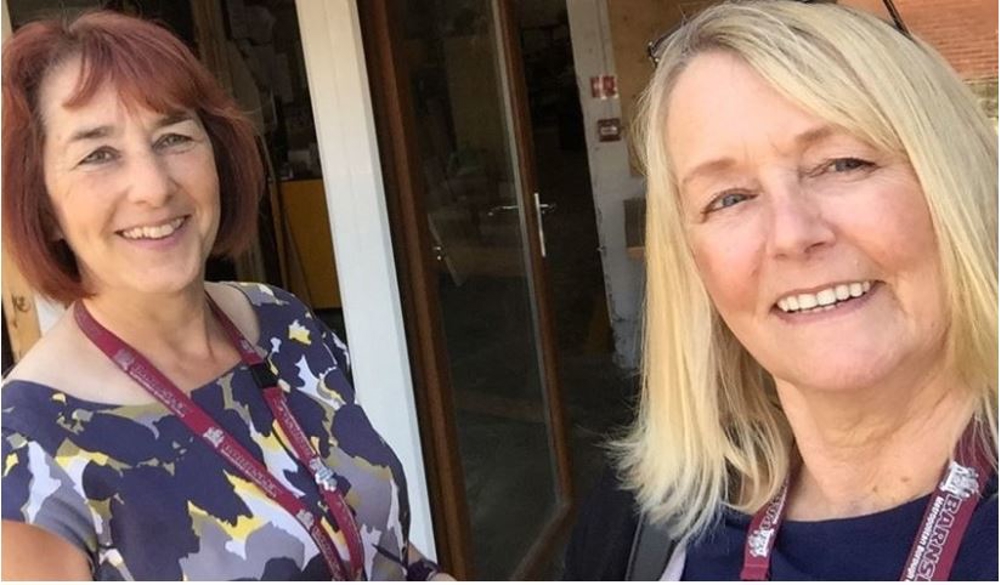 Course information and additional support
You should have received the following course information from your tutor:
name of your tutor
how to contact your tutor
overview of your course
schedule of sessions
equipment you need
prior learning and tasks
Let us know if you've not received this yet when you fill in your learner induction survey.
Additional learner support
For learners with learning difficulties/disabilities, different types of support are available including:
physical support - eg 

overlays to support dyslexia, accessible keyboards and software, magnifiers/hearing loops
classroom support - eg a support worker to help you one-to-one, and a reader or scribe for exams
What we expect from you
To make sure you have the best possible experience there are some things you'll also have to do:
agree to our learner code of conduct (below);

let us know if you can't attend a session by contacting the attendance officer;
complete any homework set by your tutor and come prepared for every session.
Learner code of conduct
So that everyone feels welcome and safe during classroom learning and online learning we ask you to:
Be courteous, considerate and respectful at all times.
Tell us if you are harassed or teased in any way about:

your learning
age
gender
appearance
religious beliefs
political views
where you come from
any learning difficulty and/or disability
sexual orientation

Comply with all health and safety requirements set out by your tutor.
Arrive/log on punctually and be prepared to learn in the classroom and online.
Let your tutor know if you can't attend a classroom or online session, or email us.
Inform your tutor if there's anything which could affect you attending the course, eg health or work circumstances.
Let your tutor know if you're leaving the course, or if there are any changes to your personal details (address, phone number, status).
Turn mobile phones to silent when learning and let your tutor know if the mobile phone is needed for emergency contact reasons.
Comply with the examination and course work regulations.
Follow the guidelines for online learning set out by your tutor.
Wear appropriate clothing and any protective equipment required for learning.
Ensure that your fees are paid as requested.
Ensure that all evidence of benefit is produced as requested.
During any online learning, including using Webex, follow the online safety guidance detailed below.
How to stay safe on your course
On your course you'll be learning about how to stay safe and keep others safe, including about safeguarding and preventing radicalisation.
What safeguarding is
Safeguarding is about protecting people from:
physical abuse
emotional abuse
sexual abuse
neglect
financial abuse
discrimination
British values
We're committed to the promotion of British values in all our learning programmes. The British values are:
Democracy - we're able to have our say
The rule of law - we help develop fair rules for our class
Mutual respect - we work together to support one another
Individual liberty - we can make our own choices with learning
Online safety
We're committed to helping all learners stay safe online. These internet safety rules can help to keep you safe online:
Choose smart passwords.
Check your privacy settings to protect your personal information.
Watch out for phishing scams, especially when online shopping or managing your bank accounts online.
Guard your personal details.
Whilst using Webex for online learning sessions, be aware of your surroundings. Remove personal items such as photos and anything that indicates where you live. Dress appropriately for learning and remember that information shared is confidential to the group.
You can find out more about staying safe online on our support for learners web page.
Risks of radicalisation
Radicalisation is the process by which a person comes to support terrorism and extremist ideologies associated with terrorist groups.
The table below shows three risks (online, far-right extremism and how vulnerable people are at risk) as well as actions that can prevent radicalisation.
Risk of radicalisation
Risk factors
Prevention action

Online

Online gaming
Social media (eg Facebook)
Downloading materials
Dark web

Reading online safety leaflets
Knowing what to avoid
Privacy settings
Passing on knowledge of how to stay safe online

Far-right extremism

Protest activities
Extreme views
Fake news

Awareness of the risk
Fact checking the news
Asking for help from a trusted source

Vulnerable people

Mental health
Isolation
Learning difficulties
Loneliness

Involve all adults
Talk about radicalisation
Show an interest
How to report a safeguarding issue
If you think you've been hurt or abused by someone else you should report this as soon as possible.
The safeguarding lead for Adult Skills and Community Learning is Liz Paling. You can find out more about Liz and how she can support you in her introduction video below.
You can get in touch by emailing Liz or calling her on (01226) 775291.
Video transcript
Hi, I'm Liz Paling your safeguarding lead and learning support coordinator at Adult Skills and Community Learning. During your induction you'll learn about safeguarding and Prevent, and then you'll also further learn about this in your classes and during your online learning.
If you've got any safeguarding concerns please tell a member of staff. It might be for yourself, it might be for a member of your family or a member of the public. We're here to support you. Thank you.
Resources to support your learning
We have a range of tools, resources and staff who can support you during your learning.
If you've enrolled onto an online course, you'll need to attend online sessions with your tutor using a system called Webex.
To enhance your experience you may also be asked to use Edmodo. This enables you to collaborate with your tutor and other members of the group outside of the classroom. Your tutor can use Edmodo to share useful documents and work with you.
Webex
Online learning sessions take place on a system called Webex. You can use a PC, tablet or smartphone to access Webex meetings.
The following guides tell you what you need to do before the meeting begins, during the meeting, how to share any content needed, as well as advice and support.
Useful contacts
Reception
For general enquiries about the service, our courses, your invoice, to make an appointment.
Attendance officer – Gemma Fusco
Learning support coordinator and safeguarding lead - Liz Paling
Curriculum information and support - Sandra Power and Elaine Oliver
Call 07801 890071


Call 07786 525702
Samaritans Barnsley
Victim Support
Telling us what you think
Your opinions matter to us. If you have any feedback please let us know. This can include complaints, compliments or general comments. You can do this by:
talking to someone in our service (email us at adultlearning@barnsley.gov.uk)
filling in a online complaints and compliments form
completing a survey (you'll have the opportunity to do this at various times during your course)
During your time studying with us we'll also ask you to fill in some other surveys too, including some national surveys that all learning providers are asked to do.
Complete your induction
To confirm you've completed your induction, fill in our learner induction survey below.
By completing the survey you're agreeing that you've watched both of the induction videos, or read all of the induction information, and agree to follow our learner code of conduct.
You can also download our welcome pack which includes key information you've found out about during your induction.
Fill in your learner induction survey