Everyone deserves to live in a home that is safe, warm and dry. Living with damp and mould can be extremely harmful to a person's physical and mental health. The effects of damp and mould can cause serious illness and and their presence can also affect tenants' mental health. This could be due to worries about the health impacts of damp and mould, unpleasant living conditions, and the destruction of property and belongings, among other concerns.
Everyone is vulnerable to the health impacts of damp and mould, but people with certain health conditions, children and older adults are at greater risk of more severe health impacts.
We understand that the presence of damp and mould isn't usually down to the tenant's behaviour or lifestyle, but there are things you can do to reduce the likelihood of condensation and mould growth. Ideally, you should be ventilating and heating your home adequately. We know that due to the cost of living, people aren't heating their homes. Even when a property is being ventilated and heated, damp and mould can still happen. Find out more about support available to heat your home.
How to reduce damp and mould
Some everyday activities including cooking, showering and drying clothes can create moisture within the home. It can be reduced though if you:
cover pans when cooking.
use extractor fans in kitchens and bathrooms.
dry clothes outdoors.
open windows for five to 10 minutes in the morning.
leave a gap between furniture and external walls.
heat your home to at least 15°C.
You can use the STAR method to support you with damp and mould:
Spot the signs
Try our tips
Act fast
Report it
Spot the signs
There are three types of damp and mould:
Damp caused by faulty plumbing
A leak from a toilet, shower, sink, or pipe can affect internal walls and ceilings. Damp from faulty plumbing will appear as an obvious damp patch no matter what the weather is like outside. It may get worse after a certain utility is used, for example when the shower is turned on or the toilet is flushed.
If you think you might have a leak, check around the water and waste pipes inside your home, the seals around the bath, shower, and sinks, and any external pipework, such as guttering.
Black mould rarely appears with this type of dampness because the area is usually too wet. Chemicals in waste water will also prevent mould from growing.
Condensation
Condensation is the most common. This happens when extra moisture in the air makes contact with a cold surface like a window or external wall. It can lead to black mould growth and tends to be worse in the winter. It tends to happen if a property is not ventilated or heated adequately. For mould to thrive and survive it needs:
moisture (from condensation)
food (such as wallpaper or emulsion paint)
a suitable temperature
oxygen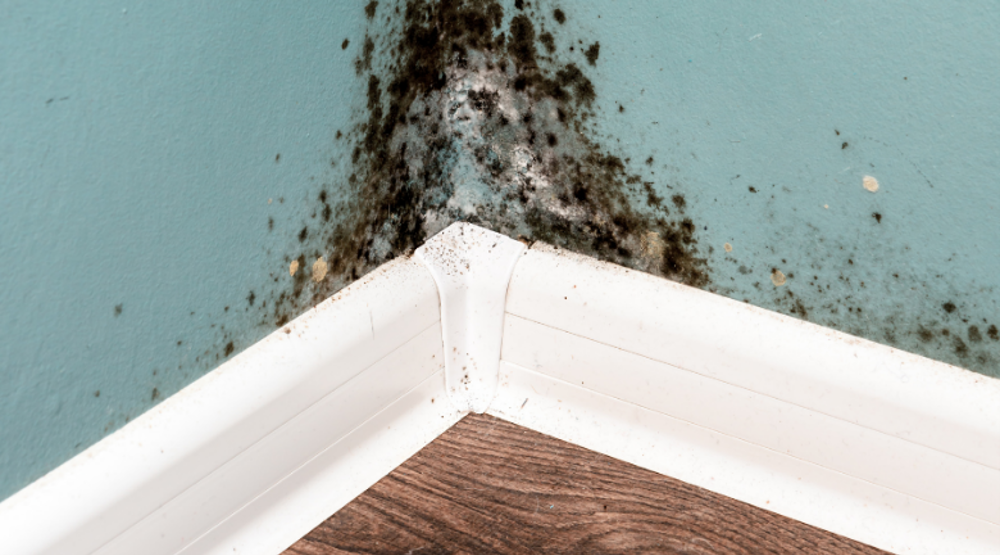 Penetrating damp
Penetrating damp is caused by water coming through external walls or roof. Penetrating damp caused by a number of repair problems, for example:
a leaking roof (missing roof tiles)
a cracked wall
missing pointing
leaking guttering or external pipes
rotten windows or doors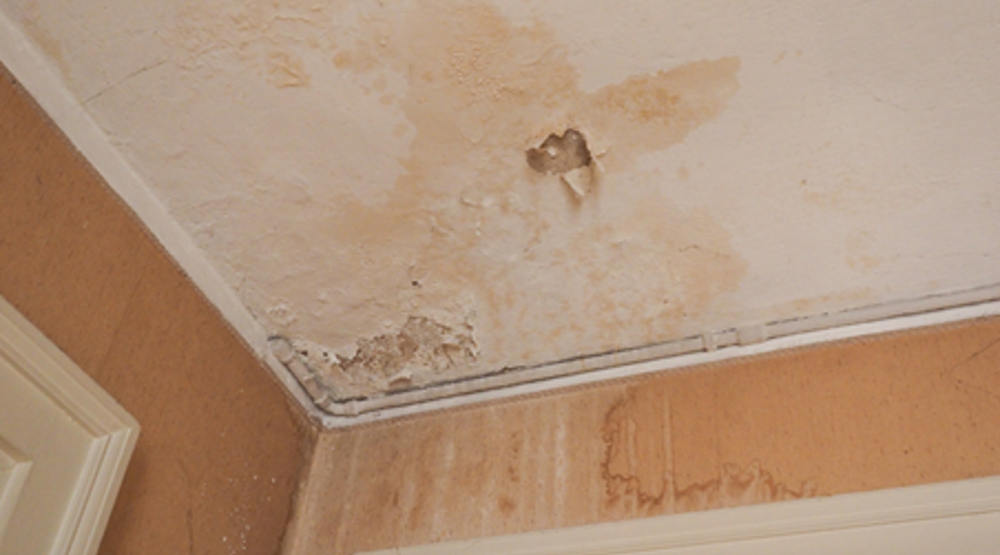 Rising damp
Rising damp is caused by groundwater being sucked up into the bricks or concrete of the property. Rising damp is more common in older properties. It generally affects the lower part of the ground floor of a property up to the height of about 1 metre. It can look like a white 'tide mark' low down on the wall.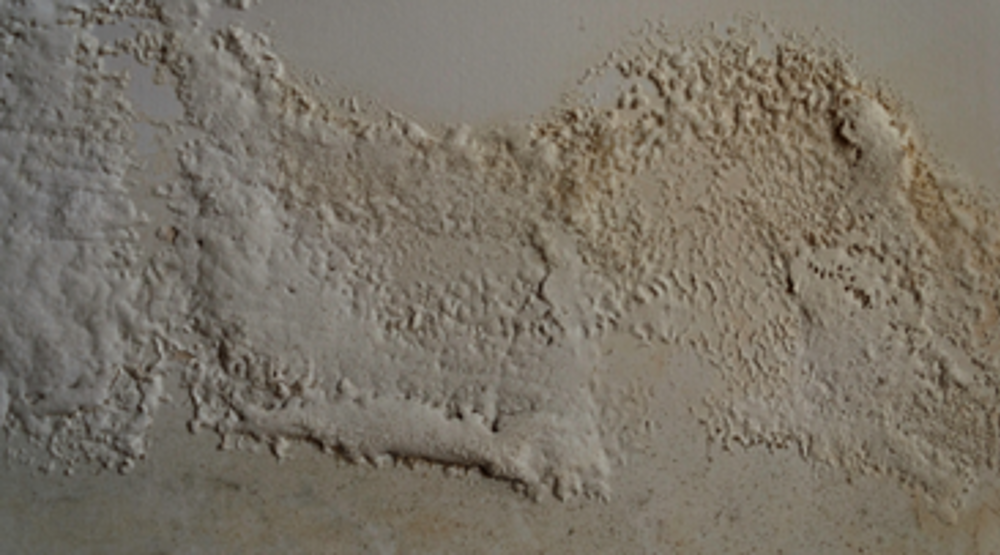 Try our tips
Try these tips to reduce condensation and black mould in your home:
Windows and doors
Open your windows or and doors or use an air vent. Opening the window slightly avoids draughts and prevents your home from becoming cold. Always do this when using the kitchen or bathroom and close the door to prevent moisture in the air from spreading to other parts of your home. Continue to ventilate the room for a short time after a shower, bath, or cooking, and keep the door closed.
Wipe it - wipe the windows and windowsills every morning to remove condensation, especially in the bathroom, kitchen, and bedroom.
Clear clutter - keep windowsills free of clutter so air can flow freely.
Curtains - use thermal or lined curtains and keep them open in the day and closed at night to capture natural heat from the sun and help raise the temperature in your room.
Drying clothes
Dry clothes outside where you can and avoid drying them indoors.
If you dry clothes inside, use a clothes airer in the bathroom with the door closed and keep an extractor fan on or a window open.
Vent tumble driers to the outside or use a condensing drier.
Cooking
Keep lids on your pots and pans when you cook.
Don't leave kettles boiling.
Don't use paraffin or bottled-gas heaters which produce large amounts of water vapour and are very expensive to run.
Washing
Close the bathroom door when having a shower or in the bath.
Empty the bath or sink when you have finished washing so the water can't evaporate and become condensation.
Heating
On cold days, try to keep indoor temperatures at least 18°C - it's better to have a low background heat all day rather than heating rooms in short bursts of high heat.
Good heating controls on your radiators, room thermostats, and a timer will help control the heating throughout your home and manage costs.
Try using a dehumidifier to extract moisture from the air.
In the first instance, you should try to clean off any black mould with mould cleaner. If the mould persists or there are signs of penetrating or rising damp you need to report the damp to your landlord. If your landlord refuses to carry out repairs or they're taking too long, you should then contact Safer Communities.
Find out more about what to do about damp, mould and condensation on Shelter's website.
Act fast
As soon as you spot a problem with condensation, damp, or mould , follow our tips and see if things improve.
You don't need to leave the mould in place for us to see when we inspect your home but taking a photograph would be useful.
Report it
If a damp or mould problem doesn't go away when you've tried our tips, or you're worried about it getting worse - report it to us.
If you don't know what is causing damp and mould in your home, or you think the problem is being caused by something that needs repairing, let us know as soon as possible.
Landlord responsibilities
If you live in a privately rented home, it's important to tell your landlord as soon as damp, mould or condensation becomes a problem that you're not able to manage easily. Your landlord is responsible for making repairs to the property if the issue is due to a problem with the structure of your home or a faulty installation. This could include a leaking internal pipe, a faulty boiler, missing roof tiles, faulty guttering, or rotten window frames that let rainwater in. You should tell your landlord immediately if you have penetrating damp or rising damp in your home.
Your landlord should arrange a convenient time to assess the extent and cause of the problem and organise suitable repairs. It's important that you allow them access to do this.
How to report
If you're a Berneslai Homes tenant, you must report the damp and mould issue to them online. You can also call their repairs hotline on (01226) 787878 or use their free app to report non-urgent repairs.
Report to Barnsley Council if you're a private rented tenant. You can also speak to us for advice or assistance if you're an owner occupier living with damp and mould in your home.
What to do if you haven't heard from your landlord?
If your landlord refuses to deal with the damp and mould, or they don't make repairs in a timely way, you should report it to the council's Housing and Community Safety Team. You can do this by emailing safer@barnsley.gov.uk or by phoning (01226) 773555.