Join Barnsley's invaluable care sector
Do you want to make a difference to people's lives in Barnsley? If you want a rewarding career you can be proud of, working in care could be for you!
Your transferable skills and compassionate nature could help make a real difference in the borough, supporting people who need your help and companionship. Our care workers provide a broad range of support, helping people to stay well, regain their confidence and develop social connections.
What we're looking for
There are a wide range of care roles available in Barnsley, all of which will allow you to make a real difference in your community and in someone's life. These roles offer lots of opportunities for you to develop your skills and some offer flexible working hours that can fit around your studies or family commitments.
72.2% of working age people in Barnsley have a job - this needs to be higher so our young people have something to aspire to.  Barnsley is investing so businesses, and jobs, stay in Barnsley.
Wondering if working in care could be for you? Take this quiz from Skills for Care and the Department of Health and Social Care to find out.
Proud of our carers
We're extremely proud of our carers in Barnsley, which is why we're delighted to see their work over the pandemic recognised alongside other key workers and unsung heroes with Reverence - Barnsley's COVID memorial.
Find out more about our COVID memorial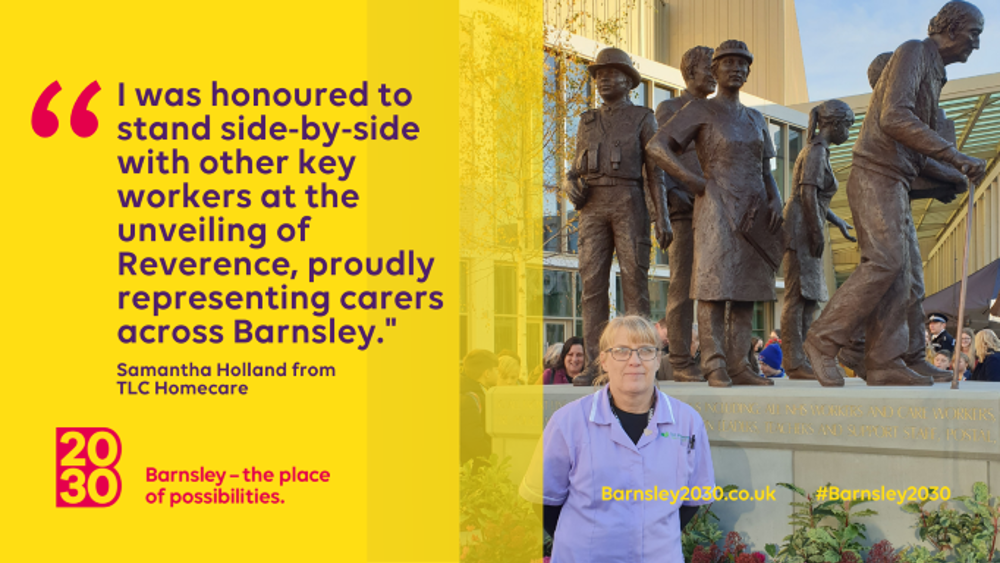 Day of Remembrance and Reflection
We took the opportunity during Social Care Day of Remembrance and Reflection to thank those working in social care for all their hard work over the pandemic. Our care colleagues are resilient and determined, truly changing the lives of the people they care for.
Find out how we celebrated our care workers
What our existing carers say
Prospect House strives to provide excellent care that always focuses on the residents. The manager and provider encourage and support career and personal development throughout.

It's a really good place to work and I would highly recommend any job vacancies that become available.

Emerald Care Services are person-centred and allow us the flexibility to reach our full potential, as well as the people we support.