What is Barnsley 2030?
Barnsley 2030 is a fantastic opportunity to work together to tell the story of our borough - so we can visualise a future for everyone.
A lot can change in a short amount of time, so we need to start thinking about how the Barnsley borough might be different in 2030.
The project isn't just for the council, or any other single organisation or business; it's for all of us. Telling us your thoughts will help us understand the challenges you feel you're facing, and your ambitions.
Bringing Barnsley's story to life...
With your input we'll work with an independent company to identify the key themes, and to start to create Barnsley's story. By working together we can then turn these ambitions into reality.
Barnsley 2030 doesn't just focus on the town centre; it's about what each and every one of us does across the borough that makes Barnsley the place that it is. 
Fill in our survey
Try not to limit your thoughts - be bold with your answers, particularly when thinking about what the future could hold!
The survey closes at 11.59pm on Sunday 1 March 2020.
As a thank you for your contribution you can opt-in to a prize draw to win a £10 voucher to spend at Barnsley Markets. Terms and conditions apply.
Fill in the survey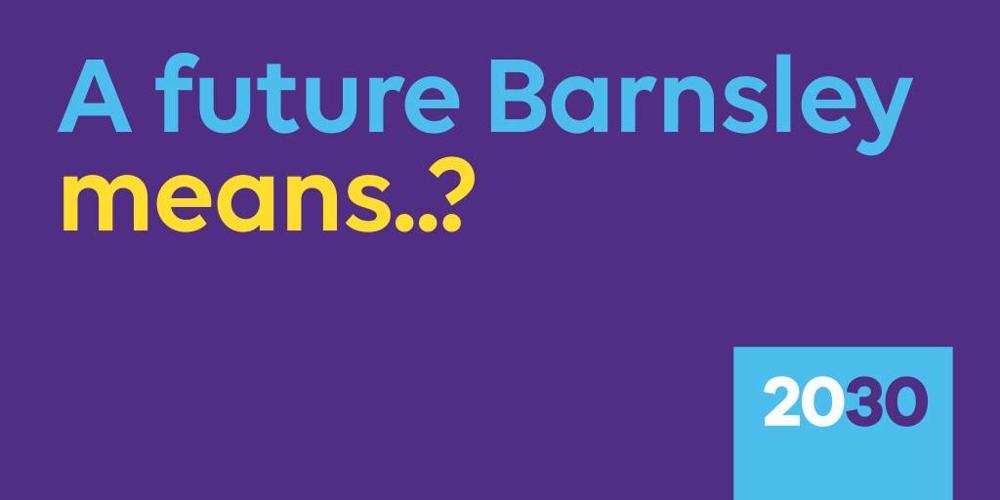 How you can help us
We'd like to hear from you about how to make Barnsley a place where people can realise their potential and be inspired to create a better and brighter life. From what you tell us we can see what our priorities for the next ten years should be.
We're looking at this time frame to give us the opportunity to make real changes in our communities. Whatever your connection to Barnsley, we want to hear what you think makes it unique, how you feel about your life in the borough, and what you think things will be like for you in the future.
Easy Read survey and if you need some help
You can also share your thoughts by filling in the Easy Read version of our survey.
If you need some help to complete our surveys please contact Teresa Gibson or Rachel Neale at Barnsley CVS on (01226) 812813. If you're Deaf or hard of hearing you can request help by texting 07476 340270.
If you'd like to complete the survey online using a computer in one of our libraries, our staff are also on hand in-branch to help.
Business and organisation workshops
We're looking for representatives from businesses and organisations across Barnsley to share their views on Barnsley 2030.
You can get involved by coming to one of our workshops.
Workshops for businesses
Have an enquiry about Barnsley 2030?
If you've got a question about Barnsley 2030, or would like some more information, please fill in our online enquiry form.
Contact us online