The Positive Climate Partnership champions and co-ordinates local action on climate change. This brings together individuals and organisations who collectively will impact and build momentum around the zero carbon goal.
With the help of the borough's key stakeholders, the partnership works to reduce carbon emissions whilst; creating opportunities to improve residents' lives through greater employment, improving homes, improving air quality, increasing sustainable travel opportunities, protecting and improving biodiversity, and reducing health inequalities.
The Positive Climate Partnership has a range of functions. These include:
Reporting to the Barnsley 2030 Place Board on matters relating to Zero45. 
Providing a forum with an independent voice to co-ordinate and champion local action to tackle the climate crisis. 
Helping to grow the wider network of interest. 
Arranging review panels on climate strategy topics where progress is limited. These panels will review the evidence and make further recommendations for action. 
The Partnership is exploring options to work towards:
The production of annual reports on local progress and any gap between actual and necessary reductions in emissions.
Data analysis and the implementation of plans to ensure the monitoring and delivery of carbon reduction targets, along with a suite of indicators to demonstrate progress for Zero45.
The Positive Climate Partnership reports to the Barnsley 2030 board. The council supports the partnership, but it is independent. The partnership meets four to five times a year.
If you'd like to find out more, please email sustainability&climatechange@barnsley.gov.uk.
Our Positive Climate Partners 
Take a look at our positive climate partners. 
Positive climate partners 
Case studies
Read some of the great work our Positive Climate Partners have been doing. 
All is Good sustainable store in Penistone 
An eco-friendly retail business is calling on customers and supporters to help it upgrade its popular refill and zero waste shop to make it one of the biggest in the north.
All is Good, based in Penistone, South Yorkshire, has launched a crowdfunding campaign to raise the £18,000 investment it needs to expand the refill section of its community store, making it more accessible, user-friendly, and cost-effective.
Green 'dragons', or eco-investors from across the community are being asked to support the development by pledging an investment of any amount to help the business.  This will buy 18 giant 200-litre barrels of household and cleaning products; extend its rack of zero-waste dispensers for dried food; and expand its range of reduced-waste frozen food.
Investors will then get all their money back, in terms of value of goods in-store with an extra 10 percent on top for all pledges above £20, and rewards such as coffee, cake and exclusive offers thrown in too.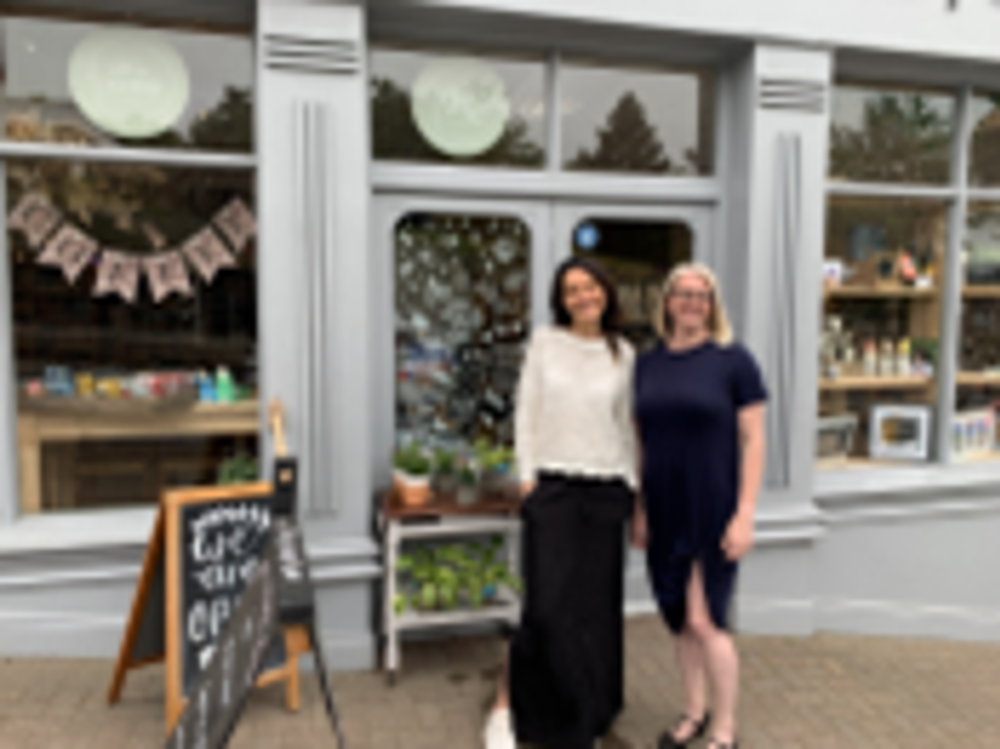 Barnsley BIC - net zero courses
Net Zero Barnsley will allow participants to access thought-provoking insights from leading innovation and industry experts to give their business a competitive edge to grow, commercialise and thrive.
They provide a series of in-person workshops, peer-to-peer networking and bespoke one-to-one support for fast growing and ambitious businesses.
Barnsley College - carbon literacy training day
Barnsley College held an all staff carbon literacy training day in May, 60 staff became Carbon Literacy Ambassadors for the College.

In July, the same staff then trained our entire remaining staff community by hosting a full day of Carbon Literacy Training! Staff ended the day by creating individual and group pledges which will benefit themselves, the college and the wider community. They are the first college to roll out carbon literacy in this way.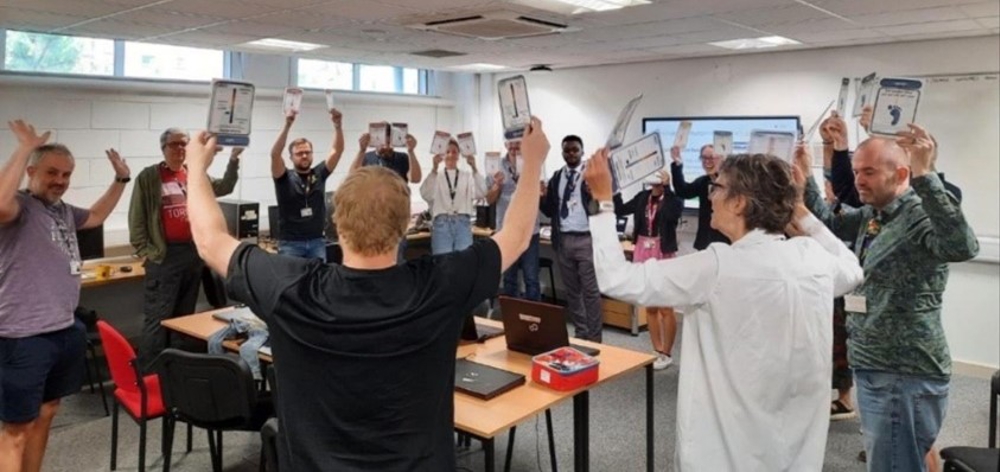 Barnsley College - WWF sustainable futures 
During the college's staff development week in July, WWF delivered the 'Sustainable Futures' CPD to over 40 College Staff. This project see's students move through a journey of exploring their future and careers whilst considering sustainability and their own morals and values.

Students will also work through different activities, such as looking at donut economics to understand how sustainability fits in to the economy.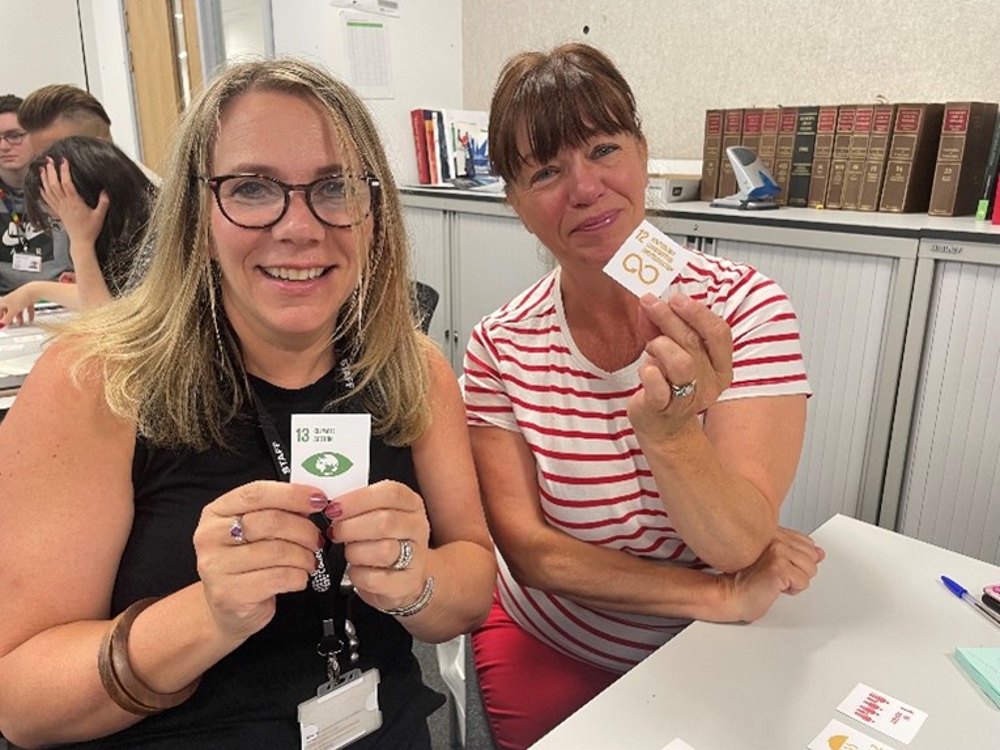 Sustainability Award at Barnsley College's Excellence Awards 
A Barnsley Colleges Sixth Form student, Grace, won the College's first ever Sustainability Award in the college's annual Excellence Awards. Grace has been an active member of the Sustainability Voice within the college and will soon be applying to universities to study geography.

Whilst Grace has had multiple personal barriers to overcome, she has done this with courage, drive and passion for her education and future in a sustainability-related career. Grace is seeking work experience in a sustainability-related field to further her academic and professional experience in the field.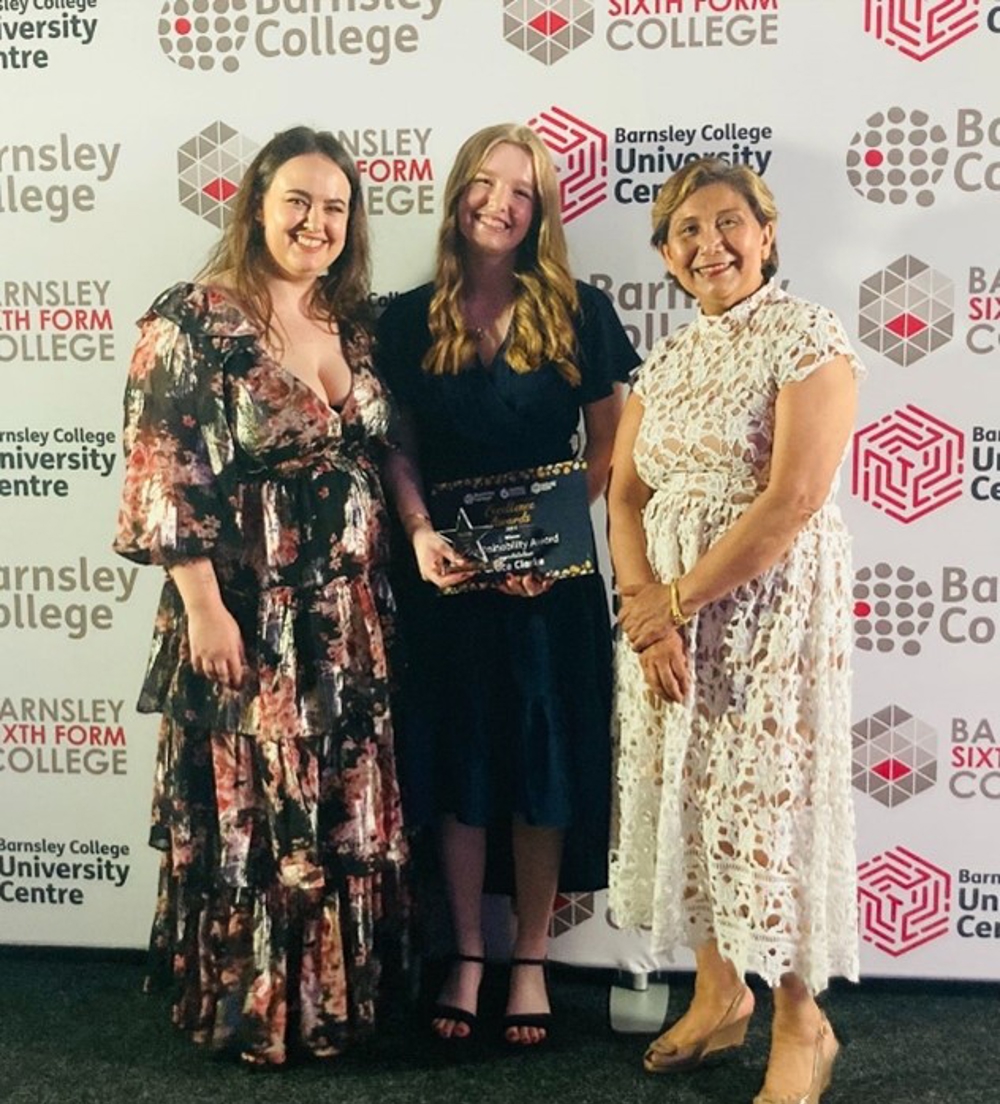 The Smart Solar in Barnsley project 
The Smart Solar in Barnsley project installed 75 batteries on Berneslai Homes bungalows with solar PV. The Alpha EES batteries which store between 2 and 3 unites of electricity, were funded by the Energy Industry Voluntary Redress Scheme and installed by Berneslai Homes electrical team. The project was managed by Energise Barnsley and Age UK providing energy and benefits advice to residents who received these batteries.
Analysis of the 25 of the 75 installations indicates hat these households saved on a year average £277 from their solar panels, £222 from the battery making a total of nearly £500. This assumes a unit rate for electricity of 34p/kWh.
In July Rt Hon John Healey MP visited some residents in the Dearne to see the batteries in action and to hear first-hand the benefits residents are gaining from having them.
For more information you can email: andy.energisebarnsley@gmail.com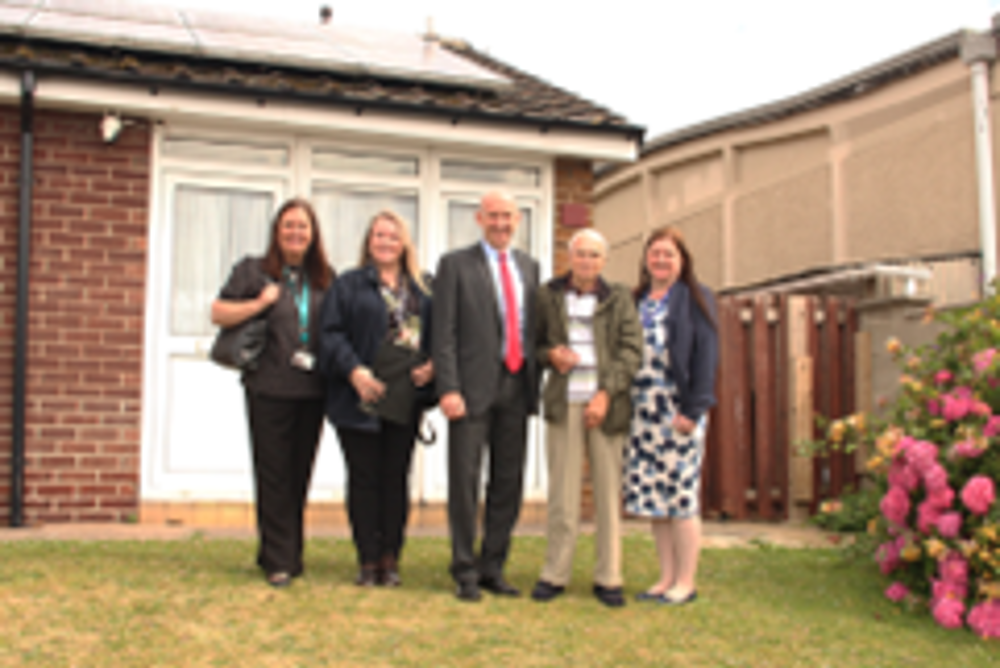 National Trust 
During Great Big Green Week (10 June to 18 June), Wentworth Castle had a display in the gardens, sharing tips on creating the perfect compost.

There were opportunities during the day for visitors to stop and ask any questions of our Gardens Team. The Café have also been handing out bags of coffee grounds for people to improve the quality of their compost at home. A number of water butts have been installed in the greenhouse to capture rainwater to water the plants in our nursery. They're now looking to install more water butts.
Naylors invested in a new research laboratory
Naylor Concrete Products Ltd has invested more than £155,000 in a new research laboratory at its manufacturing site in Barugh Green near Barnsley.

The new facility will play a key role in the development of new low carbon concrete materials which will help Naylor and the construction industry deliver net zero.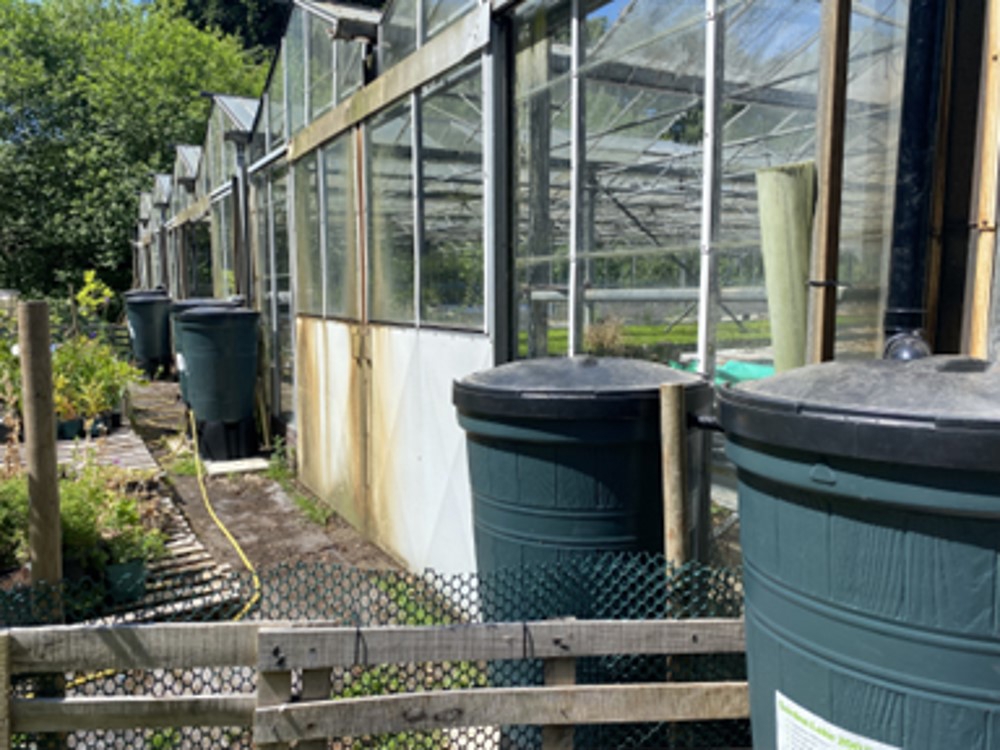 NHS Foundation supported Clean Air Day 
To mark NHS Sustainability Day and Clean Air Day in June 2023, the NHS Foundation Trust had a stall in our Colliers restaurant. They showcased their work and answered sustainability related questions from staff, patients and visitors. Partners from the Council and Stericycle joined to talk about their work on tackling air pollution and improving waste management to ensure we maintain zero waste to landfill.
New signage has also been installed in our car parks to remind users to switch their engines off when waiting to reduce air pollution around the hospital and to encourage active travel.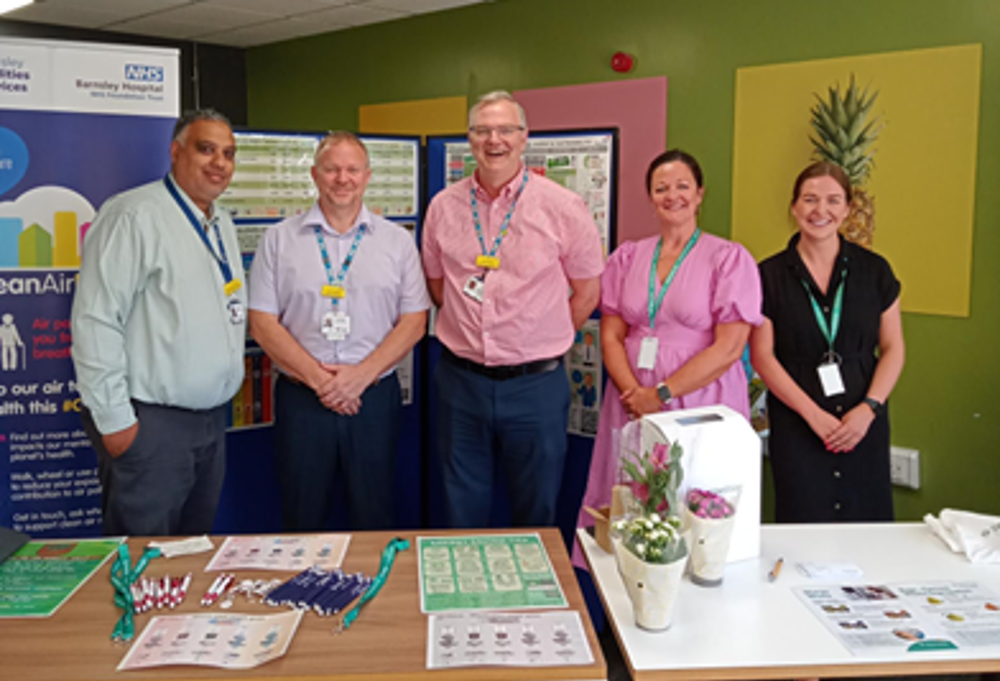 NHS reusable saturation probes 
Colleagues from procurement, medical engineering and paediatrics were involved in identifying and testing a range of reusable saturation probes to find a product that met clinical standards, was easy to use and met the needs of both patients & staff. Different sats probes were tested in paediatric ED, with staff giving feedback on probe performance in relation to different parameters, including comfort for patients.
After this testing period, a clip sensor was chosen and introduced to the clinical area, with the procurement team monitoring the stock of disposable probes used before and after the change.
What they achieved:
Results: comparing 12 months before & after introduction of reusable sats probes we measured:
A 25% reduction in the number of disposable sats probes ordered which equates to:
A 25% reduction in carbon footprint saving 1087 kgCO2e. The equivalent of 4890km travelled in a family petrol car.
A cost saving of £25,894 (ex VAT) over 12 months by reducing disposable sats probe use.
The supply of disposable probes was subsequently moved to the same company as the new reusable sensors (UK based Walters Medical), which led to a further saving of £40,000 giving a total saving of £65,894.
Stagecoach 
Stagecoach Yorkshire have ordered 23 Yutong E12 electric buses which are due to be introduced into the network from January 2024. The buses will initially be running on the 22x, connecting Barnsley with Rotherham via Wombwell and Wath.
The new buses run silently, reducing noise pollution within the borough and providing passengers with a comfortable travel experience.