Struggling for ideas of what to do in Barnsley town centre? Look no further than our carefully curated guides!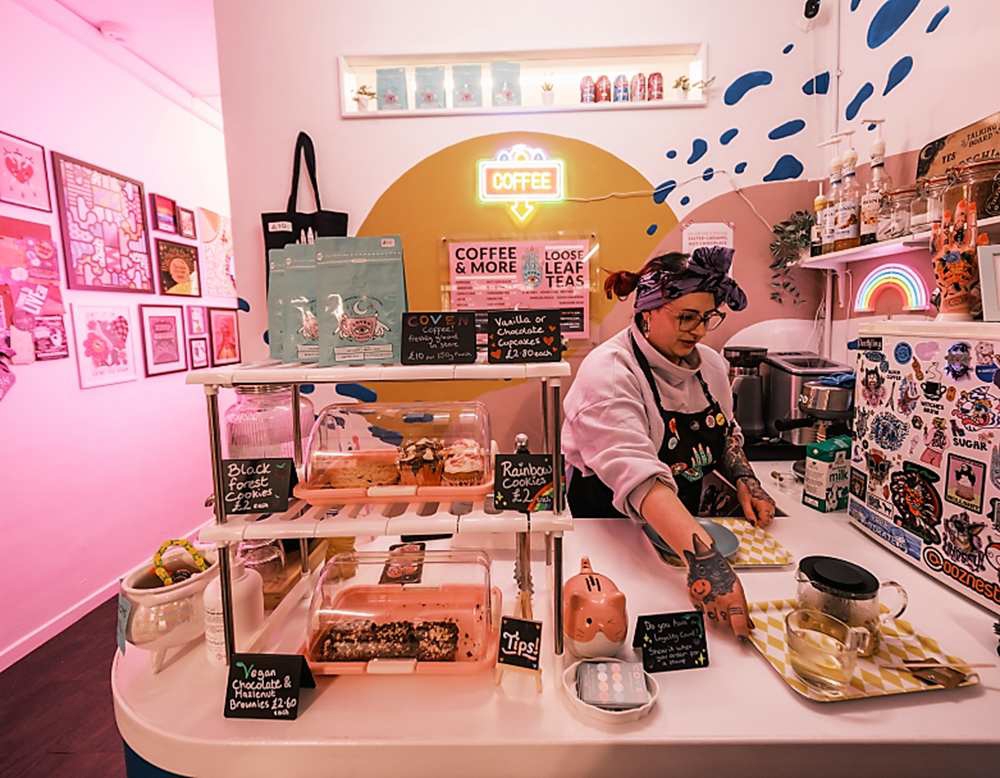 Make it tasty: best brunch spots in Barnsley town centre
Find the best brunch spots in Barnsley
We're taking a look at some of the outstanding eateries in our town centre.
We thought we'd start with the best places to brunch…
Old George
Whether you're looking for classic English breakfasts or pancakes, this beautiful independent coffee house has it all.
Located on the historic Market Hill, Old George serves up delicious all day breakfasts. It includes dishes such as eggs florentine alongside a range of vegan options including tofu and coconut porridge.
Their amazing food is accompanied by a variety of barista style coffees within the cosy surroundings.
When the weather is nice, take a seat outside and take in the stunning view of Barnsley Town Hall. It's a perfect spot for the Instagrammers amongst you.
Opening times:
Black and White
If you're looking for an elegant brunch, look no further than Black and White Bar in The Glass Works.
Their interior is similar to that of old Italy with a marble bar, rich walnut panelling and venetian plastered walls. It makes it the perfect intimate meeting place for coffee with friends and Barnsley's new weekend chill-out destination.
Opening times:
9am Wednesday to Saturday.
10am on Sunday.
Falco Lounge
This family-friendly cafe bar has it all when it comes to brunch including gluten free and vegan options.
Located in unique surroundings which open up to the library next door, Falco Lounge is a perfect place to relax with friends or take in some alone time with a good book.
Discover Shakshuka or their Miami brunch featuring flavours from the Mediterranean. If you simply fancy a bacon butty or a slice of toast, they'll happily cater for you.
You can also bring your pooch along if you'd like!
Opening times:
The Cracked Teapot
This warm and inviting bistro is one of the newest additions to Barnsley's rapidly growing town centre.
Located opposite Barnsley Interchange, the Cracked Teapot is a perfect brunch spot if travelling by train or bus.
You'll be amazed by the quality of their menu. Their head chef and co-owner, Robert, brings with him experience of working in Michelin and five star establishments!
Try their Scottish influenced dishes such as haggis and scrambled eggs. You can treat yourself to one of their big plates including croque madam or mouth-watering Belgian waffles.
Opening times:
10am to 2pm Wednesday.
9am to 2pm Thursday.
5pm to 9pm Friday and Saturday.
11am to 4pm Sunday.
Visit our eating out and nightlife page to find out more about Barnsley's fantastic food.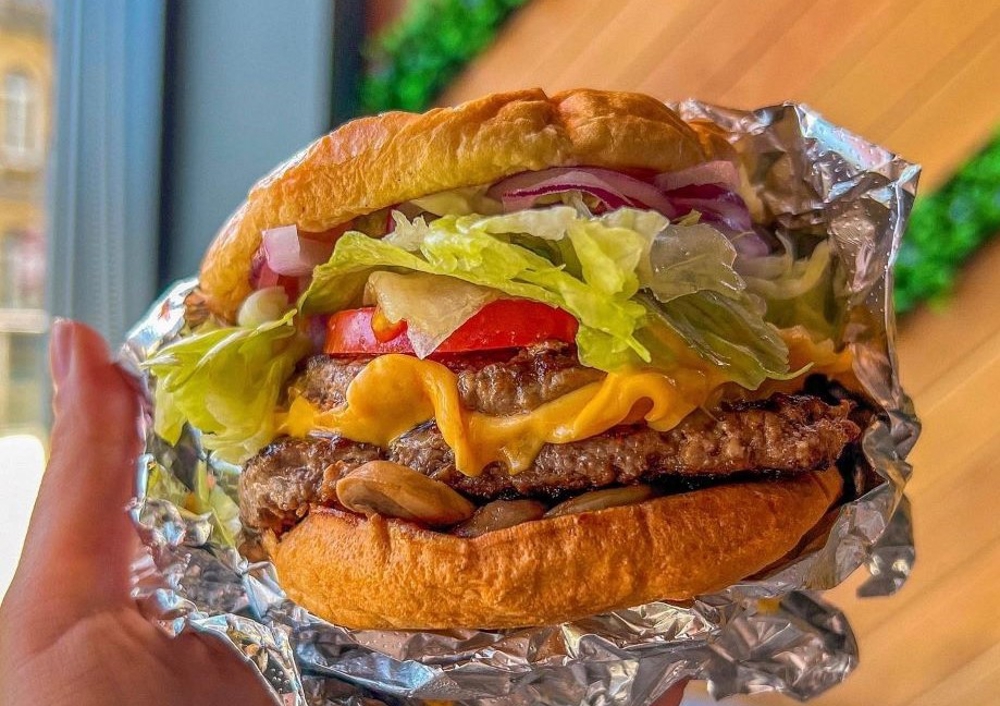 Make it tasty: best lunch spots in Barnsley town centre
Find the best lunch spots in Barnsley
We began our make it tasty blog series by telling you about some of the best places to brunch in Barnsley. Our second instalment is all about your next meal in the day - lunch.
Whether you're looking for a quick bite to eat during your work lunch hour or you're looking for a more leisurely experience, Barnsley town centre has you covered.
The Old Ivy Shed Cheesecakery
This little shop on the Victorian Arcade has expanded it's offer significantly since opening just over one year ago. Starting off as the place to visit for scrumptious homemade cheesecakes, The Old Ivy Shed now caters to your lunchtime needs. They offer a great range of lunch deals including paninis, baked potatoes and pies. They also have their delicious desserts including cupcakes and the previously mentioned cheesecakes.
You can take your food back to the office or enjoy it in one of Barnsley's stunning open public squares. If you don't want to go too far though, the bakery does feature a small outside seating area.
Find out more about The Old Ivy Shed Cheesecakery.
Cheyz
One of the newest additions to Barnsley town centre's food scene, Cheyz offers some of the best artisan toasties around! The independent eatery, based on Regent Street South, offers fillings such as ham, tuna and chicken to beans and peppers. They also offer outstanding homemade soup and chips making it the perfect place for lunch.
It's even better if you're a student or teacher at Barnsley college, an NHS worker or if you're in the emergency services as you'll receive a discount!
Urban Burgers
If you're looking for a bigger lunch, Urban Burgers in The Glass Works might just hit the spot. The home of great burgers and fries, Urban Burgers serve up 100% fresh beef, hand-cut fresh fries and thick hand-spun shakes.
Read more about Urban Burgers.
Coffee Boy
Next door to Urban Burgers in The Glass Works you'll find another great lunch spot. Coffee Boy is a fresh and funky coffee shop experience set in industrial style surroundings. From hot and cold sandwiches and wraps to pizzas and toasties, no matter what you're in the mood for, you won't be disappointed.
Got a sweet tooth? Coffee Boy also serve up an amazing range of cakes and donuts to keep you satisfied.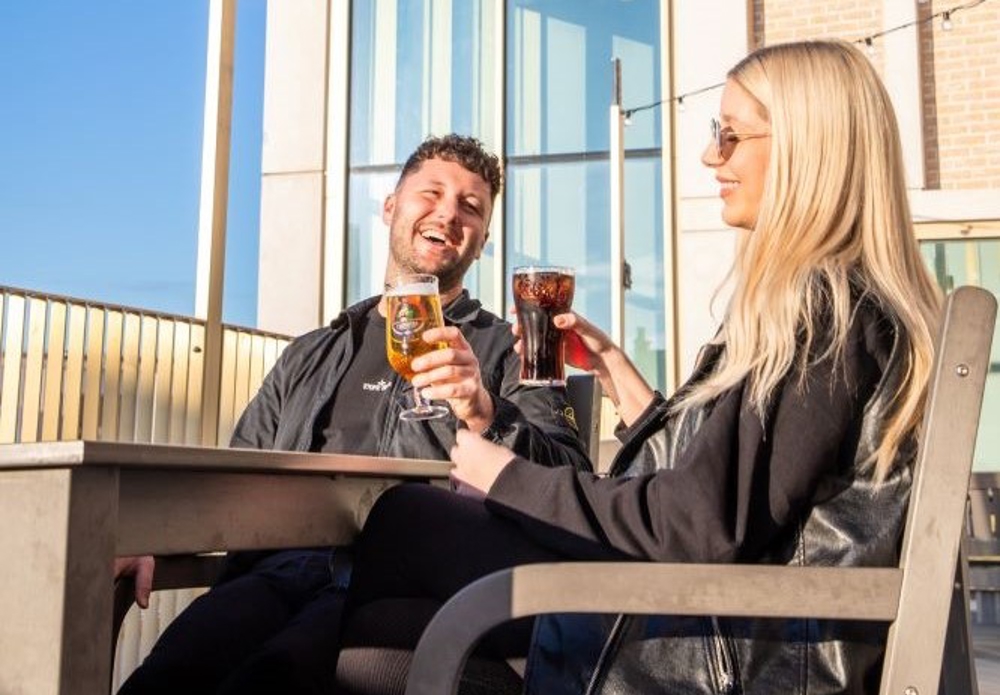 Make it tasty: best eateries for date night in Barnsley town centre
Find the best date night spots in Barnsley
As we approach the summer months, the nights are getting lighter, the weather is getting warmer - so why not head out into Barnsley town centre for date night?
Here are some of our suggestions on where you might want to go.
The Salt House
On a date night, you can't go wrong with tapas can you?
It's easy to share, there are choices for everyone and, let's face it, it is absolutely delicious! The Salt House in The Glass Works has some superb dishes to make your mouth water. Set in a trendy European lounge style bar, this restaurant is a winner when it comes to date night. From cocktails to blind tasting tapas, you're sure to have a brilliant evening. They also have live music and a fully equipped DJ booth for later on in the night.
The Pavilion
Based in Gateway Plaza, the Pavilion is perfect for date night, especially if you're heading to the nearby Lamproom Theatre.How do deals such as Tapas Tuesdays and burger nights sound? Pretty good right? Mix that in with their excellent range of cocktails and you won't regret a visit here.
Find out more about The Pavilion.
Lemon Tree
If you're looking for somewhere with a more relaxed feel for date night, Lemon Tree is the restaurant for you. This family-run restaurant on Peel Square has been long established in Barnsley town centre. They specialise in traditional Turkish cuisine including kebabs and fresh seafood, coupled with a separate menu offering British favourites including steak.
You're sure of a warm welcome when you visit Lemon Tree.
Find out more about Lemon Tree.
Market Kitchen
Have you and your partner ever struggled to agree on what to eat on date night? If so, Market Kitchen, located on the first floor of the market hall, is the answer! Here, you have a wide choice of foods from around the globe including Thai, Indian and Polish cuisines as well as pizza and poutine. You'll be spoilt for choice!
Read more about Market Kitchen.
Favela
When you visit this authentic Brazilian Rodizio Bar and Grill, you'll discover that this is not your usual sit-down meal, it's a unique experience. Your journey begins with a trip to a hot and cold salad bar that is home to as many foods as you can think of! Once seated at your table it's all up to you. You'll find a small double-sided disk on your table, one side is red, the other is green. When you're ready for Favela's servers to start bringing out meat you simply flip your card to green. When you need a break just flip it back to red.
Located, just opposite Barnsley's magnificent town hall, this restaurant is a perfect place for a thrilling date night. Their high-quality meats are sourced locally and include anything from gammon to steak.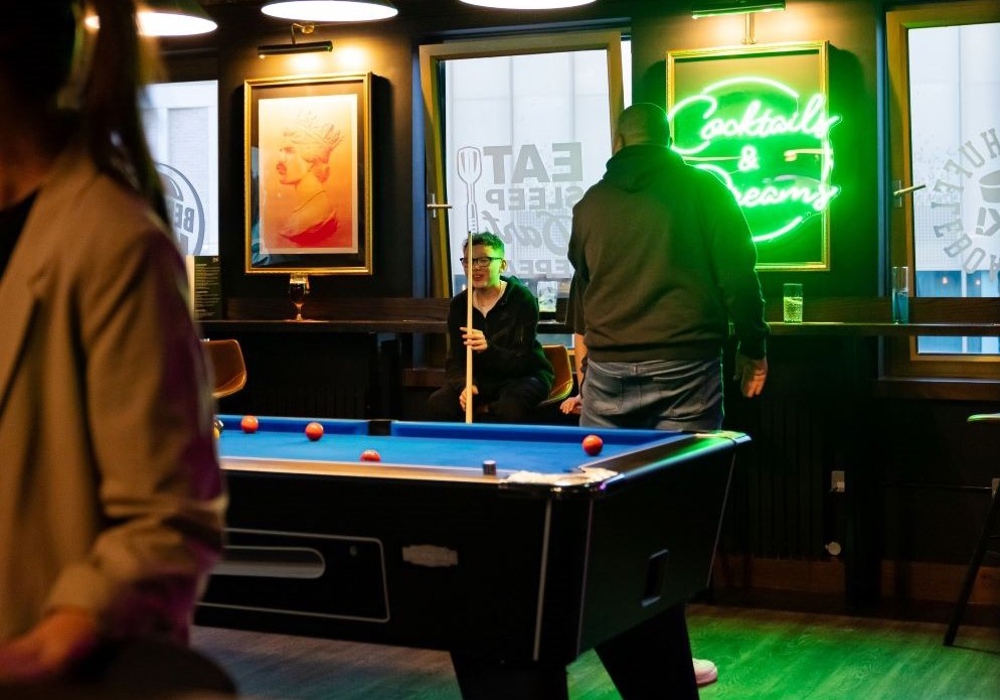 Make it tasty: try something a little different in Barnsley town centre
Find the best unique spots in Barnsley
Looking for somewhere new to eat in Barnsley town centre, or perhaps somewhere a little different to the norm?
This edition of our make it tasty blog series will help you to find a unique experience...
Evoo
Pizza may not be the most unique item of food in the world but your experience at Evoo on Market Hill certainly will be. As they say themselves, "it's not just a bar. It's not just a pizzeria. It's a barzzeria!"
So, what does this mean? Well, it means you can indulge in authentic wood-fired pizzas made with San Marzano tomatoes that only grow on the volcanic planes near Mount Vesuvius, whilst enjoying the atmosphere of a bar with a fantastic range of gins and cocktails. That sounds pretty unique to us!
The Works
There aren't many places in Barnsley town centre dedicated solely to bar games, but at one of the newest venues here, The Works does exactly that! The late night venue offers exquisite cocktails alongside a great choice of games including pool, shuffleboard or darts.
Why are we including them in a blog about food you ask? That's because they have recently announced a food menu featuring sliders, chicken wings and bao buns to energise you during the competition with your mates.
Open Kitchen
This could be one of Barnsley's best kept secrets!
This restaurant allows Barnsley College's catering students to gain real work experience in the hospitality industry as they prepare and serve food for paying customers. Based at the Old Mill Lane Campus, you will be amazed by the innovative menus on offer and the attention to detail provided by the students alongside the team of professionals.
It's definitely worth a visit if you haven't been before!
Find out more about Open Kitchen.
Joshua's Dining Lounge
Tucked away in a beautifully converted cottage behind the Cooper Gallery, you may be forgiven for not knowing about this fantastic eatery.
Joshua's Dining Lounge is the perfect spot for a light lunch or afternoon tea. Especially after you've taken in some culture within the Cooper Gallery itself or the nearby Experience Barnsley Museum.
Wow Bubbles
After visiting all of the above, you'll most likely want a dessert.
Have you ever tried bubble tea? It's incredibly popular and you can find it right here in Barnsley town centre! Wow Bubbles provides tasty and refreshing bubble and tapioca tea in the Upper Mall of the Alhambra Shopping Centre. But that's not all, they also excel in delicious bubble waffles.
If you're a student, there's also a 10% discount available until 31 December 2023.