Lieutenancy of South Yorkshire
The Lord Lieutenant's Cadets for 2022-23
His Majesty's Lord-Lieutenants in each county annually select a cadet from each of the following to attend them:
The Sea Cadet Corps (SCC)
The Army Cadet Force (ACF)
The Air Training Corps (ATC)
These cadets are amongst the best in their groups. They will have completed most of their training syllabus. They will also be taking part in The Duke of Edinburgh's award scheme.
They're given the chance to assist the Lord-Lieutenant at civic and military occasions. They may also get the chance to attend Royal Visits.
Subject to individual Service regulations, Lord-Lieutenant's Cadets will wear the Lord-Lieutenant's Cadet Badge on the right arm. They may continue to wear it after the end of their appointment.
They will also receive a certificate of appointment.

Cadet Sergeant Piper Noble
Army Cadet
Cadet Sergeant Piper Noble is 17 years old from the Humberside and South Yorkshire Army cadet force (ACF).

Piper is studying Uniformed Services at QPD and intends to join the Army. Piper intends to join the Royal Logistics Corp as a driver.

Piper says that joining the Army Cadet force was one of the best decisions of her life, inspired by her grandad. Piper has completed many courses such as shooting, drill and so much more. Pipers passes have resulted in her being able to teach her cadets what she knows.

At 14, Piper achieved the award for best 2 star cadet in the county. This is such an achievement for someone her age. She got this by being the best she could be and taking charge when no one else would.

Piper has done some work at a local wooded area to help keep the area clean and tidy. This includes cleaning up litter, picking harmful plants and cutting down trees to help the local area develop the near by park.

For the next Novembers to come, Piper intends to make sure the local parade in her area is to the best it can be. This will be done through helping the Royal British Legion in anyway she can.

In Pipers spare time she enjoys playing the guitar, reading and talking to her friends. Piper also has a passion for history and plans to expand her knowledge in anyway possible.

Cadet Warrant Officer Kian Watkins
Air Cadet
Cadet Warrant Officer Kian Watkins is from 2008 (Bawtry) Squadron and has been part of the organisation for over six years.

During his time he has worked hard to achieve the highest rank possible and had many opportunities to fly in the Grob Tutor, the Viking, and even in the back of a Chinook. He also has a passion for teaching, proven by his completion of the Qualified Aerospace Instructors Course. This is something only 40 cadets can achieve each year after several months of training.

2022 has also been an exciting year for him as he gained a place on the International Air Cadet Exchange to France. The trip was 2 weeks with cadets from Germany, Belgium, Switzerland, and the Netherlands and included various aviation activities. This included flying in the Pyrenees and visiting the Airbus factory in Toulouse.

Having already completed his A-levels, CWO Watkins works at RAF Cranwell as a Ground Operations Aircraft Handler. He hopes to join the RAF in the future but is enjoying working with their training aircraft in the meantime.

CWO Watkins is proud to have been appointed as a Lord Lieutenant's Cadet. He hopes to make the most of his final year before transitioning to support as a member of staff.
Able Cadet Keilan Blades
Sea Cadet
Able Cadet Keilan Blades is 16 years old and has been a member of the Doncaster Sea Cadets for over 6 years. He has followed in the footsteps of his grandparents, aunty, sister, mum, and dad. Keilan's family have been in the Corps for over 50 years now and the Sea Cadets definitely runs through their blood!
As a Junior Cadet at the age of 10, Keilan won the Junior Cadet of the Year award at his unit. He then achieved runner up in the following year.

Keilan's confidence has grown throughout the years and this year he travelled with another cadet to Scotland to join one of the Sea Cadet Corps yachts. He sailed around the west of Scotland for the week and he thoroughly enjoyed this experience.

Keilan has a keen interest in shooting and he became the first member of the unit to gain a full-bore qualification. He also loves waterborne activities and this year he was introduced to sailing and has now caught the bug for sailing boats. Next year Keilan would like to gain his RYA Level 2 Sailing qualification and increase his knowledge and experience in this discipline. Keilan is also looking at courses to gain his RYA safety boat qualification and his cadet rowing instructor.

Outside of cadets Keilan loves anything to do with cars, especially Formula 1 and he is currently at Askham Bryan college studying Motorsports.

Keilan loves being outside, and he is lucky to live on the dairy farm where his dad works. Any spare time, he gets he can often be found mucking out pens or milking cows!
Keilan feels privileged to have been appointed the Lord Lieutenant's Cadet and he is looking forward to seeing what the future holds in this role.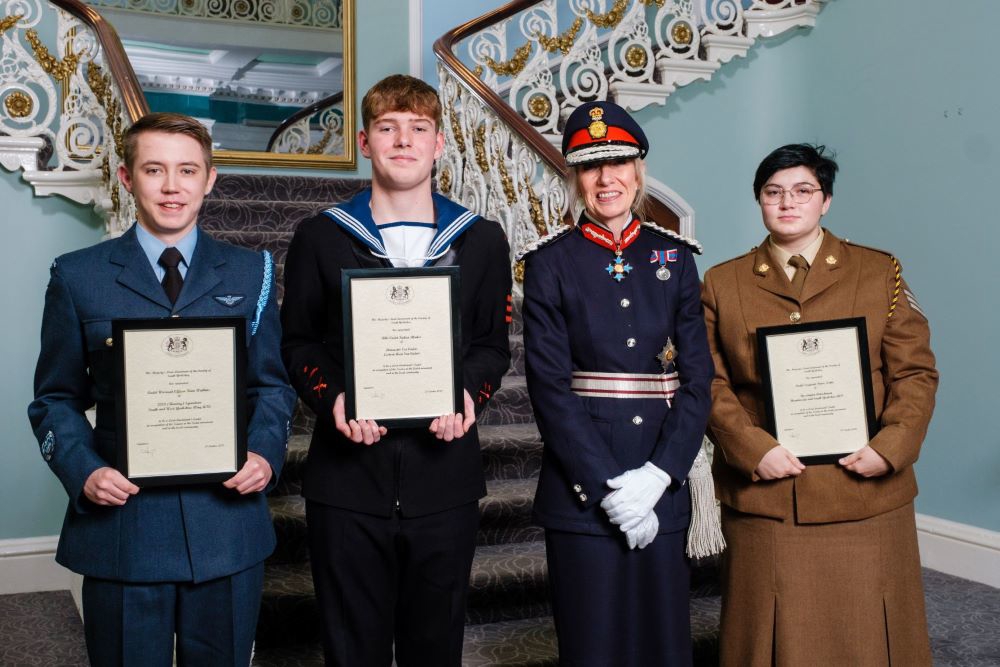 Dame Hilary Chapman and her 2022/23 cadets at the Lord-Lieutenants Awards event kindly hosted by the Reserve Forces and Cadets Association.