Safer Barnsley Partnership is a multi-agency partnership working to make Barnsley a safer place for local people and communities. It tackles crime, anti-social behaviour, substance misuse and re-offending.
Role of the Safer Barnsley Partnership
The Safer Barnsley Partnership's key role is to:
understand the community safety issues and produce a needs assessment
use this evidence base and develop a plan to collectively address these community safety issues
review the plan annually to ensure the priorities continue to reflect local needs
People involved
The Crime and Disorder Act 1998 places statutory duties on agencies to come together to address crime and community safety.  These agencies are known as responsible authorities.  The Safer Barnsley Partnership has representation from a wide range of agencies. These include responsible authorities and other agencies who contribute to community safety in Barnsley. 
These are as follows:
Barnsley Council
South Yorkshire Police
South Yorkshire Fire and Rescue
NHS Barnsley Clinical Commissioning Group
National Probation Service
Community Rehabilitation Company
Neighbourhood Watch
Berneslai Homes
Office of the Police Crime Commissioner
Youth Offending Team 
Consultation from the Violence Reduction Unit
The Violence Reduction Unit is consulting on experiences of violence, what you think causes violence, and how we can all work together to stop it. Complete the survey online. before Thursday 14 May 2020. 
Your responses will inform the local action plans. We will let you know how we have used your answers on the Violence Reduction Unit website once the survey is closed.
Safer Neighbourhoods Service
To find out more about how our Safer Neighbourhoods Service #ProtectIt in their everyday roles.
Safer Barnsley Partnership Plan priorities
The Partnership Plan (2016-2020) was produced following widespread work with key stakeholders. It sets the long-term vision, outcomes and priorities for the four year period to 2020.
The aim of the plan is to ensure that services work together to deliver against key priorities that help people feel safe and enjoy where they live and work.

The partnership plan looks at ways to create a safer and cohesive Barnsley. This includes working with local communities to tackle crime and disorder and make positive changes together. 
The Safer Barnsley Partnership Board reviews its plans on an annual basis to make sure it meets local needs and can influence how community safety resources are used within the borough.
Event for Safeguarding Awareness Week 2019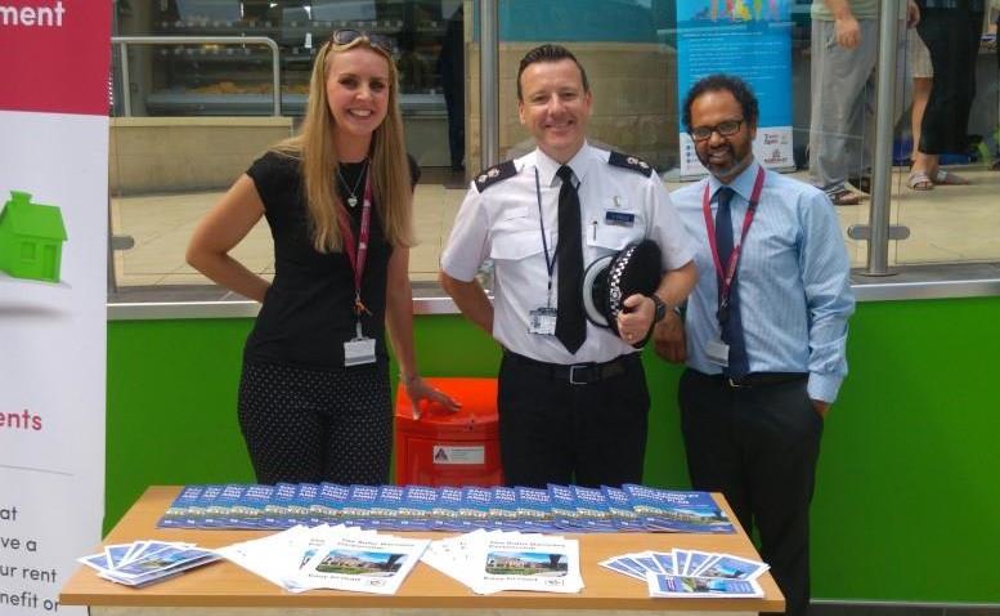 During Safeguarding Awareness Week 2019, members of the Safer Barnsley Partnership team including Louise (left) and Shiv (right) were joined by the Chief Superintendent, District Commander South Yorkshire Police and co-Chair of the Safer Barnsley Partnership, Scott Green (centre) at an event at Barnsley Interchange.
Throughout the day they met with members of the public and provided copies of the 2019-2020 Safer Barnsley Partnership annual plan in various formats.