The Towns Fund Deal is a government funded £3.6 billion opportunity for towns throughout England to bid for funds to improve skills, digital and transport connectivity, create new jobs, raise aspiration and revitalise the economic prospects of the area. Economic growth is a key part of the deal and each town can suggest how it thinks this could be achieved.
A total of 101 towns were invited to bid for up to £25m; including Goldthorpe; since the scheme launched to the public in January 2020.
An evidence-based Town Investment Plan for Goldthorpe was put together based on community and stakeholder input and submitted to the government in December 2020.
In March 2021 the government approved a £23.1m investment in the Dearne Valley to realise our Town Investment Plan.
Who is leading on the Towns Fund locally?
The Board is made up of community representatives, local businesses and councillors and other regional tiers of local government with an interest in the future development of Goldthorpe.
Barnsley Council is actively involved in the Goldthorpe Town Deal and provides professional and secretarial support, facilitates meetings and hosts the Towns Fund Goldthorpe website. The Goldthorpe Towns Fund Board are the steering and decision making body in developing the Town Investment Plan with ambitious ideas to transform their towns' prosperity prospects with a focus that embraces improved transport and connectivity, business, skills and culture opportunities.
The role of the Board is to:
Develop and agree an evidenced based Town Investment Plan
Develop a clear programme of interventions
Coordinate resources and influence stakeholders
The Board meet monthly, or as required, to discuss the development and progress of the Town Investment Plan. Find out more about the board membership, meeting agendas and minutes online.
The Towns Fund Board have created a list of Questions and Answers about the project. You'll also find posts on social media with the tag #TownsFund #TheDearne
What does it mean for Goldthorpe?
The Dearne: Restore, Renew, Regenerate. Working together to create a thriving community where people can choose to live, invest and excel.
The Goldthorpe Town Deal is bringing at least £23.1m new investment to the Dearne Valley to further enhance its economic growth, environment and heritage, improve skills and transport connectivity.
Your views have and will help shape the town's vision for the next few years, by looking to stimulate greater economic, cultural and social wellbeing.
Read the Town Investment Plan for Goldthorpe.
What area does it cover?
The geographical scope for Goldthorpe's bid to the Towns Fund covers Goldthorpe and the wider Dearne area including Bolton on Dearne and Thurnscoe.
What are the objectives?
These are the four over-arching Goldthorpe themes:
Growing Goldthorpe (Physical Growth)
Connecting Goldthorpe (Transport Links)
Developing Goldthorpe (Community and Social)
Placemaking (Public Realm / Environment)
How were the objectives chosen?
Historically much consultation has taken place in the Dearne since the Dearne Valley Renaissance Market Towns (RMT) strategy was launched in late 2005/early 2006 when it was planned to develop a sustainable development framework for the Dearne underpinned by a Dearne Towns Charter.
Consultation took place between September 2007 and June 2010 in development of a Goldthorpe masterplan. The findings from these consultations provided support for the key projects proposed within the masterplan. Common issues raised through the stakeholder consultations were:
Poor physical environment in the village centre,
The need for improvements to Goldthorpe's retail offer,
Concerns around anti-social behaviour and community safety,
The need to improve connectivity in and around the village, along with better public transport,
A lack of community facilities and spaces,
Few local activities and facilities for young people.
Goldthorpe's vision and strategic position within the RMT programme was to be the commercial hub and market centre for the surrounding villages and wider Dearne valley. Therefore the primary objective of the masterplan was to consolidate and improve the retail offer of the village and ensure its future viability and sustainability.
Key themes of the final masterplan were:
Regenerating the Village Core:

including public realm Improvements, creation of a public square and shop front enveloping refurbishment – part of the ambition has been realised with the 2018 launch of the Principal Towns shop front scheme available to independent businesses across the Dearne.
New school

A new larger primary school facility was required within the heart of the village to replace the inadequate existing school, and to respond to the future growth of Goldthorpe – this ambition was achieved in September 2016 when the new school opened its doors to pupils for the first time.
Better Housing

Improving the quality of housing stock and living conditions for residents within the Dearne valley, including Beever Street redevelopment and new bungalow development for older persons – part of the ambition in Goldthorpe was realised with the bungalow development on Beever Street which welcomed its first residents in 2019.
Green Space and Connections

to develop a high quality, interconnected network of spaces and a green infrastructure for visual amenity, recreational activity and ecology/habitat creation – the Embankment project in Goldthorpe is a great success story and opened in September 2019 and showcased great community spirit and dedication in transforming the once blighted area into a wonderful community space.
Celebrating Goldthorpe

Celebrate Goldthorpe's historical and cultural heritage and create a stronger identity through new landmarks and focal points of interest
More recently in mid-2019, local community consultation was carried out by the Dearne Integrated Well-Being team and included questions to help us understand what residents loved about the area they lived, and also what they would like to see improved.
Since that consultation the Government launched #MyTown in October 2019 to give residents the opportunity to put forward their ideas on how to improve skills and transport, create new jobs and regenerate their local community.
Drawing on issues and themes raised by the local community in previous consultations already described and from #MyTown Goldthorpe, we are developing a themed Town Investment Plan that addresses the concerns residents have raised, builds on the issues that are important, and one that will see Goldthorpe and the Dearne become an area where more people choose to live.
Towns Fund early intervention projects
A series of early intervention projects have already been completed thanks to £500,000 of Towns Fund accelerated funding which was awarded for projects which could be achieved quickly in order to start the regeneration journey.
This initial funding was released before the full £23.1m grant was awarded.
All of these projects were drawn up in response to local priorities and fit into the themes identified in the Town Investment Plan.
Goldthorpe market
Theme: Growing Goldthorpe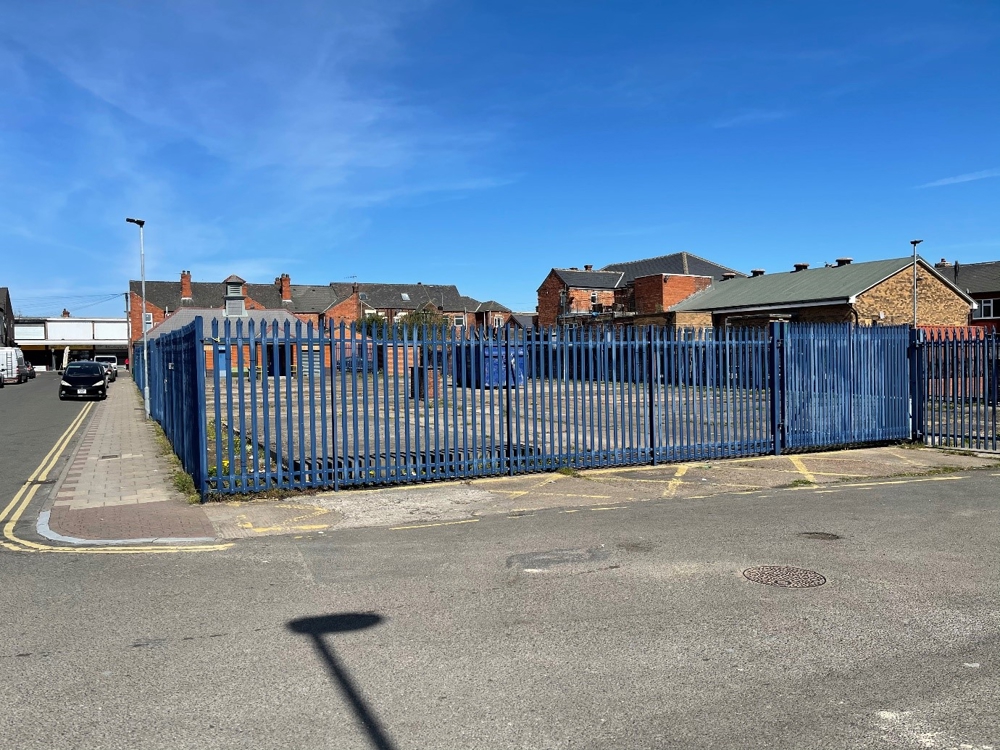 The former Goldthorpe Market site has been cleared ready for a new use, while the market will be given a prominent new location on the high street.
---
Plans to revitalise Goldthorpe Market by moving it to a prime location were made possible using Towns Fund investment.
The former market had seen significant decline over the years and the offer had reduced to just one trader. In February this year the go-ahead was given to clear the site and relocate it in a more prominent location on the high street as part of a new public square.
Better linking market stalls with the rest of the retail offer in Goldthorpe will encourage pedestrian footfall, reinvigorating both the market and the wider high street in Goldthorpe benefitting market traders, other local businesses and shoppers alike.
Barnsley Town Centre's outdoor market was relocated from a fixed site into the streets five years ago and this has been a great success, both for the stallholders and the high street businesses.
The new market offer for Goldthorpe will be shaped by a consultation which will be held shortly to take views from Goldthorpe businesses and shoppers about what they want to see from a refreshed market offer.
The former market site, which is hidden from view of the main high street, will be redeveloped for housing.
Community Orchard (Tiny Forest)
Theme: Developing Goldthorpe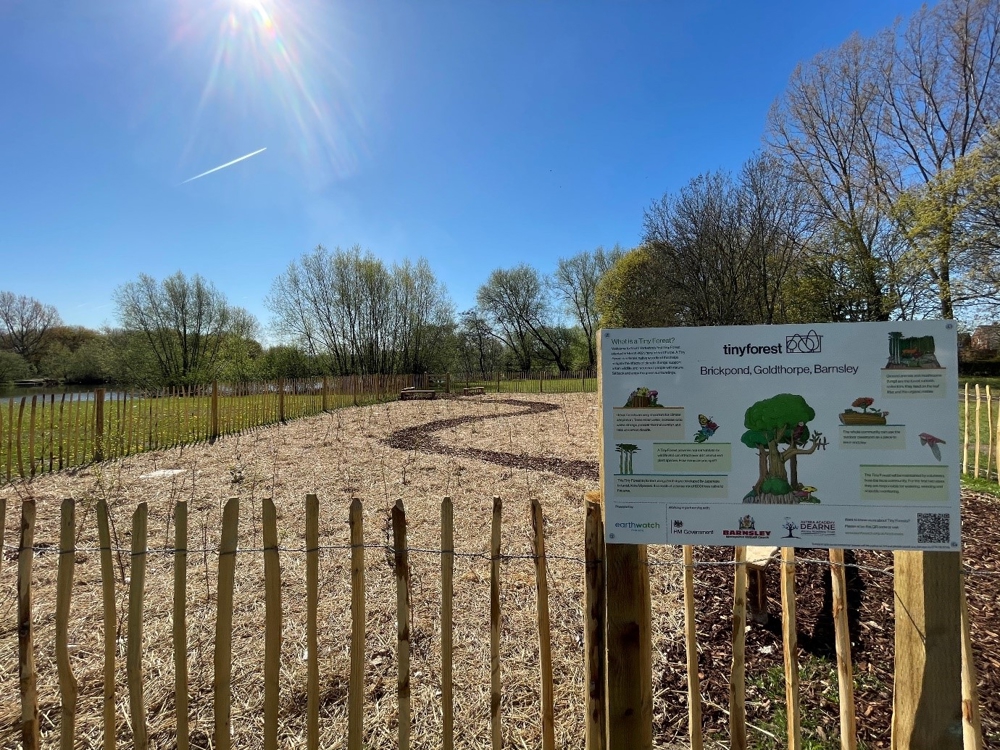 The 600 saplings will be a thriving Tiny Forest within just a few years having been planted in close formation where they will compete fiercely with each other for light and nutrients.
---
A new community woodland based on the Japanese concept of Tiny Forests has been planted close to the Dearne Playhouse and the area of the Town Investment Plan's proposed cultural and community hub.
It has been designed to enhance the use of green spaces with health and educational benefits for the whole community as well as local school students who have been involved in the project directly.
A Tiny Forest is a very small, densely planted forest about the size of a tennis court. Earthwatch Europe is pioneering the initiative in the UK, using a forestry management technique developed in Japan by Dr Miyawaki in the 1970s. By encouraging the trees to grow in tightly packed formation, fighting each other for sunlight and nutrients, they will grow ten times faster than a traditional forest.
The dense, native woodland will help mitigate the effects of climate change, support urban wildlife and reconnect people with nature. This project, funded through the Towns Fund accelerated projects, will also help achieve Barnsley Council's goal of a net-zero carbon borough by 2045.
Astrea Academy Dearne is a key partner in the project and students helped design the layout of the Tiny Forest while learning about the importance of restoring forests to address climate change at the same time.
Read our news item about the Tiny Forest heading to Goldthorpe.
Phoenix Park Active Travel
Theme: Connecting Goldthorpe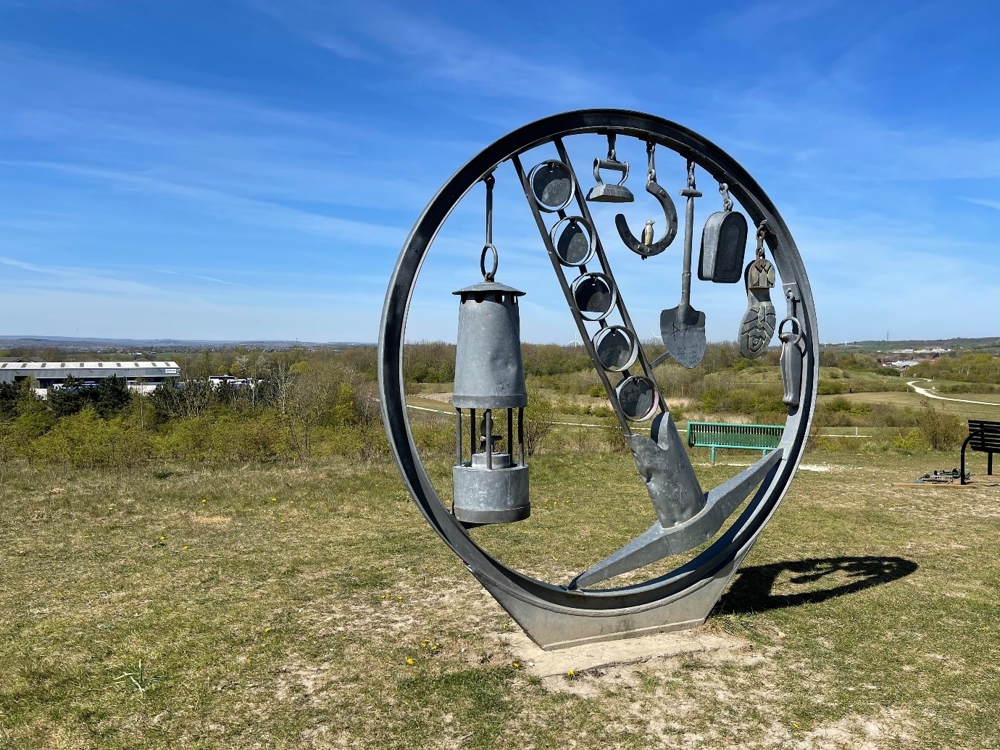 Work to improve the footpaths through Phoenix Park will help encourage more people to spend more time being active, enjoy the outdoors, and reduce the use of cars.
---
An accessible green active travel route between Goldthorpe and Thurnscoe has been created through Phoenix Park as one of the Towns Fund accelerated projects.
Existing paths have been converted into a multi-user route suitable for cyclists, prams, pushchairs, wheelchairs and users with limited mobility.
The paths connect Goldthorpe to surrounding locations and encourage the use of green space and active travel.
Encouraging more people to take part in active travel has health and well-being benefits for local residents and also helps to shift people away from use of cars. This helps improve air quality and reduce carbon emissions.
The work to the paths is part of the Goldthorpe Town Board's wider plans for Phoenix Park.
The High Street Public Square
Theme: Placemaking Goldthorpe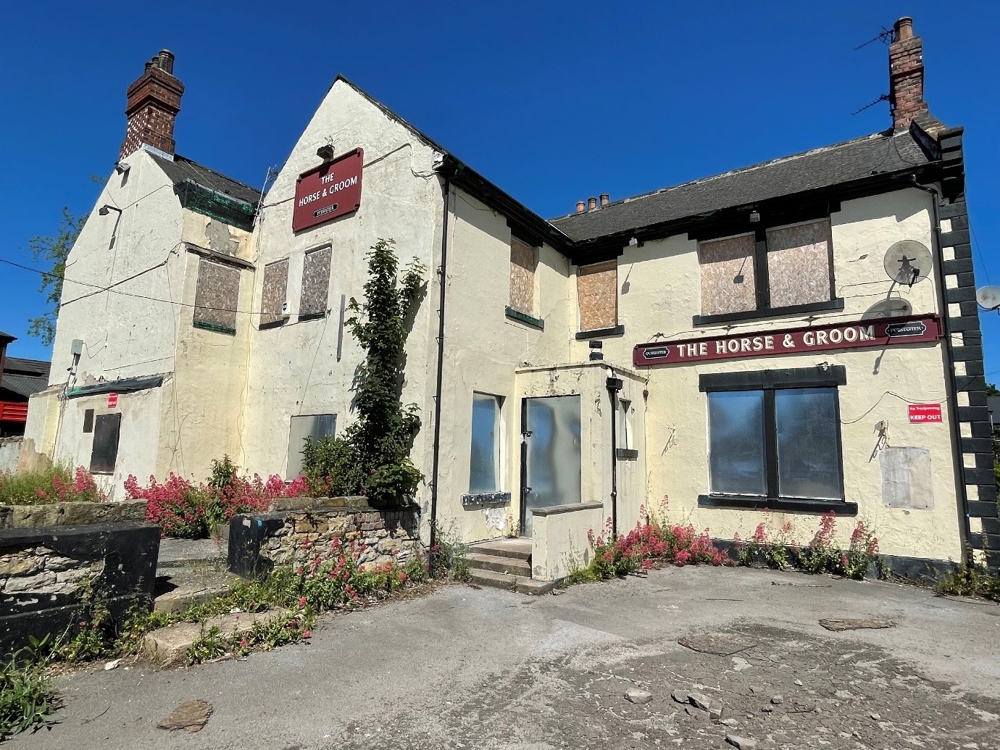 Accelerated funding from the Towns Fund has enabled the purchase of a key site on the high street to create a new public square which will become home to the revitalised Goldthorpe Market.
---
The Horse and Groom pub will hold fond memories for many local people, however it has become severely dilapidated in the years since its closure and there was increasingly little hope of it being returned to use as a pub.
Now thanks to Towns Fund Accelerated Funding the site has been purchased and the building will be demolished. As part of the wider Towns Fund projects the site will be turned into a new public square as a focal point on the high street.
The Goldthorpe Town Board is keen to pay tribute to the history of this once thriving public house, and consultation with local residents is taking place to gather ideas of how the Horse and Groom can be remembered and how people would like to see the square used.
Embankment Green Space
Theme: Placemaking Goldthorpe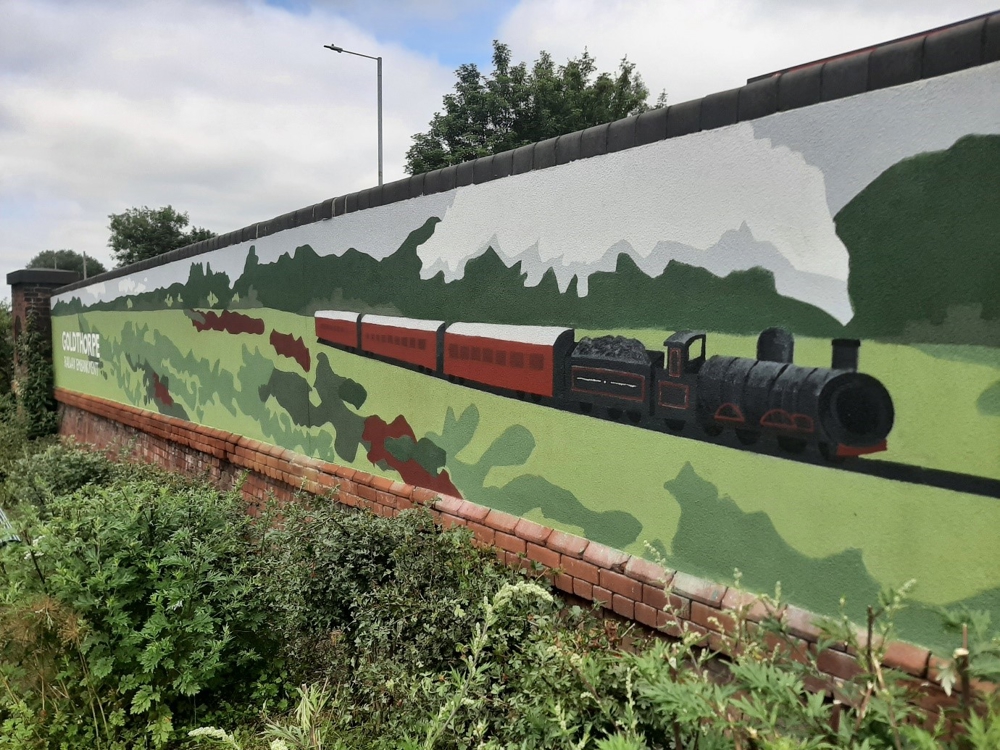 The train mural at the Embankment at Goldthorpe
---
Further transformation of the disused railway cutting into a diverse green space for community use has been made possible through accelerated funding from the Towns Fund.
Works have included resurfacing of footpaths, resurfacing of walls for murals, handrails, new plants, shrubs and trees.
The embankment had become an eyesore and renowned fly-tipping hot spot until a community led project sprang into action to rejuvenate it as a green space for the community to be proud of.
The embankment is now a hotbed of community engagement and education activities.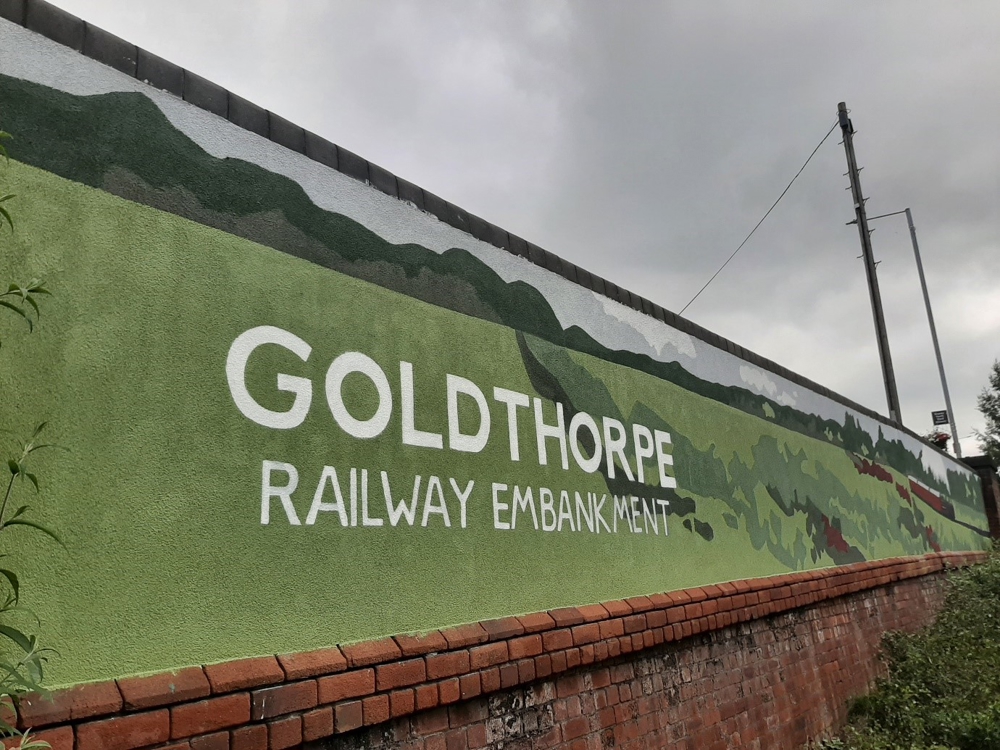 The mural at the Embankment at Goldthorpe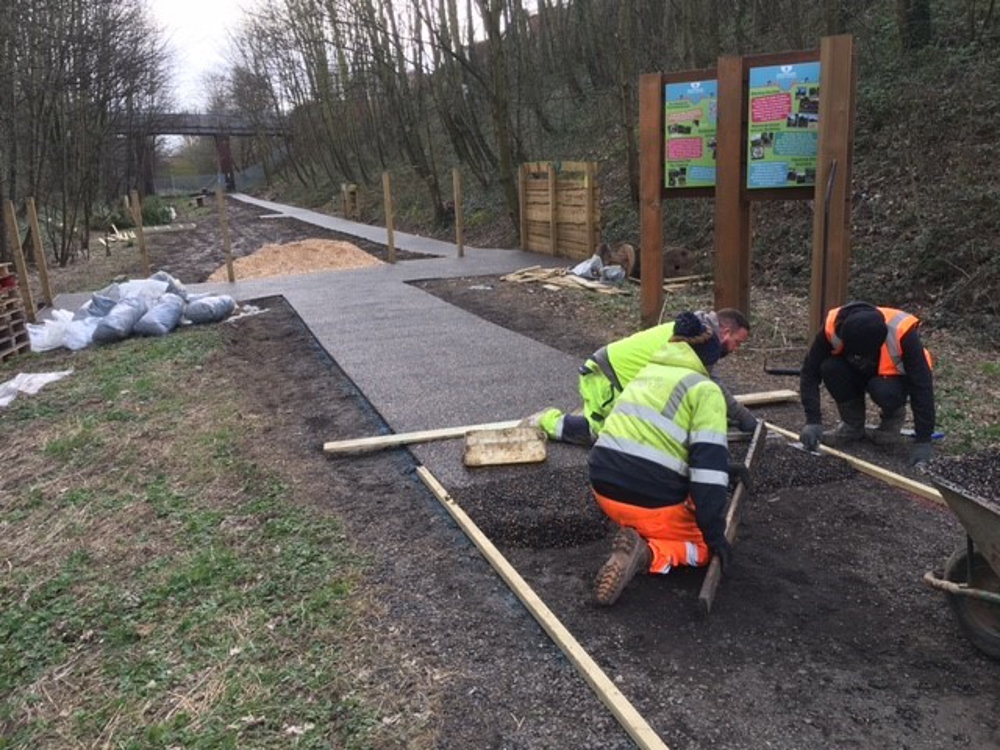 New multi-user paths being installed
How does the Towns Fund Deal fit in with other projects in the borough?
These are the other current schemes which also aim to enhance and improve the area:
The Future High Street Fund: is a competitive fund awarded to high streets and town centres that are seeking to combat the decline of the traditional retail environment. Barnsley town centre has been identified as being eligible for the competitive funding and the Council is actively participating in the process.
Heritage Area Action Zone Eldon Street: The Eldon Street High Street Heritage Action Zone (HSHAZ) is an exciting four-year partnership between Barnsley Museums and Historic England. It will restore and revitalise historic properties on Eldon Street, once a vibrant commercial and cultural centre for the town. The HSHAZ will work with local people and stakeholders to explore and celebrate the rich stories and heritage of Eldon Street, as part of the wider town centre redevelopment.
Heritage Area Action Zone Elsecar: launched in 2017 was one of the first Heritage Action Zones (HAZ) in the country and has been a successful three-year partnership between Barnsley Museums and Historic England. Focusing on Elsecar, a model industrial village established by the Earl Fitzwilliam of Wentworth Woodhouse in the 1790s, the HAZ has worked with local people to research and celebrate Elsecar's amazing story and the village's unique heritage. The project has also helped to guide plans for future development and established Elsecar's future potential as part of the region's growing visitor and tourism economy.  
Have your say... Your opinion counts...
Your opinion is crucial to our success: This is your opportunity to have your say.
Why is my opinion still important?
It is important that all sections of the community say how they think the town can grow and improve. Council and community representatives cannot do everything and don't claim to have the best ideas - and the contributions of a large number of individuals makes for a better, active and more dynamic town.
Thanks to your valuable feedback and contributions so far, the Goldthorpe Towns Fund Deal is on track to help create an exciting, brighter future based on major new investment.
Further consultation based on the four themes of Growing, Connecting, Developing and Placemaking has now taken place (closed midnight on 13 September 2020) and the results can be views below in the news and updates. 
How can individuals give their opinions?
You can contribute to the social media exchanges on Twitter for Goldthorpe #TownsFund #TheDearne, give your view at the Barnsley Council Facebook site or email us at townsfundgoldthorpe@barnsley.gov.uk
I have a question not answered here … how do I raise it?
By email please to townsfundgoldthorpe@barnsley.gov.uk
We're also hosting some sessions at Goldthorpe Library where members of the Towns Fund team will be available to chat about the projects and answer questions.
These will be on: 
Thursday 4 November, 2pm to 4pm
Thursday 11 November, 2pm to 4pm
Tuesday 16 November, 2pm to 4pm
Thursday 25 November, 2pm to 4pm
Thursday 2 December, 2pm to 4pm
Thursday 9 December, 2pm to 4pm
Tuesday 14 December, 2pm to 4pm
What are the Towns Fund timescales?
After an announcement that the Towns Fund programme would be granted an additional submission date, the Towns Fund Board agreed to enter cohort 2a and submit final proposals to the government by 11 December 2020.
The stages are:
June 2020: review of supporting evidence and further consideration and scrutiny of the project
July 2020: plans developed
August 2020: blueprint produced
August 2020 end: submission of the draft Towns Fund plans for Goldthorpe
September 2020: consultation of Investment Plan themes and working up and revision of the draft plan
October/November 2020: Final drafting of the plan documents
December 2020: the Towns Fund Investment Plan is completed and passed through our approvals process
11 December 2020: the Towns Fund Investment Plan is submitted for consideration to the Ministry of Housing, Communities and Local Government (MHCLG)
4 March 2021: £23.1m investment in the Dearne Valley approved
May 2021: confirm to the MHCLG which projects are being taken forward
March 2022: to develop and approve individual project business cases and submission of a summary document to MHCLG
Funding released: following business cases and submission of MHCLG summary document
2022 to 2025 to 2026: project delivery
News and updates 
11 August 2021 - First projects from £23.1m Towns Fund investment complete
The first wave of projects as part of more than £23.1m investment in Goldthorpe, Thurnscoe and Bolton upon Dearne through the Towns Fund have been completed. Find out about the completed projects.
4 March 2021 - £23.1m investment in the Dearne Valley approved
Read all about the £23.1m investment in the Dearne Valley in our press release. 
16 February 2021 - Tiny Forest heading to Goldthorpe
Towns Fund investment has supported a very small, densely planted forest about the size of a tennis court to be planted at Goldthorpe. 
Find out more about Goldthorpe's tiny forest.
18 February 2021 - Goldthorpe Market on the move
Plans to revitalise Goldthorpe Market by moving it to a prime location on the high street are supported by the Towns Fund.
Find out more about Goldthorpe Market.
14 December 2020 - Town Investment Plan Submitted
The Goldthorpe Town Investment Plan was submitted to Government on Friday 11 December where it will be assessed. It is expected to take 2-3 months before the Town Board receive any feedback.
24 November 2020 - Funding bid of more than £25m for Dearne Valley to be submitted
Cabinet asked to approve an exciting and ambitious bid to secure multi-million-pound investment into the future of Goldthorpe, Thurnscoe and Bolton upon Dearne.
Find out more about the funding big for Dearne Valley.
28 October 2020 - Results of Towns Fund 'Have Your Say' Consultation 28 August to 13 September 2020
Outcomes from the consultation were very positive and wholeheartedly supportive of the proposed themes as can be seen from the graphs below. Specific comments and suggestions left by participants have been included in the Investment Plan to demonstrate that support and show that some of the ideas generated have been carried through into project proposals.
Growing: Develop projects to facilitate more employment opportunities and improve the choice and quality of housing available in the area: 
Connecting: Develop projects to improve links to public transport and facilitate active travel (walking and cycling):
87% in favour
13% against
Developing: Include projects to help develop more community and social amenities:
Placemaking: Develop projects to improve the environment in the Dearne villages to create a sense of place that is well kept and cared for:
Frequently asked questions
Read our frequently asked questions.